A light and tender rhubarb, rose, and almond cake that is at once nutty, sweet, and floral. Perfect with a cup of tea or coffee.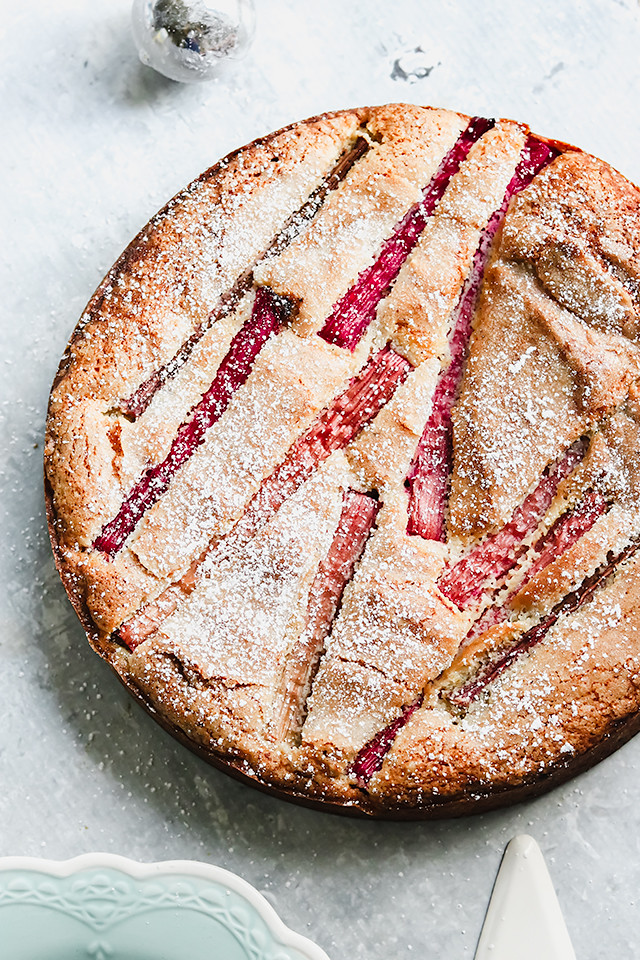 Took a (short-lived, don't worry) break from pie to bring you caaakkkkeee!!!
And what a wonderful cake it is.
Don't let its humble appearance fool you: this bebe is absolutely perfect in every way.
Light, tender with a nutty almond crumb, a hint of something floral from a touch of rose water, and a bit of tartness from the rhubarb strewn over the top.
Oh, and you can make it in the fifteen free minutes you have in-between your bedtime stories and dad's bedtime stories. It's really that easy.
The recipe is from Benjamina Ebuehi's wonderful cookbook The New Way To Cake. Most well known for her stint as a quarter finalist on The Great British Bake Off, Benjamina also blogs over at Carrot & Crumb where she shares some beautiful sweet and savory treats.
The cake recipes in Benjamina's first cookbook are filled with exciting and unusual flavor pairings and I can't wait to make them ALL. Some examples include a Hazelnut & Tahini Caramel Cake, Masala Chai Carrot Cake, Cinnamon Loaf with Espresso Butter, White Chocolate Rose and Pistachio Tiramisu, and a Jasmine Green Tea Cake to name a few. But really, that list is an understatement because I truly want to make everything within its pages.
Knowing my obsession with rhubarb, you'll understand why this was my first bake from the book.
Also, I already had all of the ingredients on hand, which in these strange quarantine times was as good an excuse as any!
The balance of flavors in this is absolutely perfect with just the right hint of rose flavor (that isn't overpowering at all) and the sweet nuttiness from a scoop of almond flour really bringing it all together. It makes for an excellent midday snack with a cup of coffee but also a simple but sophisticated after dinner treat (also with coffee, why do you ask?).
Rhubarb, Rose, and Almond Cake
A light and tender rhubarb, rose, and almond cake that is at once nutty, sweet, and floral. Perfect with a cup of tea or coffee.
Ingredients
¾ cup (170 g) butter, softened
1 cup (200 g) sugar
½ tsp rosewater
zest of 1 lemon
2 large eggs
1⅓ cups (175 g) all purpose flour
¾ cup (80 g) almond flour
1 tsp baking powder
½ tsp baking soda
½ cup (120 mL) plain Greek yogurt
½ lb (200-250 g) rhubarb, washed
1 tbsp granulated sugar, for topping
powdered sugar, to dust
Instructions
Heat oven to 325F (170C). Grease a 9-inch springform pan and line it with parchment paper. Set aside.
Combine the butter, sugar, and rosewater in the bowl of a stand mixer fitted with the paddle attachment. Cream together on medium-high speed until light and fluffy, about 4-5 minutes. Add in the lemon zest and mix to combine, about 1 minute. Add the eggs one at a time, mixing well after each addition. Add in the flour, almonds, baking powder, and baking soda. Mix on low speed until just combined. Fold the yogurt in by hand and then pour the batter into the prepared pan, using an offset spatula to smooth it into an even layer.
Cut the rhubarb into 3-4 inch strips and arrange them on top of the batter as desired. Sprinkle with the remaining tbsp of sugar and bake for 50-60 minutes, or until a tester inserted in the center comes out clean. Allow to cool completely. Dust with powdered sugar just before serving.