A warmly-spiced apple sheet cake topped with a thick brown sugar frosting that tastes almost like fudge!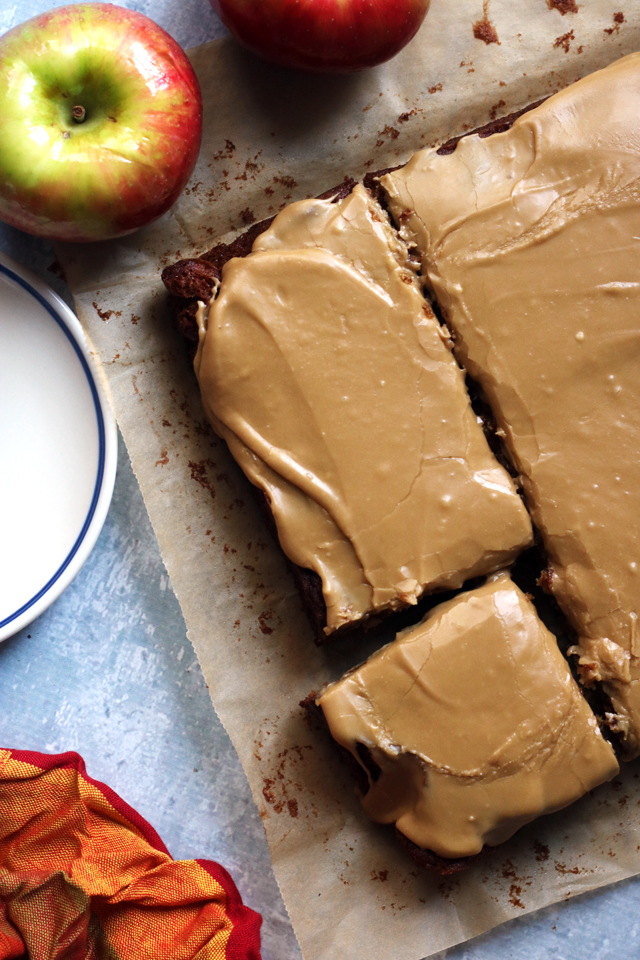 Is it even October if we haven't made an apple cake yet???
(And more importantly, does it even count if we made an apple cake and didn't share it on Instagram?? As Remy tells me on a daily basis, it's "October 2018″ after all.)
*shrug*
These are existential questions too intense for a Friday morning. Let's just eat cake!
I cannot get through fall without making at least one apple cake. And looking through the blog archives, it's actually more like two. And that's not even counting all of the apple pies, apple bars, apple cobblers….
Look, I clearly have an apple problem, okay. But…have you tried honeycrisp or pink lady apples?!?!? Who could not have a minor apple addiction after tasting those.
Okay, so this cake! It's a sheet pan cake, which I love. Big enough to serve a crowd (or just a few…errr…two…gluttonous adults).
It's also kind of a dump and stir cake…meaning you basically just dump all of the ingredients into your mixing bowl at once and then stir them all together. Easy enough to do with kids. No precision necessary!!
The cake itself is all warm spices and soft apple bits. It's so fall. And then it's topped with a thick and fudgy brown sugar icing that you'll be swiping by the finger-full off of your mixer bowl for "just one more taste". The original recipe is from King Arthur Flour and I didn't change much other than to omit the pecans because I'm still a little bit (probably overly) cautious about Remy eating whole nuts, but I think they would add a great little crunch to every bite.
Old-Fashioned Apple Cake with Brown Sugar Frosting
A warmly-spiced apple sheet cake topped with a thick brown sugar frosting that tastes almost like fudge!
Ingredients
For the cake
2⅓ cups all purpose flour
1⅔ cup sugar
2 tsp baking soda
¾ tsp salt
1 tsp cinnamon
¼ tsp ground ginger
¼ tsp ground nutmeg
2 large eggs
8 tbsp unsalted butter, softened
1⅓ lb apples, peeled, cored, and finely chopped
For the frosting
7 tbsp unsalted butter
⅔ cup brown sugar
¼ tsp salt
¼ cup milk
2¼ cup powdered sugar
¾ tsp vanilla extract
Instructions
For the cake.
Heat oven to 325F. Line a 9x13-inch baking pan with parchment paper and grease. Set aside.
Mix the flour, sugar, baking soda, salt, cinnamon, ginger, nutmeg, eggs, and butter together in the bowl of a stand mixer fitted with the paddle attachment. Mix until well combined.
Add in the apples and mix until they release enough of their juice that the mixture becomes a thick batter, about 3-5 minutes at medium speed.
Transfer the batter to the prepared pan and spread into an even layer.
Bake for 45 minutes, or until a toothpick inserted in the center comes out clean.
Allow to cool completely in the pan.
For the frosting
Melt the butter over the stovetop in a small pan over medium heat. Add in the brown sugar and salt. Cook, stirring, until the brown sugar is completely melted. Stir in the milk and bring to a boil, then pour immediately into a stand mixer bowl and allow to cool for 10 minutes.
After the 10 minutes is up, stir in the powdered sugar and vanilla. Beat well with the whisk attachment. Pour the warm frosting over the warm cake, smoothing it into an even layer.
Serve warm or at room temperature.