This rustic apple buckwheat cake combines the earthy flavor of buckwheat with sweet tart apples, and is a perfect accompaniment to a cup of tea on a chilly fall morning.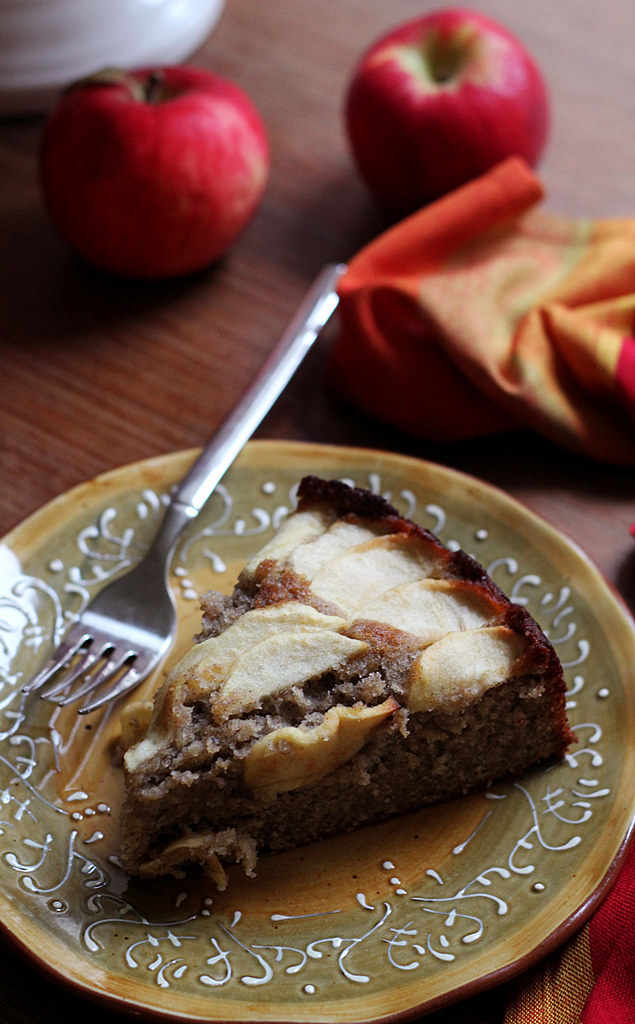 The wedding dreams have started again.
And no, not the fun happy ones where every hair is in place, I'm ready hours ahead of schedule, and the whole thing goes off without a hitch.
But the kind where it's 15 minutes before I'm supposed to be walking down the aisle, my dress isn't on, my hair isn't did, and we forgot to order the cupcakes.
In case you're wondering, in the dream I'm most upset about the cupcakes.
Priorities, people.
My subconscious found the whole thing so compelling(/disarming) that I even overslept my alarm. Which if you know me, you know that I never do.
Usually I'm chomping at the bit to get up! Have coffee! Do blog stuff! Be late for work!
And so I practically run out of bed.
Except, apparently, when my wedding cupcakes are in danger. Noted.
Most of the big stuff for the wedding is done, which means now I'm supposed to be doing things like focusing on the details.
I'm not sure I have that trait. Does it skip a generation? In the final four weeks to the wedding will some kind of natural instinct suddenly kick in? A hormone takeover?
Also, I'm petrified to try on my dress again for fear that it won't fit. Is this normal?
Please say this is normal.
In the wake of all this crazy, sometimes you need something simple and just.good to calm you down. This apple buckwheat cake is just that thing.
Honestly, I hadn't even been planning on making this but I got home from work one night with the intention of making apple hand pies, and all of a sudden making pie crust and then rolling it out and then making the filling seemed like too much. I wanted something easier that I could stir together and throw into the oven without having to worry about chilled butter or apple leakage.
As I was flipping through a copy of Huckleberry
, which just happens to be one of the most inspiring and gorgeous (THAT COVER. WHOA.) cookbooks that I have ever owned, I stumbled across this recipe. And it just felt right.
It's really quite a simple cake, but made more interesting by the mix of flours that goes into it, along with some grated apples for the actual batter, and apple slices on the top to raise some eyebrows. A cinnamon apple-infused glaze is brushed over the top while it's still warm so it can seep into the cake as it cools. The end result is hypnotic. Moist, warm, sweet-tart, and a bit earthy. Perfect with a warm cup of tea when you just want to slow things down for a minute.
Or forget forgetting to order your wedding cupcakes. Whatever the case may be.
Apple Buckwheat Cake
This rustic apple buckwheat cake combines the earthy flavor of buckwheat with sweet tart apples, and is a perfect accompaniment to a cup of tea on a chilly fall morning.
Ingredients
1 cup unsalted butter, room temperature
1⅔ cup sugar, plus 2 tbsp, divided
2 tsp kosher salt
1 tsp vanilla extract
6 large eggs
3-4 tart apples, peeled and cored, 1 grated and the others thinly sliced, cores reserved
1½ cups almond flour
¾ cup buckwheat flour
⅔ cup all purpose flour
⅓ cup cornmeal
2 tsp baking powder
For the glaze
½ cup sugar
½ cup water
pinch of kosher salt
1 cinnamon stick
Instructions
Heat oven to 350F. Grease a 10-inch springform or cake pan. Set aside.
In the bowl of a stand mixer fitted with the paddle attachment, cream together the butter, sugar, and salt on medium-high speed until light and fluffy, about 3-4 minutes. Add in the vanilla and the eggs, one at a time, mixing well after each addition, and scraping down the bowl as necessary.
Mix in the grated apple until combined, scraping down the bowl.
Add the almond flour, buckwheat flour, all purpose flour, cornmeal, and baking powder to the mixing bowl. Mix until just combined. Pour the batter into the prepared cake pan, spreading evenly.
Arrange the sliced apples on top of the cake in a concentric pattern. Sprinkle the remaining 2 tbsp sugar over the top.
Bake for 1 hour to 1 hour and 15 minutes, or until a toothpick inserted in the center comes out clean.
Let cool for 15 minutes before removing from the pan to a wire rack to cool.
Meanwhile, prepare the glaze. In a medium saucepan, combine the sugar, water, reserved apple cores, and cinnamon stick. Simmer over medium heat until sugar has melted. Bring to a boil and then shut off heat, letting the apple and cinnamon flavors infuse while the cake cools. Brush over the top and sides of the cake while it is still warm. Let cool completely before serving.
Notes
Adapted very slightly from
Huckleberry: Stories, Secrets, and Recipes From Our Kitchen
For more apple cake recipes, check out these: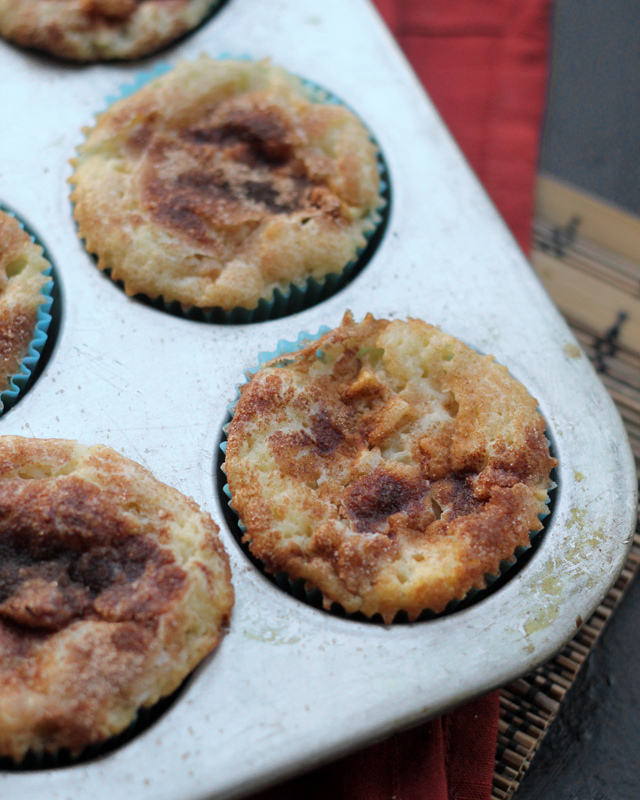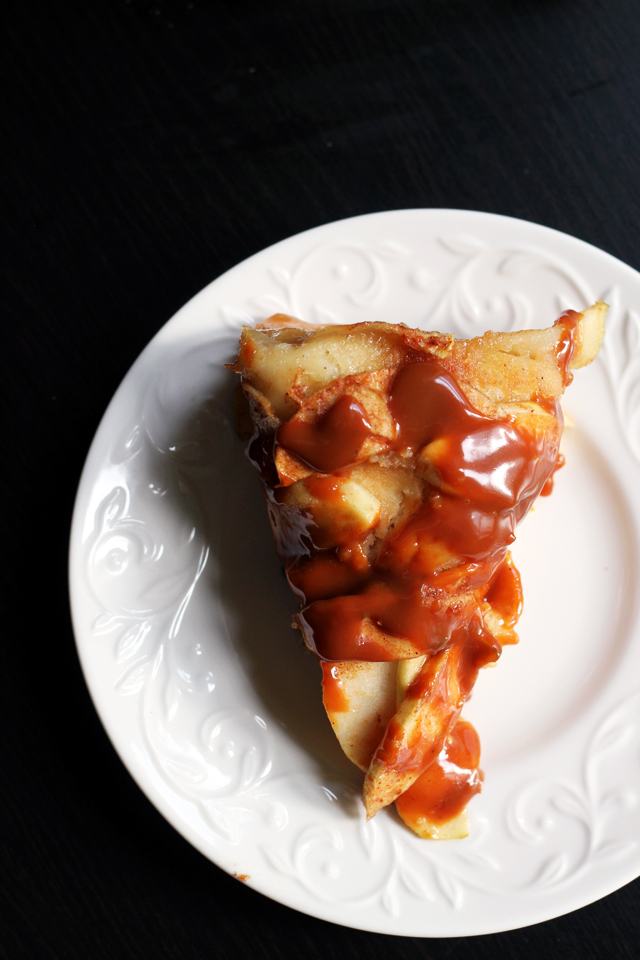 Apple Pie Coffee Cake with Dulce de Leche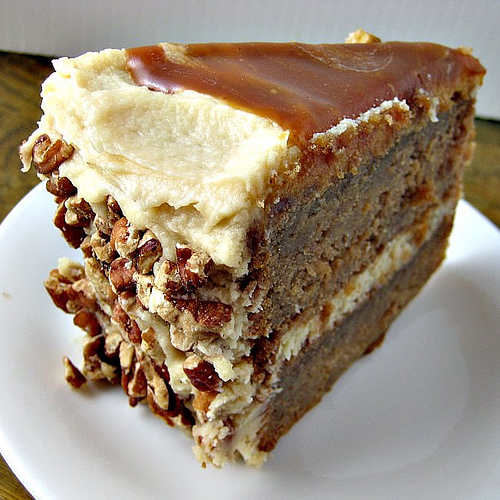 Apple Spice Layer Cake with Caramel Swirl Icing
From Around the Web:
Apple Spice Layer Cake with Goat Cheese Frosting from Tracey's Culinary Adventures
Cheesecake-Filled Apple Cake from Cinnamon Spice and Everything Nice
Caramel Apple Mousse Cake from The Gunny Sack
Apple Spice Cake with Cinnamon Cream Cheese Frosting from Bake or Break
Fresh Apple Cake from A Cup of Mascarpone