There is cinnamon, spice and everything nice in these cinnamon-apple cupcakes!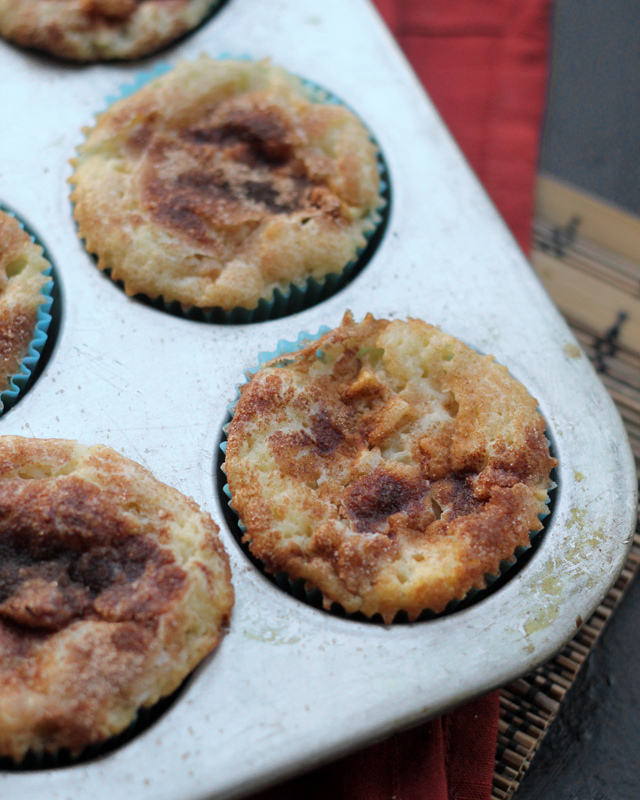 So if we were going to rate excuses on a scale of one to ten, "my camera ate it" would fall…
…above "my dog ate it" but below "my prepubescent brother ate it"? In terms of plausibility?
But, you guys. IT DID.
Eat the pictures, that is. ALL THE PICTURES.
Well, all the pictures of these cinnamon-apple cupcakes except for the one that I've thrown up here. No idea how it happened. Because I definitely was late to work taking ALL THE PICTURES…(as per usual)…but when I went to download them onto my computer…in between Monday's mediterranean orzo and a butternut squash pasta dish I'm planning on sharing next week. There was nada.
Between you and me? I don't blame it.
These cupcakes were good. Better than good. Bursts of apple flavor and crunchy bits of cinnamon sugar crust (swoon) good.
If I were my camera…I would have eaten those photos as well. But…maybe I would have done it before all the cupcakes were either eaten or given away, so that there was some opportunity to retake them. Just saying.
PS – If you call these muffins, you can eat them for breakfast! #winning
Two years ago…Corn Quiche in a Tef Crust, Roasted Winter Squash, Apple and Spelt Berry Soup
Three years ago…Eggplant Crostini with Red Pepper Relish and Feta
Cinnamon-Apple Cupcakes
There is cinnamon, spice and everything nice in these cinnamon-apple cupcakes!
Ingredients
1¾ cups sugar, divided
½ cup butter, softened
1 tsp vanilla extract
6 oz nonfat Greek yogurt
2 large eggs
1½ cups flour
1½ tsp baking powder
¼ tsp salt
2 tsp ground cinnamon
2 granny smith apples, peeled and chopped
Instructions
Preheat oven to 350.
In the bowl of a stand mixer fitted with the paddle attachment, cream together 1½ cups sugar, butter, vanilla, and Greek yogurt until combined, about 3 minutes. Add in the eggs one at a time, stirring well and scraping down the sides of the bowl after each addition.
In a separate bowl, whisk together the flour, baking powder and salt. Add into the batter, mixing on low speed until just combined.
In a small bowl, whisk together the remaining ¼ cup sugar and cinnamon. Toss the apple chunks with 2 tbsp of the cinnamon mixer. Fold apple pieces into the batter.
Line 2 cupcake tins with 18 liners. Divide the batter amongst the liners. Sprinkle the remaining cinnamon-sugar mixture over each cupcake.
Bake for 25 minutes, or until a toothpick inserted comes out clean. Let cool on a wire rack before serving.
Notes
Adapted from
The Best of Cooking Light: Over 500 of Our All-Time Greatest Recipes