Fresh figs are only in season for a short time, so celebrate them with this delicious almond honey cake with roasted figs and mascarpone frosting.
Disclosure: This post was sponsored by International Delight®. As always, my thoughts and opinions are my own.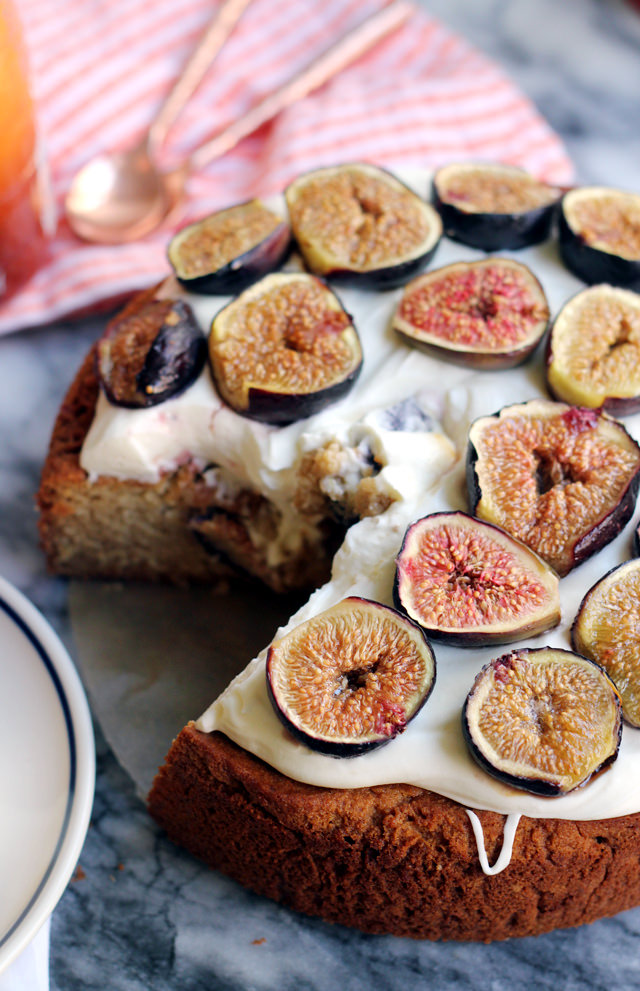 It's my favorite time of yeeeaaarrr!!!
Other than all of fall/pumpkin season. Obviously.
FIG SEASON.
(!!!)(!!!)(!!!)
I'm only severely excited/doing cartwheels in my kitchen. Can you tell?
Right now I'm caught up in quite the frenzy, trying to inhale them in as many ways as is humanly possible for fear that I'll blink and their unreasonably short time on this planet will be over. I realize that technically they come around every year so it's not like I'll never encounter one again, but 365 days is a long time. Gotta take advantage while we can.
Figs are kind of like apricots in that they can either be bundles of sweet sweet joy or flavorless buzzkills. And there is absolutely no way to tell until you've bitten into one and risked having all your hopes and dreams crumble to the ground.
Yeah, eating them can be pretty stressful BUT. Have no fear. A little coaxing in the oven is all they need to turn into the most perfect versions of themselves.
Easy. We got this.
If you know me, then you know that the only thing I love more than figs (and pumpkin) is coffee!! I definitely can't start the day without it and I frequently can't get through the day without multiple cups. Some would say it's a problem (like my husband), but I just think it's life. And one of the best parts of it.
Part of the fun of coffee drinking is that it gives you an excuse to have "a nice piece of cake", as my grandmother used to say, at random times of the day…because I think we all know that coffee is better with cake. Always.
Not to brag or anything, but this almond honey cake definitely qualifies as "a nice piece of cake". It's lightly sweet with a tight, pound cake-like crumb, and is perfectly paired with an almost tart mascarpone frosting and sticky sweet caramelized roasted figs. I love that the figs get to shine, but the cake can definitely hold its own as well. They're a dynamic duo, those two.
A cake like this doesn't deserve just any coffee for pairing with, so I made sure to add in a swig of International Delight's Caramel Macchiato Coffee Creamer to my cup of joe when I was eating it. The layers of flavor it adds make you feel like you're drinking a coffeehouse quality beverage, all from the comfort of your own home…with your own homemade cake in front of you.
Coffee breaks just don't get any better than that. And neither do figs.
Almond Honey Cake with Roasted Figs and Mascarpone Frosting
Fresh figs are only in season for a short time, so celebrate them with this delicious almond honey cake with roasted figs and mascarpone frosting.
Ingredients
For the cake
12 tbsp unsalted butter, softened
¼ cup dark brown sugar
½ cup honey, divided
1½ tsp vanilla
3 large eggs
2 cups all purpose flour
1 cup almond flour
1¼ tsp baking soda
½ tsp kosher salt
½ cup + 2 tbsp International Delight Caramel Macchiato Coffee Creamer
For the roasted figs
8-10 figs, halved
2 tbsp honey
pinch of coarse sea salt
For the mascarpone frosting
½ cup heavy cream
8 oz mascarpone
2 tbsp powdered sugar
Instructions
For the cake, heat oven to 350F. Grease an 8-inch round cake pan and line with parchment paper, then grease again.
In the bowl of a stand mixer fitted with the paddle attachment, cream together the butter, sugar, ¼ cup of honey, and vanilla until light and fluffy, about 5 minutes on medium speed. Add the eggs, one at a time, mixing well after each addition.
Add the flour, almond flour, baking soda, and salt to the mixer bowl and mix until just combined. Add in the coffee creamer and beat until just combined. Pour the batter into the prepared pan and bake for 30-40 minutes, or until the cake is golden brown and a toothpick inserted in the center comes out clean.
Use a chopstick or skewer to poke holes all over the cake while it's still warm. Pour the remaining ¼ cup of honey over the cake. Allow to cool in the pan.
For the roasted figs, heat oven to 400F. Spread the figs, cut side up, on a parchment-lined baking sheet. Drizzle with the honey and sprinkle with sea salt. Roast for 20 minutes.
For the mascarpone frosting, beat together the heavy cream, mascarpone, and powdered sugar until stiff peaks form.
To assemble, turn the cake onto a serving plate. Spread the mascarpone frosting over the cake. Top with the roasted figs. Chill until ready to serve.
For more International Delight inspiration, follow them on Twitter, Pinterest, Facebook, and Instagram! And make sure to sign up for the International Delight Newsletter to keep up with new products, offers, and recipes!
This conversation is sponsored by International Delight. The opinions and text are all mine.