Roasted cauliflower and chickpea piccata made with a succulent lemon caper sauce. Delicious served over couscous or pasta!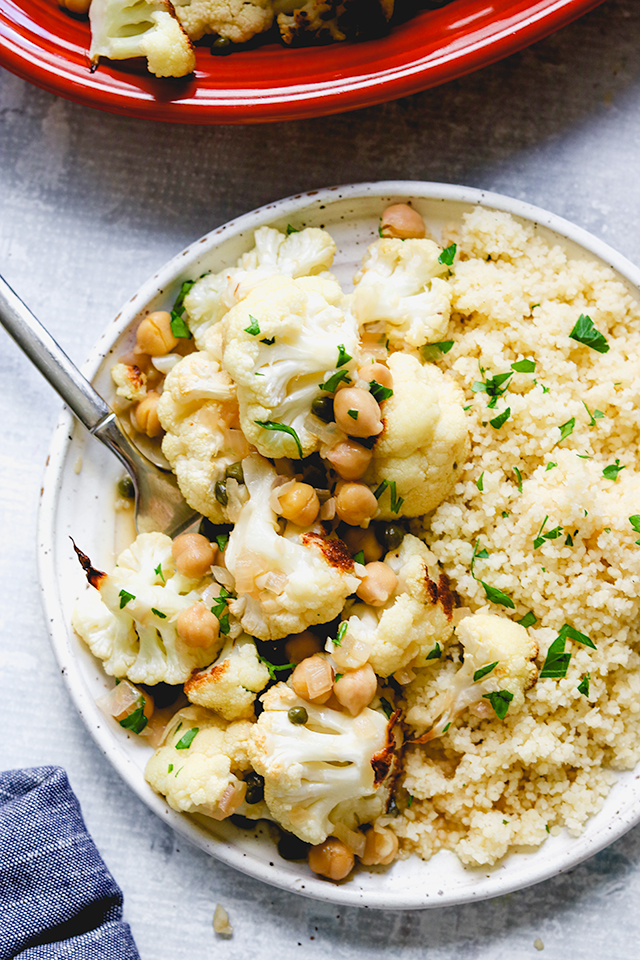 You know what I really love?
Cauliflower just being CAULIFLOWER. 
Owning its floret-y goodness, with all of their nooks and crannies, and not trying to be something else for once.
Call me old-fashioned, but I just could never get behind all of the cauliflower pizza crusts and breads and muffins and gnocchi and crackers of the world. I like my complex carbs to be complex carbs and my vegetables to be vegetables.
That's not to say we can't get inventive with cauliflower – I'm all for that! Just so long as that doesn't also mean taking away my bread products.
NOTHING comes between this Italian and her bread. Seriously.
Speaking of Italian food, one of my favorite sauces from my non-vegetarian childhood is PICCATA sauce.
It's a silky lemon butter sauce made extra briny and delicious with the addition of capers that is typically paired with breaded and fried chicken or veal cutlets. I love its tangy salty lemony buttery flavor and could/would actually drink the stuff if given the opportunity.
(Much to my NOT caper loving husband's chagrin.)
Now you understand why when I saw this recipe for cauliflower piccata by Hetty McKinnon on the New York Times Cooking website, I basically had to cancel all of my dinner plans and make it immediately.
This recipe combines roasted caramelized cauliflower florets and hearty chickpeas with a classic piccata.
The lemony sauce seeps into the roasted florets, coating every bite. 
This all cooks up pretty quickly and you can prepare the piccata sauce in the time it takes to roast the cauliflower (yay, multi-tasking!) so everything can be done in around thirty minutes.
We served it with a box of seasoned couscous, but I think anything from Israeli couscous to pasta to rice or just bread to sop up all the juices would be perfect accompaniments.
It would also be excellent as a side dish to part of a bigger meal, though we were very satisfied with it all on its own.
Roasted Cauliflower and Chickpea Piccata
Roasted cauliflower and chickpea piccata made with a succulent lemon caper sauce. Delicious served over couscous or pasta!
Ingredients
1 cauliflower, cut into large 2-inch florets
olive oil
kosher salt and black pepper, to taste
1 (!5 oz) can chickpeas, drained
1 shallot, minced
3 garlic cloves, minced
1 cup vegetable broth
4 tbsp unsalted butter
2 tbsp capers, drained
2 tbsp lemon juice
parsley, minced, to garnish
Instructions
Heat oven to 425F. Place the cauliflower on a sheet pan and drizzle with olive oil. Season with salt and black pepper, and toss to combine. Roast for 20-25 minutes, or until the cauliflower is golden. Add the chickpeas to the pan and stir to combine. Spoon onto a serving bowl and set aside.
Meanwhile, heat 1 tbsp of olive oil in a medium skillet over medium-high heat. Add the shallot and saute until tender, about 1 minute. Add in the garlic and saute for 1 minute more, stirring constantly. Add the broth to the pan and bring to a simmer. Allow to simmer until reduced by half, about 4 minutes. Decrease the heat to low and stir in the butter, capers, and lemon juice. Season to taste with salt and black pepper.
Pour the lemon caper sauce over the cauliflower and chickpeas. Top with parsley and serve.