Crispy pan-seared gnocchi with sweet roasted honeynut squash, cherry tomatoes, and creamy ricotta. This is sure to be a new weeknight favorite!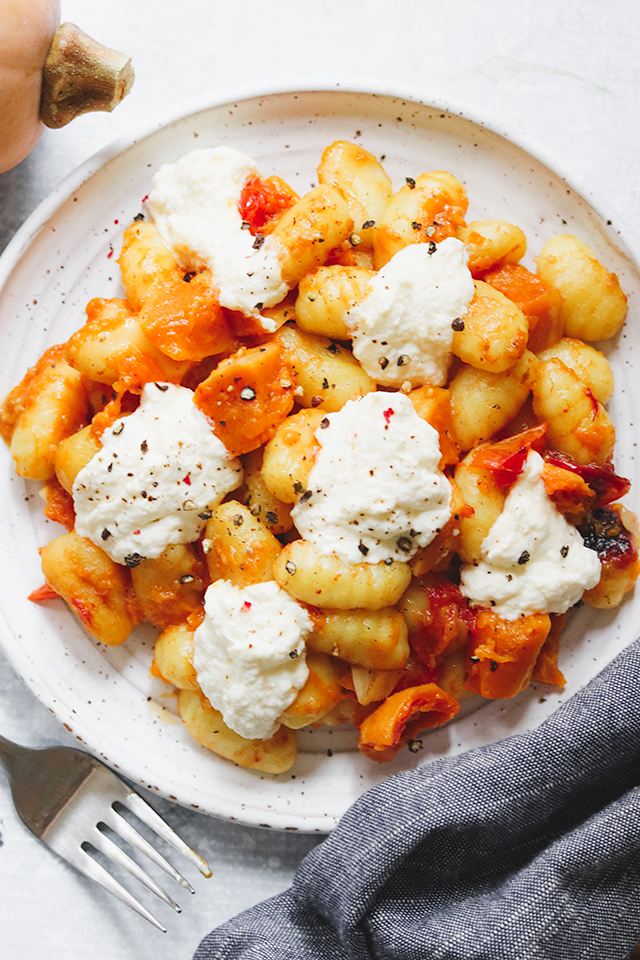 We eat pasta at least once a week, so I am always looking for new ways to make it.
SURE my husband and child claim that they would be happy eating penne with a jar of Rao's tomato sauce every day until the end of time and YES that would make our weeknights a heck of a lot less chaotic, but I've never been known to take the easy way out.
(At least, not when it comes to dinner.)
Earlier this summer, I made a truly stellar recipe from the New York Times Cooking site for crispy gnocchi paired with a burst cherry tomato pan sauce. The gnocchi had the best texture and the sauce was garlicky, buttery, tomato heaven. Unfortunately I discovered it later in the summer so we only got to make it a few times with really fresh, in-season tomatoes. However, I loved the gnocchi cooking method so much that I knew I had to make a fall version.
And here we are!
Instead of cooking the vegetables on the stovetop, we're roasting them in the oven so they get super sweet and caramelized. I used honeynut squash, which is like a smaller, sweeter, way more delicious version of butternut squash. I'm basically obsessed with it and have been using it for all my squash needs lately. If you can't find it, butternut or delicata squashes are good substitutes here. For the delicata, you won't need to peel it because the skin is very thin and will tenderize in the oven.
Along with the squash, we'll roast some cherry tomatoes as well. They may not be perfectly in season but roasting them brings out all of their inner sweetness, so they will still be total flavor bombs.
Onto my favorite part of this recipe, which is the gnocchi cooking method. This is such a simple, genius technique that results in crispy on the outside, pillowy on the inside gnocchi every time.
First, heat some olive oil in a heavy-bottomed (I prefer cast-iron) skillet over medium-high heat to ensure the pan is fairly hot. Then add half of the gnocchi to the pan, cover it, and let it cook until crispy. This takes about four minutes.
The gnocchi forms a crisp skin where it touches the hot pan but by cooking it with the cover on, it also steams and cooks through simultaneously. Also, there is really no oil splatter, which I find pretty amazing. I've tried to saute gnocchi on an open skillet to crisp it up before and it is always a disaster, but not with this method!
After the gnocchi and the veggies are cooked, melt some butter in the same pan used to cook the gnocchi and saute a bit of sliced garlic and red pepper flakes. Then, add all of the components back into the pan, toss together, and serve!
This was completely incredible served with dollops of fresh ricotta on top – creamy and buttery but with a sweet-tart finish from the roasted squash and tomatoes.
Crispy Gnocchi with Roasted Honeynut Squash, Cherry Tomatoes, and Ricotta
Crispy pan-seared gnocchi with sweet roasted honeynut squash, cherry tomatoes, and creamy ricotta. This is sure to be a new weeknight favorite!
Ingredients
4 tbsp olive oil, divided
2 honeynut squash (about 1.25 lb), seeded, peeled, and cut into 1-inch cubes
1 pint cherry tomatoes, halved
salt and black pepper, to taste
2 (12-18 oz) packages shelf stable gnocchi
¼ cup unsalted butter
4 garlic cloves, thinly sliced
¼ tsp red pepper flakes
8 oz fresh ricotta
Instructions
Heat oven to 400F.
In a large bowl, toss together 2 tbsp of the olive oil, squash, and cherry tomatoes. Spread on a parchment-lined baking sheet and season with salt and black pepper, to taste.
Roast for 20-30 minutes, or until the squash is tender.
Meanwhile, heat 1 tbsp of olive oil in a large skillet on the stovetop over medium-high heat. Add half of the gnocchi to the pan, in a single layer if possible. Cover with a lid and cook for 2-4 minutes, or until golden on one side. Transfer to a medium bowl.
Repeat with the remaining tbsp of olive oil and the remaining gnocchi.
Add the butter to the skillet and cook until melted, golden, and toasty, about 2 minutes. Add the garlic, red pepper flakes, and 1 tsp salt to the pan. Saute until the garlic is cooked and fragrant, about 1-2 minutes. Add the gnocchi back to the pan along with the roasted squash and cherry tomatoes. Stir to combine.
Divide among serving bowls and top with dollops of the ricotta before serving.
Notes
An Eats Well With Others Original