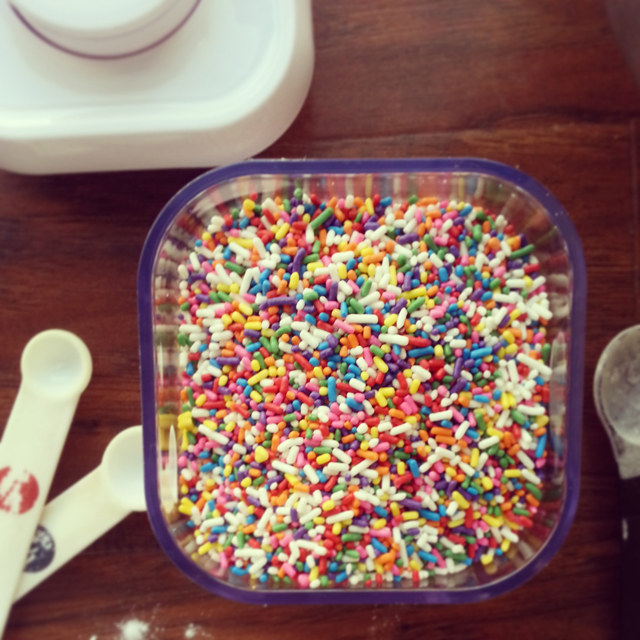 1. Sprinkles = instant happy.
2. Which is perfect because I have some SUPER happy news I want to share with you – I was chosen to be on the 2014 Cabot Fit Team! I applied to be on it last summer and didn't make it, but apparently second time's a charm. I am SO excited to run with such an awesome group of ladies in May AND to celebrate one of my favorite food groups – CHEESE. Oh, cheese isn't a food group, you say? PROVE IT. Over the next few weeks I hope to share my training experience/fitness tips/running nutrition tips/healthy inspiration with you guys, if this is something you'd be into. Thoughts?
3. Sprinkles also = perfect stress eating food. Like, the night before you have a meeting with your thesis committee about your PhD progress and your boss keeps hinting that getting a Masters instead really isn't so bad. I mean, I know he's kidding but still. NOT okay.
4. My secret plan? Putting my committee into a sugar/butter coma while I lecture them on insulin signaling and diabetes. Oh, the irony.
5. Speaking of my boss, the words "you should twitter that" came out of his mouth yesterday. I can't even.
6. The.Boy and I are eighty trillion years old and hate crowds and overpriced food so we are staying in on V-Day. Which means I have to(/want to) cook. Which means I have to figure out what one can cook after a full week of work that is deliciously appropriate and doesn't require full use of one's brain cells. At this rate, we'll be having grilled cheese.
7. Have I mentioned that it's my birthday month? And ALL THE STORES keep sending me coupons. And by ALL THE STORES, I mean the only store that matters which is Anthropologie. I feel like these would be the most impractical baking pans ever. But I want them. And this. And this.
8. This Olympic "sport" that requires you to ski, then shoot at things, then ski some more. I don't understand.
9. Public service announcement – you cannot bake the freezer burned flavor out of freezer burned frozen fries. In case you were wondering.
10. Sometimes I feel like my whole life should be lived according to the motto of WWLGD (What Would Lady Grantham Do). #downtonforlife.
9f4e74fb873e1c404242fa4312a02d321d61d9c28dc75e67a8