Sprinkle cookies get a cinnamon sugar twist in these Soft and Chewy Snickerdoodle Sprinkle Cookies! There's a bit of fun in every bite.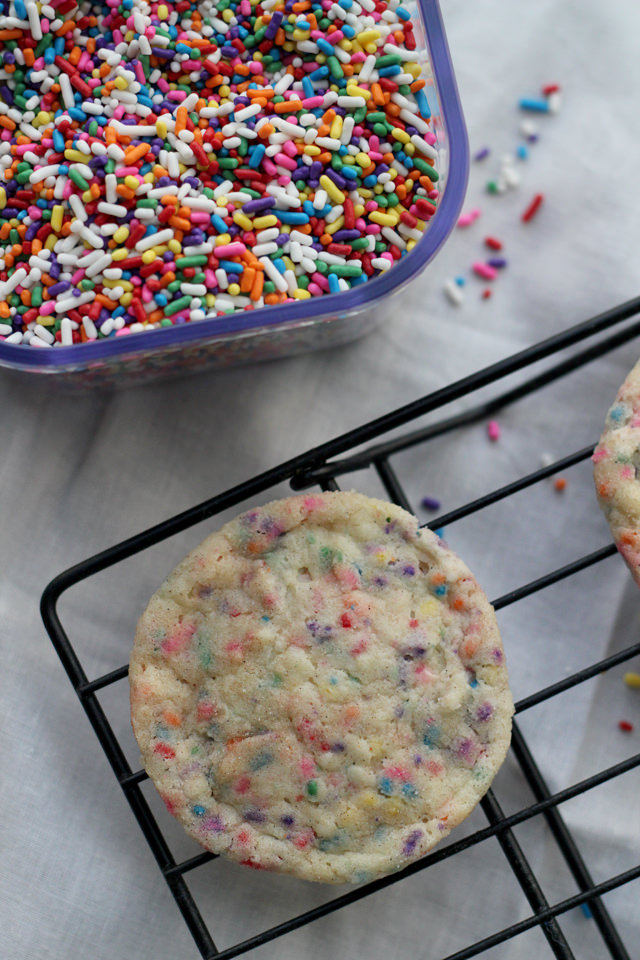 Let's just make all our rainbow sprinkle-loving cinnamon-sugar-obsessed dreams come true.
In one cookie.
Welcome to real life.
You know, real life where we buy our sprinkles on Amazon because we are too lazy to go to the supermarket.
But then when we get them in the mail it's like Christmas in February!
And what could be better? You know, other than a 70F degree day in February.
Oh, yes. I went there.
The.Boy, apparently, does not have rainbow-sprinkle loving dreams because when I tried to send him off to his friends' Superbowl party with these in tow, he was all embarrassed. As if, all of the sudden, sprinkles were too "girly" for him.
But then he also didn't want to leave them home alone with me (perhaps out of fear I would eat all of them in the midst of a Kardashian-overdose-induced-haze)? It was very confusing.
Eventually I convinced him that his friends would not think he had two X chromosomes just for bringing the best sugar cookies on earth with him, rainbow sprinkles notwithstanding.
In fact, they might even love him more.
One of my new favorite lifehacks is to just leave a bowl of cinnamon sugar on the counter. It's amazing the things it can be mixed into.
So far ice cream, a near-perfect breakfast pastry that I'm going to share with you tomorrow, a spoon headed straight for my mouth…
…and these cookies even took a bath in it.
Because if there's one thing better than a sprinkle cookie. It's a snickerdoodle-d sprinkle cookie.
Say that five times fast.
I snagged a few of these from the.boy before he left…one for me and a handful for my Leftovers Club partner this month!
This month I was paired with Marie of Little Kitchie and she seriously sent me THE BEST BLONDIES. Like, ever.
If you like receiving/sending baked goods then you should definitely look into signing up for The Leftovers Club next month! It's pretty super.

One year ago…Sweet Potato Cream Pasta with Kale, Golden Semolina Quinoa Collards Cakes
Two years ago…Carrot and Tahini Soup
Four years ago…Cranberry Tangerine Espresso Whole Wheat Bread
Soft and Chewy Snickerdoodle Sprinkle Cookies
Sprinkle cookies get a cinnamon sugar twist in these Soft and Chewy Snickerdoodle Sprinkle Cookies! There's a bit of fun in every bite.
Ingredients
1½ cups all purpose flour
1 tsp cream of tartar
1 tsp baking powder
½ tsp baking soda
¼ tsp salt
½ cup butter, room temperature
1½ cup sugar, divided
1 large egg
2 tsp vanilla
¾ cup sprinkles
¾ tsp cinnamon
Instructions
Preheat oven to 350. Line two baking sheets with parchment paper and set aside.
In a medium bowl, whisk together the flour, cream of tartar, baking powder, baking soda and salt. Set aside.
In the bowl of a stand mixer fitted with a paddle attachment, cream together the butter and ¾ cup sugar until fluffy, about 3 minutes. Add in the egg and vanilla and mix until combined. Add in the flour in three additions, mixing until completely combined after each. Pour in the sprinkles and mix until combined.
In a small bowl, whisk together the remaining ¾ cup sugar and cinnamon. Scoop the cookie dough using a 2-tsp size cookie scoop, making heaping scoops. Roll in the cinnamon sugar mix and place on the baking sheets. Repeat with remaining dough, leaving an inch between cookies.
Bake for 8-10 minutes, or until the centers are set. They will not look cooked, but don't sweat it - they will continue to cook as they cool.
Allow the cookies to rest on the baking sheet for 5 minutes. Then remove to a wire rack to cool completely.