A snickerdoodle blondie is topped with decadent layers of dulce de leche and white chocolate ganache in these dulce de leche snickerdoodle bars.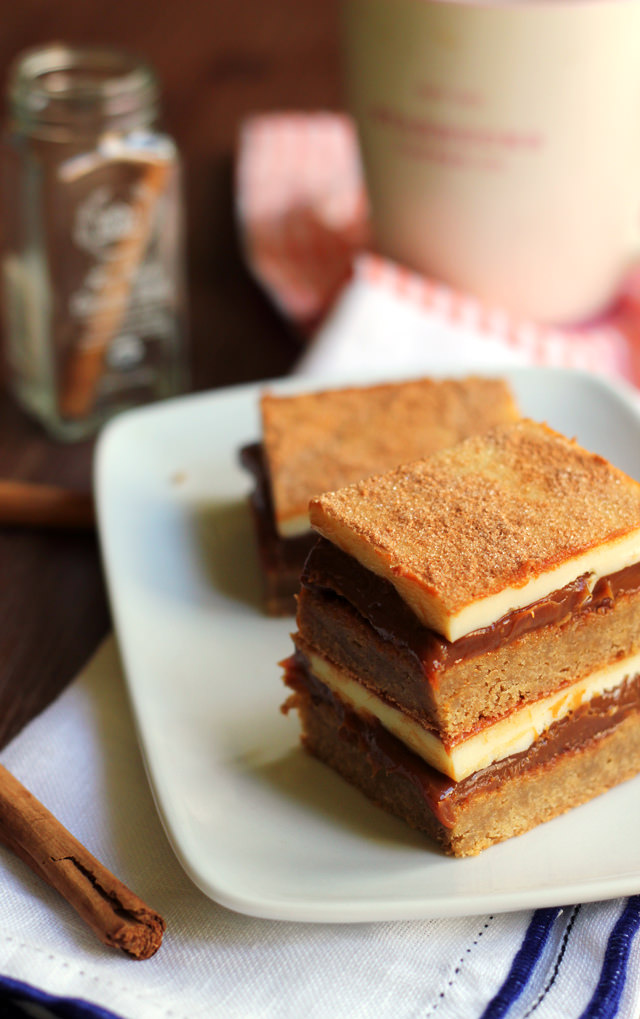 If I had to describe my relationship with cinnamon sugar in three words…they would be "torrid love affair".
Okay, fine. Unrequited torrid love affair, if we're getting all nitty gritty truth telling about things.
I mean, I can't really imagine that it likes it when I stick my tongue into a big bowl of it and don't come up for air until it's gone…but sometimes you really have to just let the passion take you where it takes you.
Wherever that may be.
Especially when the passion is leading you to a pan full of snickerdoodle blondies topped with a layer of dulce de leche topped with a layer of white chocolate ganache topped with a sprinkling of cinnamon sugar.
It's a mouthful.
(But the dreamy kind.)
You need this kind of sordid relationship in your life. I know these things.
Did you all know that September is Childhood Cancer Awareness Month? As in previous years, OXO is gearing up for their annual program benefiting Cookies for Kids Cancer and the Be A Good Cookie campaign. Cookies For Kids Cancer was started by two OXO employees when their son was diagnosed with neuroblastoma, one of whom I got to meet at an event launching this year's campaign just a few weeks ago. Hearing the struggles that this little boy had to go through in the final years of his life was heartbreaking. No child should have to go through that, just as no parents should have to stand by and watch their child die. And if I can bake cookies to help fight the good fight against childhood cancers, then obviously I'm going to do it.
This year, as in previous years, OXO has agreed to donate $100 for every blog post dedicated to fighting childhood cancers. In addition, throughout September, OXO will donate 25 cents to pediatric cancer research for every item purchased that has a green "Cookies for Kids Cancer" sticker on it. The line-up of eligible products can be found here. I have most of these items in my kitchen and use them on a regular (re: daily) basis, so if you're in the market for good quality baking supplies, these.are.it.
Dulce de Leche Snickerdoodle Bars
A snickerdoodle blondie is topped with decadent layers of dulce de leche and white chocolate ganache in these dulce de leche snickerdoodle bars.
Ingredients
1 cup butter, softened
2 cups dark brown sugar
2 large eggs
2 tsp vanilla extract
2½ cups all purpose flour
2 tsp baking powder
1 tsp salt
¼ cup sugar
3 tsp cinnamon
2 (13.4 oz) cans dulce de leche
12 oz white chocolate chips
⅓ cup heavy cream
1 tbsp light corn syrup
Instructions
Heat oven to 350F. Line a 9x13-inch baking pan with aluminum foil. Set aside.
In the bowl of a stand mixer fitted with the paddle attachment, cream together the butter and brown sugar on medium-high speed until fluffy, about 3-4 minutes. Mix in the eggs and vanilla extract until thoroughly combined, about 30 seconds. Scrape down the sides of the bowl.
In a separate bowl, whisk together the flour, baking powder, and salt. Add to the stand mixer bowl, and mix into the wet ingredients until just combined. Spread evenly into the prepared baking pan. In a small bowl, whisk together ¼ cup sugar and the cinnamon. Sprinkle 2 tsp of the cinnamon sugar mixture on the cookie base.
Bake for 30 minutes, or until the edges are a golden brown. Remove from the oven and let cool completely.
When the base is cool, spoon the dulce de leche into a microwave-safe bowl and microwave until spreadable, about 20-30 seconds. Spread over the cookie layer in the pan.
In a medium heavy-bottomed pan, heat the white chocolate chip, heavy cream, and corn syrup over medium low heat until melted together, stirring constantly. Spread evenly over the dulce de leche. Sprinkle with the remaining cinnamon sugar. Refrigerate at least 1 hour, until firm.
For more recipes to get your snickerdoodle fix, check out these: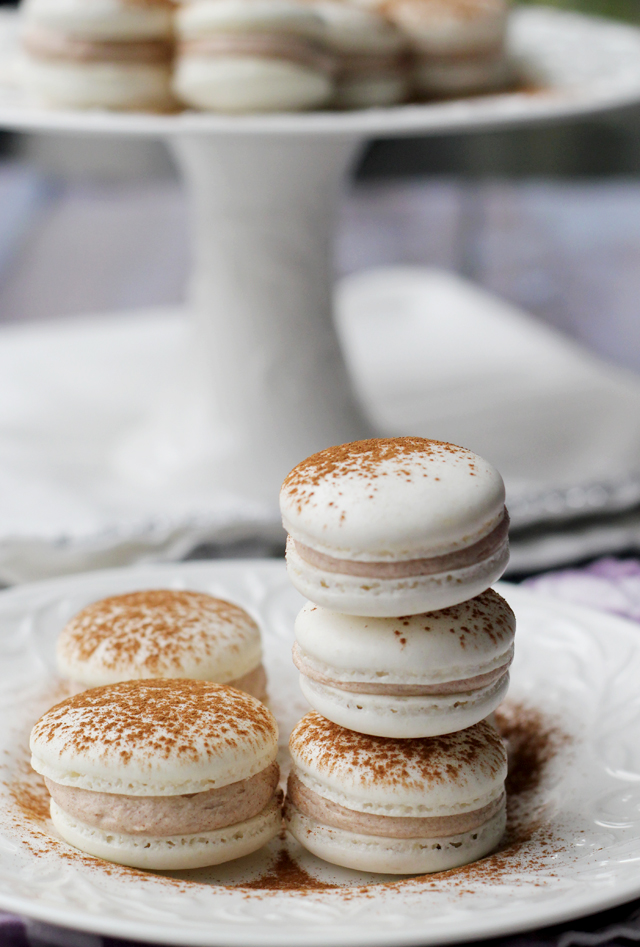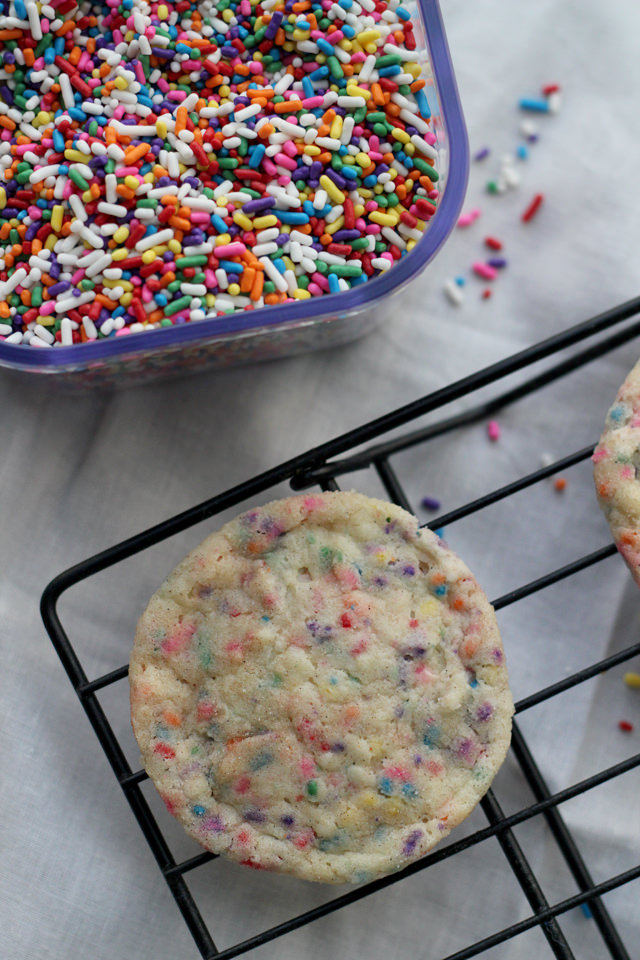 Snickerdoodle Sprinkle Cookies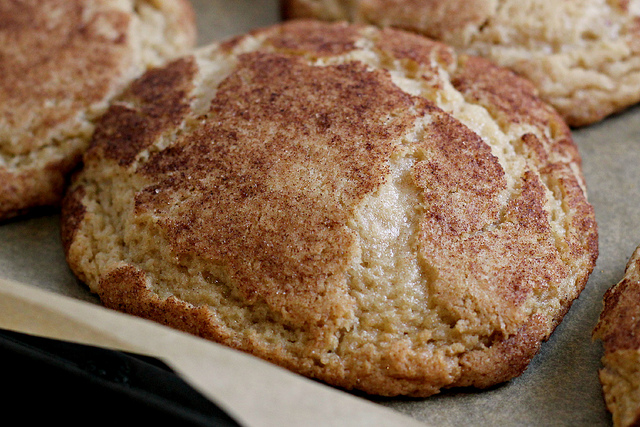 From Around the Web:
Snickerdoodle White Chocolate Blondies from Sally's Baking Addiction
Snickerdoodle Cheesecake from Recipe Girl
Pumpkin Snickerdoodle Scones from A Kitchen Addiction
Snickerdoodle Cupcakes with Cinnamon Frosting from Deliciously Sprinkled
Snickerdoodle Cake with Brown Sugar Buttercream from Always With Butter
Disclosure: I was not paid for this post; however OXO sent me a baking kit including the medium cookie scoop, spatulas, and the baker's dusting wand, and they will be donating $100 to every post dedicated to the Cookies For Kids Cancer Campaign in September.
 In 2014, OXO will donate up to $100,000 to Cookies for Kids' Cancer through specially marked baking tools, bake sale matches and other fundraising efforts. Cookies for Kids' Cancer is a recognized 501c(3) public charity duly incorporated under the laws of the state of New Jersey. Your donations are tax deductible to the fullest extent allowable by law. 100% of proceeds raised by Cookies for Kids' Cancer fund pediatric cancer research.