A sweet and juicy peach blueberry crisp topped with a buttery cornmeal crumble.

Or is it a cobbler?
A crumble?
A schlumpf? (<– Yes. A real thing.)
Can I get a fruit dessert translator over here?
ANYONE?!?!
Well, I have no idea what any of these mean but the language of dessert needs no words.
Just pie plates filled with sweet and juicy summer fruit that's been roasted until it's thick and bubbly.
And spoons.
For ice cream scooping.
For eating our way into this sticky mess.
For digging ourselves out.
And for every bite in-between.
The.Boy's response when he tried this was:
I can't believe you actually made this!!!
Not sure if that's "I can't believe YOU actually made this" v. "I can't believe you actually made THIS".
I mean, I'm hoping not the former because I'd like to think I've proven my dessert prowess over the years, but you never know. He has a weird kind of selective memory and maybe it had just been a while (i.e. > 1 week) since I'd baked something and he'd, like…forgotten?
Stranger things have happened in my marriage.
To his credit, I was even shocked that I made this.
I think it was the first thing I baked in this apartment and the oven was acting kind of wonky. The broiler door wouldn't close all the way so the oven just would not get to temperature because all of the heat kept leaking out.
DISASTER.
But not for this crisp!
Proof that it's basically the most versatile, foolproof thing ever. You can bake it at some RANDOM temperature and it will still turn out!!
(Though my official recommendation is to bake at 350F.)
(Don't be like me.)
It's a crisp. End of story.

Peach Blueberry Crisp with Cornmeal Crumble
A sweet and juicy peach blueberry crisp topped with a buttery cornmeal crumble.
Ingredients
For the cornmeal crumble
⅔ cup flour
5 tbsp + 1 tsp cornmeal
⅓ cup sugar
1 tsp lemon zest
1 tsp vanilla extract
½ tsp kosher salt
5 tbsp + 1 tsp unsalted butter, softened
For the crisp
5 medium peaches
2 cups blueberries
½ cup sugar
3 tbsp cold unsalted butter, cut into ⅛-inch dice
1 tsp lemon juice
1 tbsp vanilla bean paste
1 tbsp all purpose flour
1 tbsp cornstarch
Instructions
For the cornmeal crumble
First, make the crumble. In the bowl of a food processor, combine the flour, cornmeal, sugar, lemon zest, vanilla, and salt. Add the butter, breaking it into small clumps as you do. Pulse 5 times. Scrape down the sides of the bowl. Repeat two more times. Transfer to a bowl, cover, and refrigerate until ready to use.
For the crisp
Heat oven to 350F.
Half the peaches, remove the pits, and then cut into ¼-inch thick slices.
Combine the peach slices, blueberries, sugar, butter, lemon juice, and vanilla bean paste in a large bowl. Sift in the flour and the cornstarch. Gently stir until well combined.
Pour the peach-blueberry mixture into a 9-inch pie plate. Sprinkle the crumble evenly over the top. Place on a foil-lined baking sheet and bake until the fruit is bubbling and the cornmeal crumble is golden, about 50-55 minutes, rotating the pan halfway through.
Remove from the oven and allow to cool briefly before serving. Serve warm with vanilla ice cream.
Notes
Recipe from
The Dahlia Bakery Cookbook: Sweetness in Seattle
More summery peach recipes: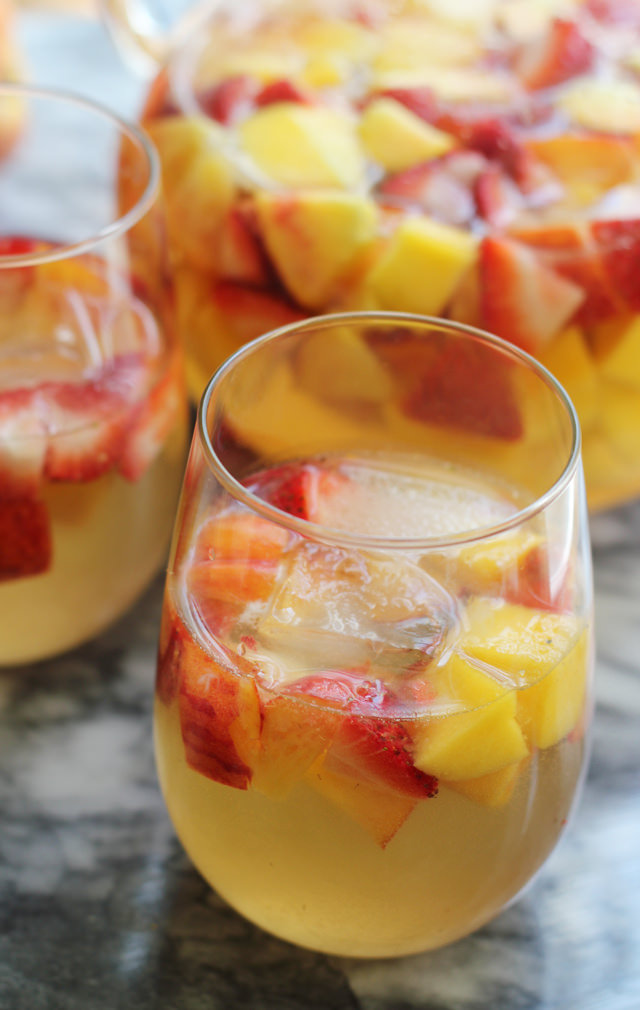 Vanilla Peach, Mango, and Strawberry Sangria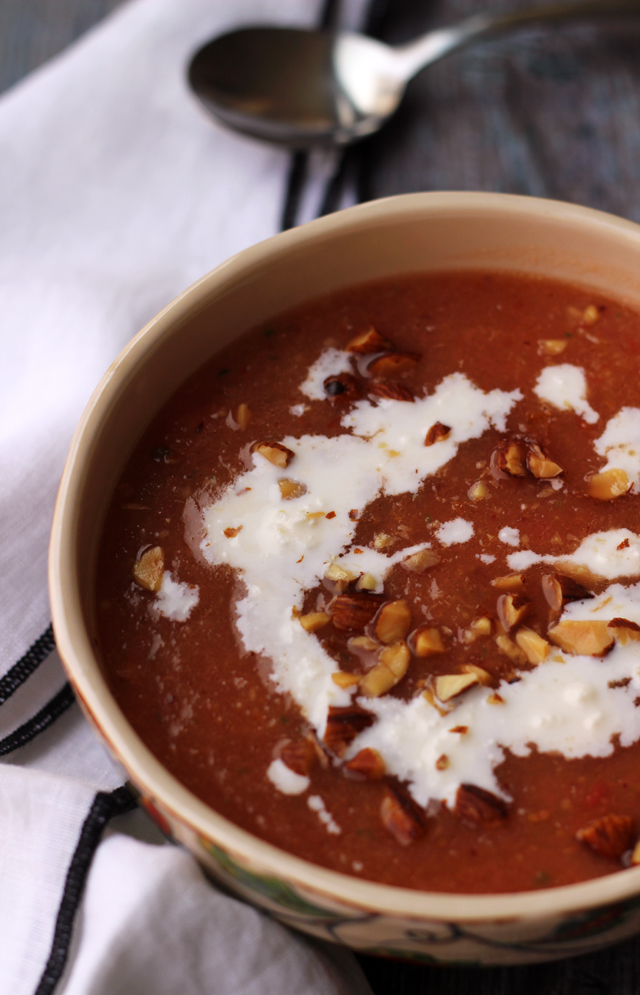 Peach Watermelon Gazpacho with Feta Crema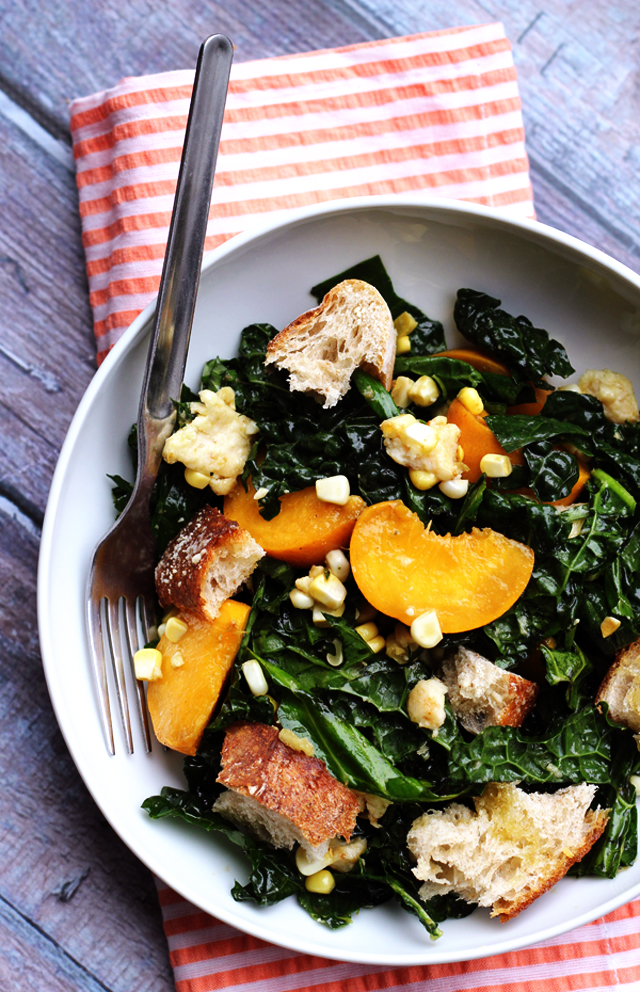 Kale Salad with Peaches, Corn, and Basil-Honey Vinaigrette