Crispy cauliflower and shells mac and cheese is a hearty pasta bake with bright, fresh flavors and lots of melted cheese.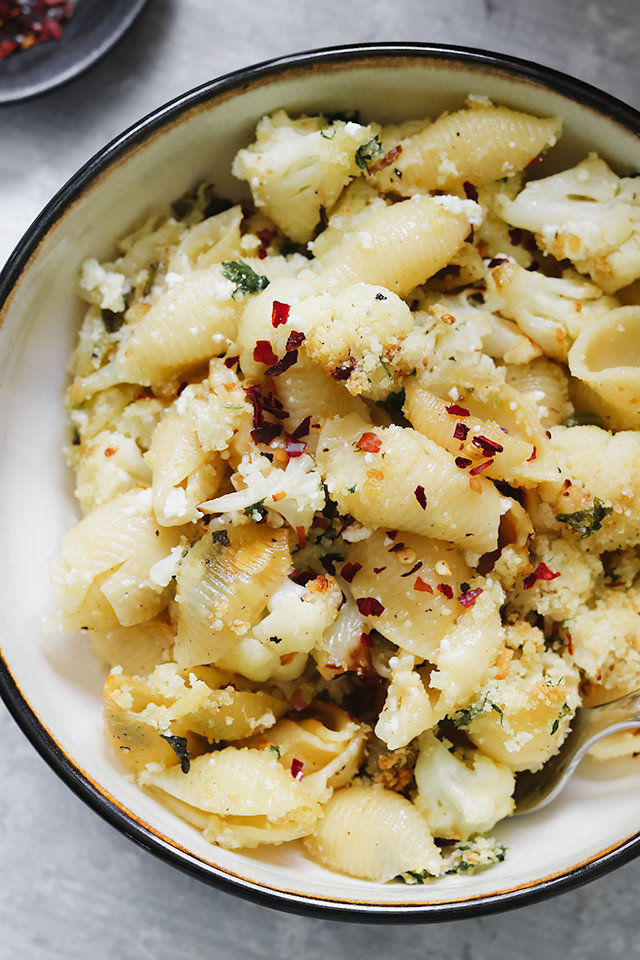 Weird stuff is happening around here, like for instance Remy just walked out of the room where I'm working, dragging her father with her, while telling him to "give mom some privacy to work" (if you're a mom, you know how momentous this is when you haven't peed by yourself in four years) but also last weekend she ATE A VEGETABLE and this cauliflower mac and cheese is wholeheartedly to thank for it.
Mike thinks (/hopes?) that maybe quarantine has made her a better eater, but I think we all know what's really going on here:
Ina Garten is just a recipe genius, and there's not much else to it.
This recipe is from her Cooking For Jeffrey cookbook, and I think it may be one of the only recipes of hers I've ever made? That's probably appalling coming from someone who's written a food blog for 10+ years, but I've just always pictured her as more of a "meat and potatoes" kind of cook so I stayed away. Apparently the woman knows her way around some vegetables as well, WHO KNEW.
Before you dive into making this, I feel like I need to add the disclaimer that this is NOT mac and cheese as you traditionally know it. It's filled with herbs and lemon and capers, a whole panoply of fresh flavors. And yes, there's cheese(s) – three, for those who are counting – but it's about so much more than that! There's also a crispy panko crust, oh AND THE CAULIFLOWER, which is browned in oil on the stovetop while the pasta cooks. The nice thing about the cauli florets is that they're kind of the same color and size as the pasta so they accidentally make their way into unassuming toddler's mouths before they realize anything is amiss and then, hey they're eating vegetables before they even know what's hit them.
Crispy Cauliflower and Shells Mac and Cheese
Crispy cauliflower and shells mac and cheese is a hearty pasta bake with bright, fresh flavors and lots of melted cheese.
Ingredients
kosher salt and freshly ground black pepper
1 lb medium shells
olive oil
2½ lb cauliflower (1 large head) cut into small florets
3 tbsp chopped sage
2 tbsp capers, drained
3 garlic cloves, minced
½ tsp lemon zest
¼ tsp crushed red pepper flakes
10 oz fontina, grated
1 cup fresh ricotta
½ cup panko
6 tbsp pecorino romano
2 tbsp minced parsley
Instructions
Heat oven to 400F.
Bring a large pot of salted water to a boil. Cook the shells until al dente, according to the directions on the package. Drain and set aside.
Meanwhile, heat 3 tbsp olive oil in large pan over medium heat. Add half of the cauliflower to the pan and saute for 5-6 minutes, or until lightly browned and just tender. Pour into the bowl with the pasta. Add 3 more tbsp of olive oil the pan and repeat with the remaining cauliflower, adding it to the pasta bowl as well once cooked.
Add the sage, capers, garlic, lemon zest, red pepper flakes, 2 tsp salt, and 1 tsp black pepper to the bowl with the past and cauliflower. Stir to combine. Stir in the Fontina and again stir until mixed. Transfer half of the pasta and cauliflower mixture to a 9x13-inch baking pan. Top with spoonfuls of the ricotta, and then the remaining pasta and cauliflower mixture.
In a small bowl, combine the panko, pecorino, parsley, and 1 tbsp olive oil . Mix to combine, then sprinkle it on top of the pasta in an even layer. Bake for 25-30 minutes, or until browned and crispy on top. Serve warm.