A grilled zucchini, hazelnut, and basil salad that is filled with fresh, simple flavors.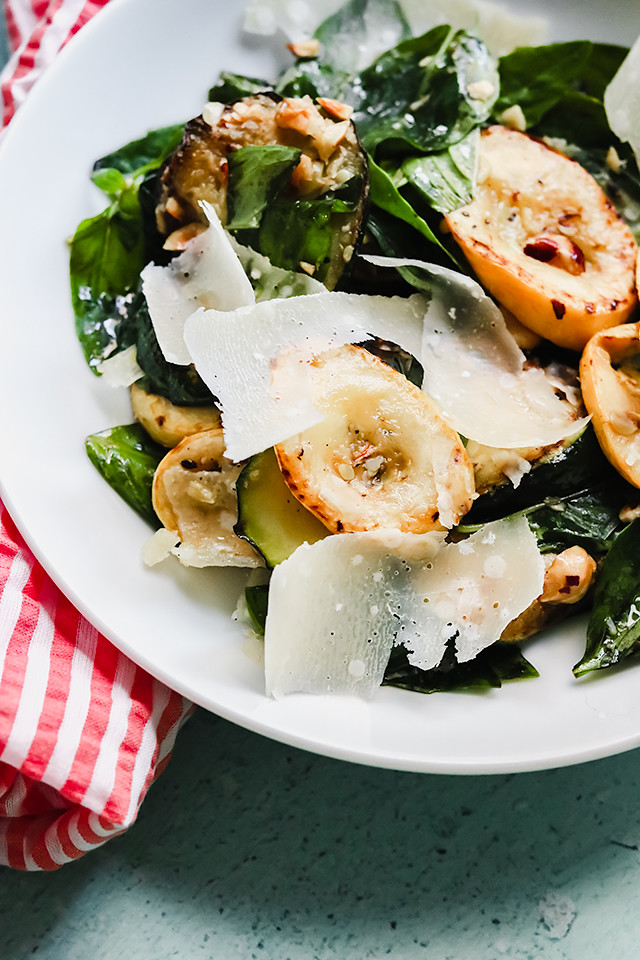 Our quarantine eating thus far hasn't been, how should I put it….healthful.
At least not in the usual meaning of the word.
It has been (in this order):
cheesy
fried
ice cream-y
chocolaty
carbohydrate-y
So, healthful for the soul perhaps but not for the coronary arteries.
Maybe I've reached the acceptance phase of grief (or maybe it's just that the grocery stores are finally selling something other than potatoes), but I think I'm starting to crave vegetables again?
I mean, also I have a feeling someone is going to make me see a patient IN PERSON at some point in the next two months and I have to be able to fit into my pants. So there's that.
Of course, if you're going to get excited about a salad, it's probably going to be an Ottolenghi one.
This zucchini, hazelnut, and basil salad is from his Plenty cookbook and it is the perfect marriage of simple, fresh flavored food, but the kind that you actually want to eat. It's filled with smoky, charred zucchini that's been cooked on a grill (or griddle, if you have zero access to outdoor space ahem), toasted hazelnuts, and loads of fresh basil. Finish it off with parmesan flakes and a drizzle of hazelnut oil (if you have it, otherwise just use a good quality olive oil) and you have the perfect salad starter course.
Low effort, but big on flavor. AKA my favorite way to salad.
Zucchini, Hazelnut, and Basil Salad
A grilled zucchini, hazelnut, and basil salad that is filled with fresh, simple flavors.
Ingredients
⅓ cup shelled hazelnuts
1¾ lb zucchini or summer squash
4 tbsp olive oil
salt and black pepper, to taste
1 tsp balsamic vinegar
1¼ cups basil leaves
3 oz Parmesan cheese, thinly sliced
2 tsp hazelnut oil
Instructions
Heat oven to 300F.
Spread the hazelnuts on a baking sheet and roast for 12-15 minutes, or until fragrant and toasted. Allow to cool slightly, then roughly chop them.
Meanwhile heat a large griddle pan or cast-iron skillet over high heat until hot.
Trim the zucchini and cut them on an angle into ⅜-inch thick slices. Place in a bowl and toss with 2 tbsp of the olive oil. Add salt and black pepper to taste, then toss again.
Place the zucchini slices on the hot griddle in an even layer and grill for 2 minutes. Flip them over using a pair of tongs and repeat on the other side. Remove to a large bowl and repeat with the remaining zucchini until it is all cooked.
Pour the balsamic vinegar over the cooked zucchini, toss to combine, and set aside. Once cool, toss with the remaining 2 tbsp olive oil, basil, and hazelnuts. Season to taste with salt and black pepper. Transfer to a serving platter and then mix in the parmesan slices. Drizzle with hazelnut oil and serve.