All the flavors of eggplant parmigiana team up in this spicy roasted eggplant, tomato, and ricotta frittata to make a meal that is healthy enough for breakfast and hearty enough for lunch and dinner.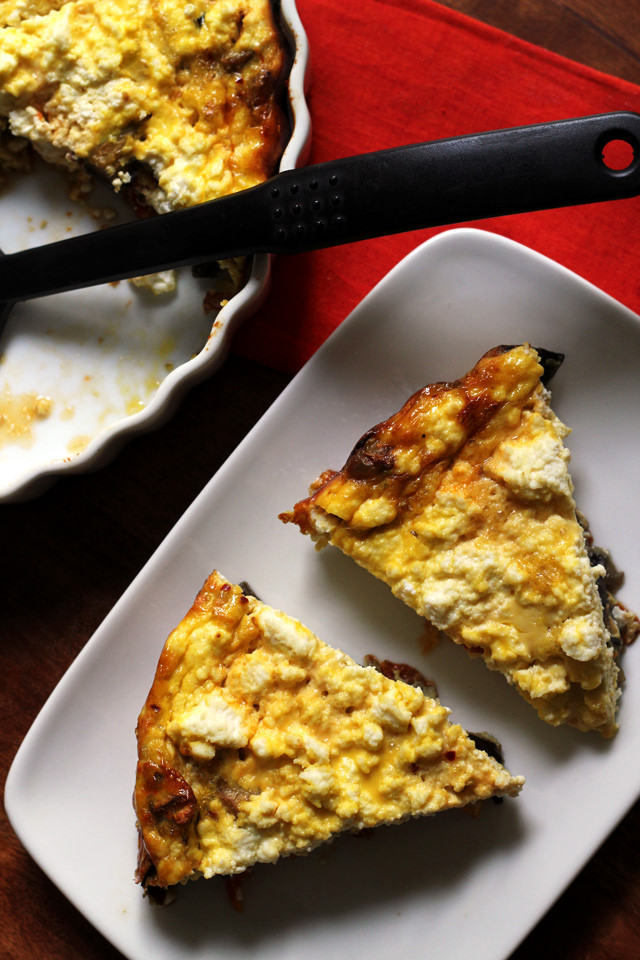 What. A. Weekend.
I'm not really sure what to say other than that it was a total whirlwind. From Thanksgiving on Thursday to the rehearsal dinner on Friday to the wedding on Saturday to waking up as husband and wife yesterday, everything felt both too slow and too fast.
But definitely perfect.
On Friday night, my mom, sister, and I stayed at a hotel in Brooklyn. I can't say we really slept, but we stayed there. And did our best.
The next morning, we woke up bright and early, downed a few gallons of coffee, and prepared for the hair and makeup people to show up (we used Embellir Artistry, who I can't recommend enough!) They got there at 8:30 and from that point on, it was GO GO GO. One by one, my bridesmaids arrived at the hotel, got their hair did, helped each other with make-up and shoe choices, tried to eat lunch, failed at eating lunch, until suddenly the photographer and videographer were there. That's when things got real.
I really wasn't feeling nervous up until that point, mostly because things just felt pretty surreal. Then all of a sudden, WHAM. Everyone was like, GET YOUR DRESS ON. POSE IN FIVE MILLION STATES OF UNDRESS. GET YOUR BUTT OUT THE DOOR.
Really, it was exactly like that.
And can I just say that the one thing no one tells you about wearing a wedding dress is that it is impossible not to step all over it unless someone else holds it up and also that it is impossible to pee without assistance. This is not the time for modesty, people. Ask for help. And make sure you use the bathroom before you put it on. Twice.
The ceremony went off pretty much without a hitch. I can't say I knew what was going on 90% of the time, since it was a Greek Orthodox ceremony and I was raised Roman Catholic, but what I do know is that I was incredibly nervous up until the point where I was up there, in front of the altar, standing next to the.boy. Once I saw him and got to hold his hand, I knew that everything was going to be okay.
More than anything, the.boy and I wanted the reception to feel like a big crazy awesome party (with 160 of our closest friends and family), and it definitely surpassed our expectations. Every detail turned out perfectly, from the white pumpkins and bittersweet decorating every table, to the food (which I had all of two bites of, but everyone else said it was great), to our pretty epic (I think) first dance, to the espresso bar that was added in the final hour because my mother was appalled that we could even consider having a wedding without one. The dance floor was filled practically the entire time (major props to our DJ!) and we rocked out. Big time. So many of our friends and family said it was one of the best weddings they had ever been to and I'm inclined to agree, though you should probably take my opinion with a grain of salt.
Honestly, I couldn't have asked for a better, more magical day.
Here's a little sneak preview picture of me, the.boy, Audra and Lauren, that I stole from Audra's Instagram. There were plenty of other photos posted to Instagram and/or facebook, and many of them were tagged with #whitepumpkinwedding, so feel free to scour the internets for that hashtag. I have to admit, I did little to no real time Instagramming or photo taking, so I have very few photos of anything myself, but as soon as I have more, I will share!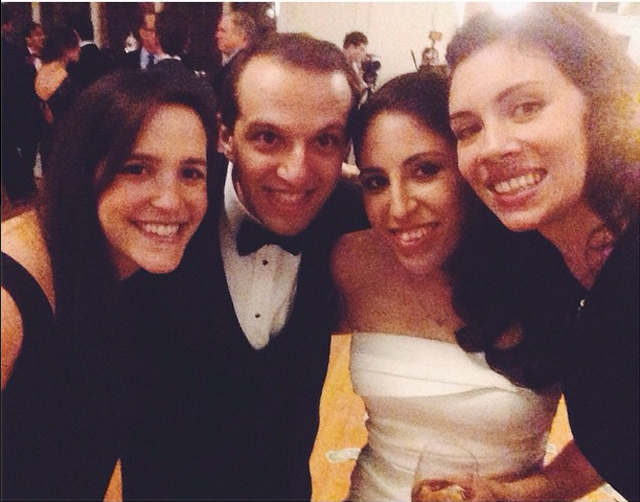 Now, back to real life. The weeks in-between Thanksgiving and Christmas are kind of a weird time because you're in full-on holiday mode but you also have to eat dinner. There are two approaches to this – one is to full-on overindulgence for five weeks straight and severely regret it come January 1st, and the other is to control your cravings between holidays so that when you do eat every cookie in sight on Christmas morning, it's not such a travesty. I choose the latter.
Frittatas are pretty much my favorite healthy, everything-but-the-kitchen-sink weeknight meal. You really can stuff them full of just about anything, but here I've taken the flavors and components of eggplant parm and repurposed them in breakfast-for-dinner form. This frittata is stuffed with roasted eggplant and tomatoes and then topped with a hefty layer of ricotta, so that you feel like you're eating ALL THE COMFORT when you're really eating ALL THE PROTEIN. It's a win/win.

Spicy Roasted Eggplant, Tomato, and Ricotta Frittata
All the flavors of eggplant parmigiana team up in this spicy roasted eggplant, tomato, and ricotta frittata to make a meal that is healthy enough for breakfast and hearty enough for lunch and dinner.
Ingredients
2 tbsp olive oil
1 medium eggplant, trimmed and cut into ½-inch dice
1 pint cherry tomatoes
salt and black pepper, to taste
6 large eggs
1 cup milk
1 tsp red pepper flakes
1 lb ricotta
Instructions
Heat oven to 450F.
In a large bowl, toss together the olive oil, eggplant cubes, and tomatoes. Season to taste with salt and black pepper. Spread on a parchment-lined baking sheet and roast for 20-30 minutes, or until eggplant is tender and tomatoes are bursting.
Lower oven to 375F.
In a second bowl, whisk together the eggs, milk, and red pepper flakes.
Grease a 9-inch pie or tart pan. Stir together the egg mixture with the vegetable mixture. Pour into the prepared pan. Top with the ricotta. Bake for 30-35 minutes, or until set. Let cool for 5 minutes before serving.
Notes
An Eats Well With Others Original
 For more frittata inspiration, check out these: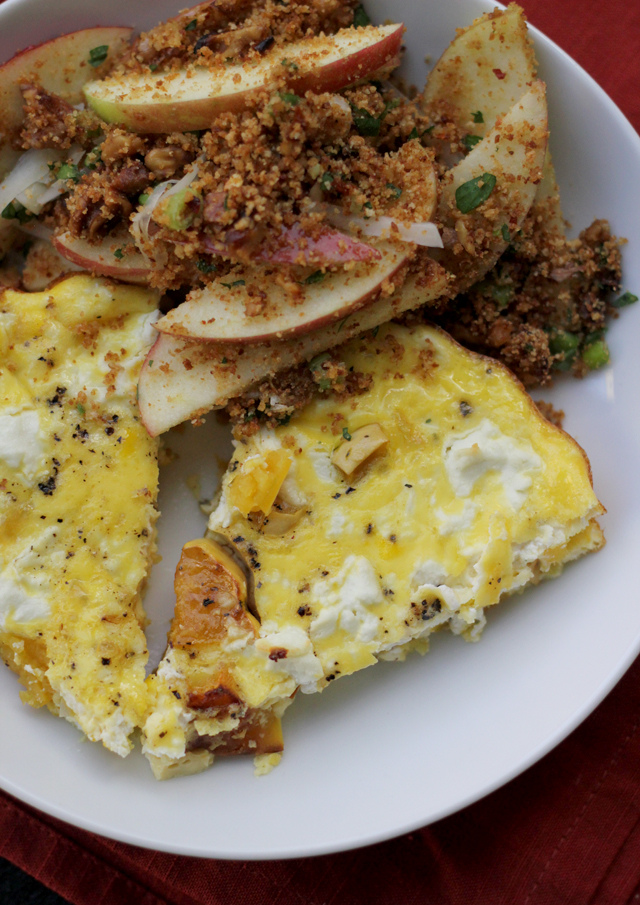 Roasted Delicata Squash and Goat Cheese Frittata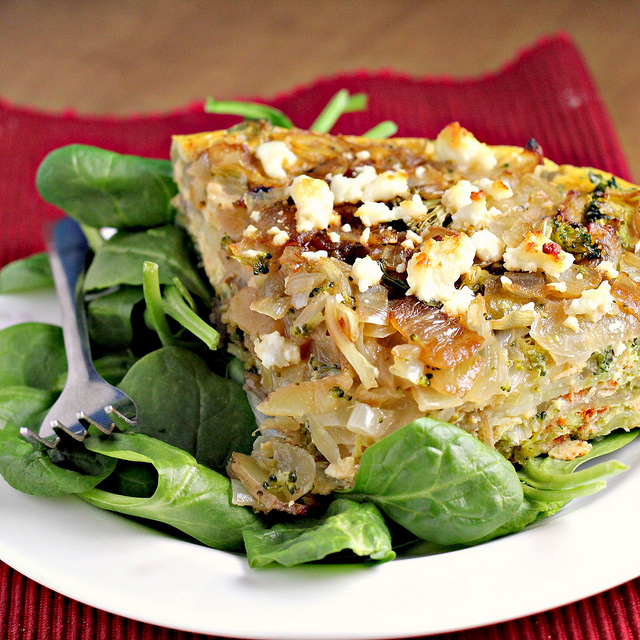 Frittata with Thai Red Curry, Broccoli, Shallots, and Feta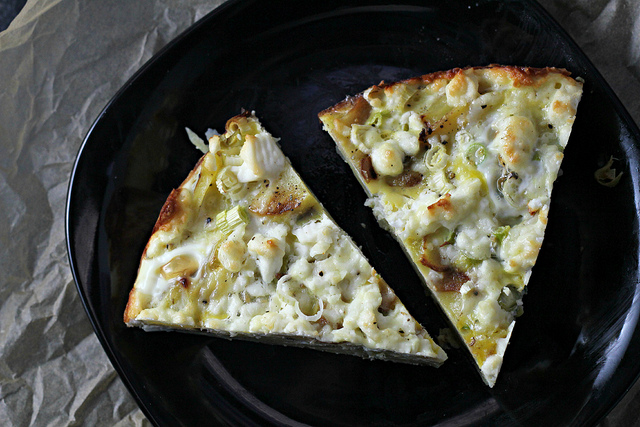 Potato Frittata with Feta and Scallions
From Around the Web:
Slow Cooker Spinach and Mozzarella Frittata from Skinny Ms.
Toasty Cheddar and Vegetable Oven Frittata from Framed Cooks
Lightened Up Potato and Cheese Frittata from Roxana's Home Baking
Mexican Frittata from The Fauxmartha
Kale, Goat Cheese and Tomato Frittata from Eat Good 4 Life