Give the gift of eternal fall to everyone you love this year by making them their own jars of apple cinnamon butter!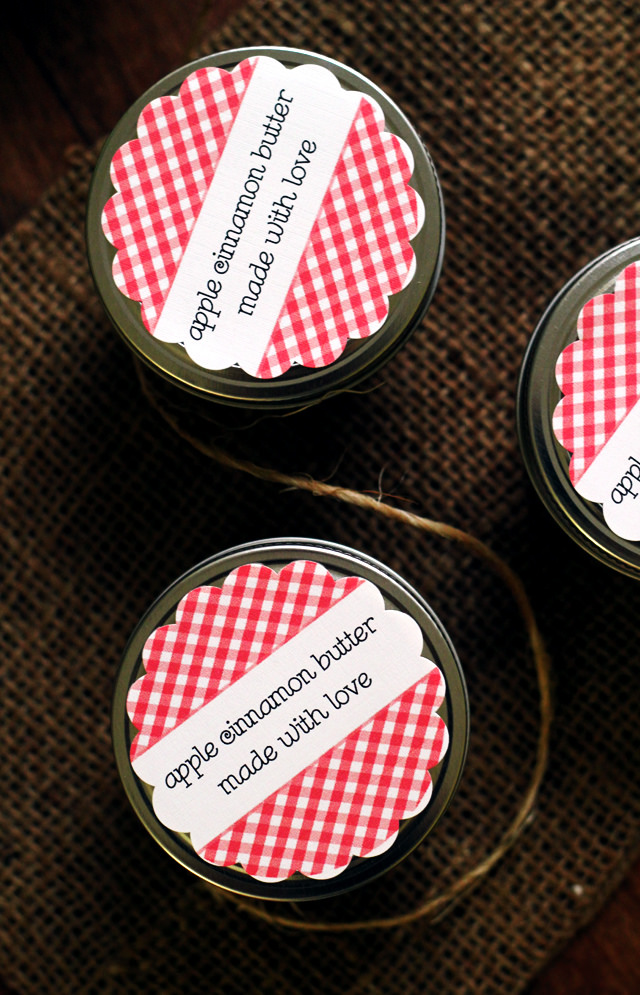 Please, join me here on the brink of insanity.
It's super fun and smells like apple pie with a hint of blood, sweat, and tears.
And maybe a few first degree burns, but who's counting?
Okay, fine, the burns are mostly healed and were merely a casualty of getting too close to a few overzealously bubbling vats of applesauce.
Lesson learned – applesauce needs it's personal space.
But not too much personal space or you'll end up with burnt apple crusted to the bottom of your favorite pan.
Second lesson learned.
I did a lot of complaining about these as I was making them, but I have to admit I'm very fond of the finished product.
THE CUTENESS.
And I truly think that if one were to make a more manageable amount (i.e. <100), it would feel more like a walk in the park and less like waterboarding.
Homemade gifts for Christmas? I vote yes.
Now, canning is something that scared me for a very long time. I mean, it's one of the few things in cooking where if you do it wrong YOU CAN KILL PEOPLE.
But sometimes fear is a good thing, because it means you'll be more careful, and when you're more careful there's less risk that something will go wrong.
I promise that it's really not that hard. And if it still really freaks you out, you can always skip the whole canning/processing step and throw the jars in the refrigerator. If I had been making fewer, then I probably would have done this but as it turns out NYC refrigerators are not meant to hold 120 cans of anything.
Let's make our lives smell like fall.

Apple Cinnamon Butter
Give the gift of eternal fall to everyone you love this year by making them their own jars of apple cinnamon butter!
Ingredients
4 lb honeycrisp apples, peeled, cored and quartered
1½ cups sweetened apple cider
½ cup water
juice of 1 lemon
2 cups sugar
1 tbsp cinnamon
Instructions
In a large Dutch oven, combine the apples, apple cider, water, and lemon juice. Bring to a boil and then lower to a simmer. Cook, covered, for 30 minutes or until apples are mushy. Puree with an immersion blender.
Stir in the sugar and cinnamon. Cook on medium-low heat, uncovered, for an hour or until thickened, stirring frequently.
Bring a large pot of water to a boil. Add the jars, a metal spoon, and a metal funnel to the pot and boil for 5 minutes to sterilize. Wash the lids and rings with warm soapy water and then place them on a clean towel to dry. Remove the jars, spoon, and funnel from the pot with canning tongs and place them on a clean towel.
Put the funnel into a jar and spoon the apple butter into it, leaving at least ¼-inch of headspace at the top. Remove the funnel and clean the top of the jar with a clean towel. Top with a lid and screw tight with a ring. Repeat with remaining filling and jars.
Return the pot of water to a boil and transfer the jars to the pot. Process for 10 minutes. Remove and let cool. The lids should become concave as they cool (within 12 hours of canning). If not, then they are not properly sealed and are not safe to store at room temperature. They can be stored in the refrigerator instead.
 For more apple recipes, check out these: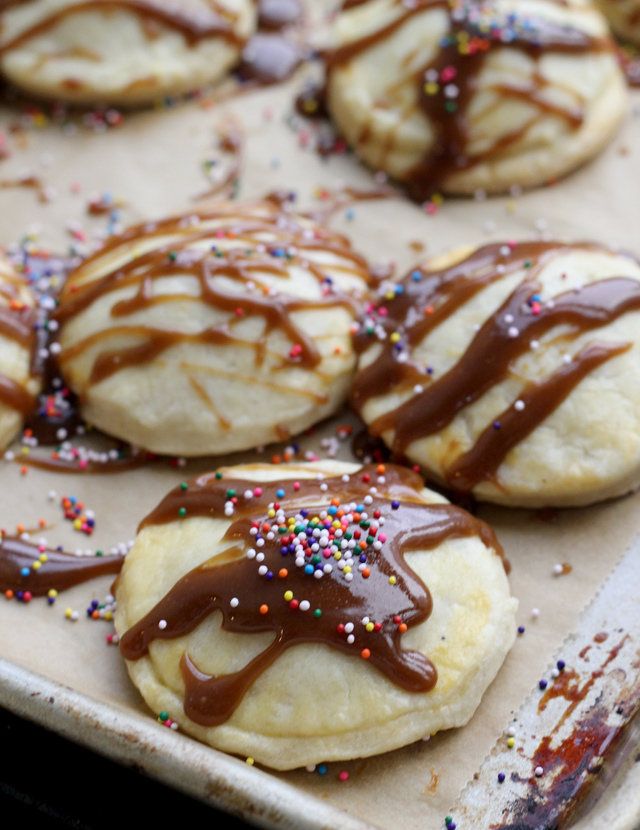 Mini Caramel Apple Pop Tarts with Brown Sugar Glaze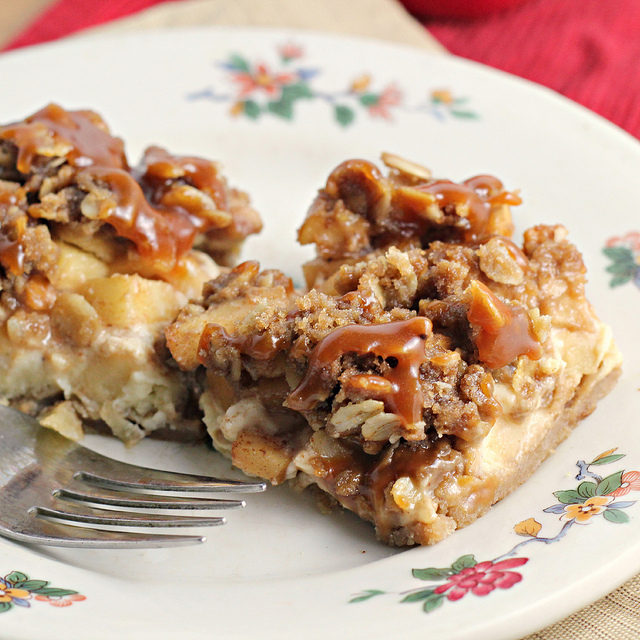 Salted Caramel Apple Cheesecake Bars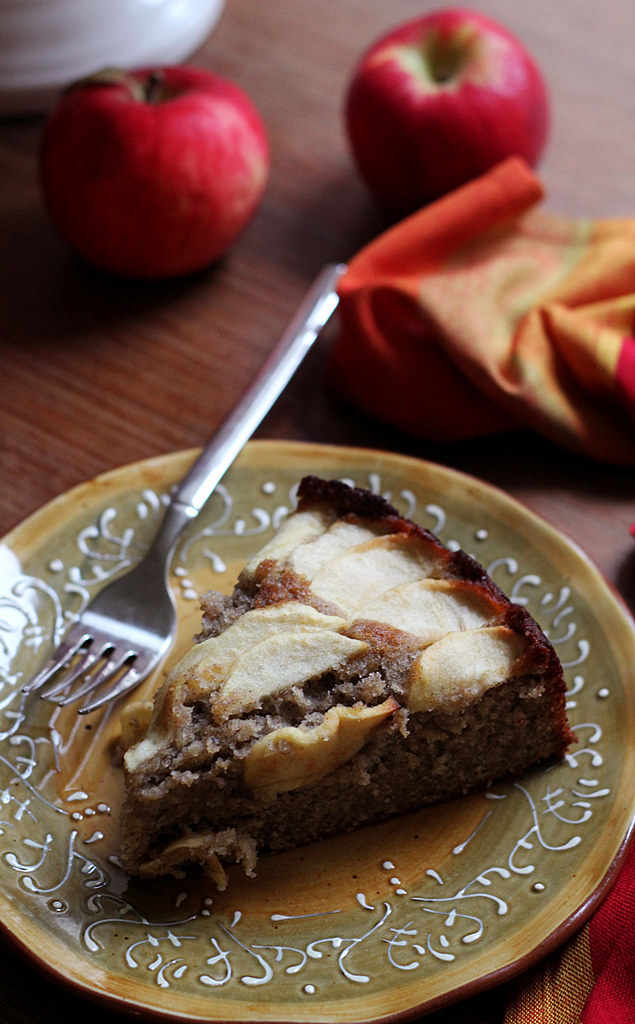 From Around the Web:
Salted Caramel Apple Tart from The Flourishing Foodie
Apple Pie Bread from My Baking Addiction
Apple Cinnamon Baked Donuts with Brown Butter Glaze from Joy the Baker
Apple Gateau from Sippity Sup
Apple Spice Sorbet from My New Roots