Garlic-infused olive oil roasted brussels sprouts are tossed with a balsamic honey syrup, leaving them crispy on the outside and oozing with flavor on the inside.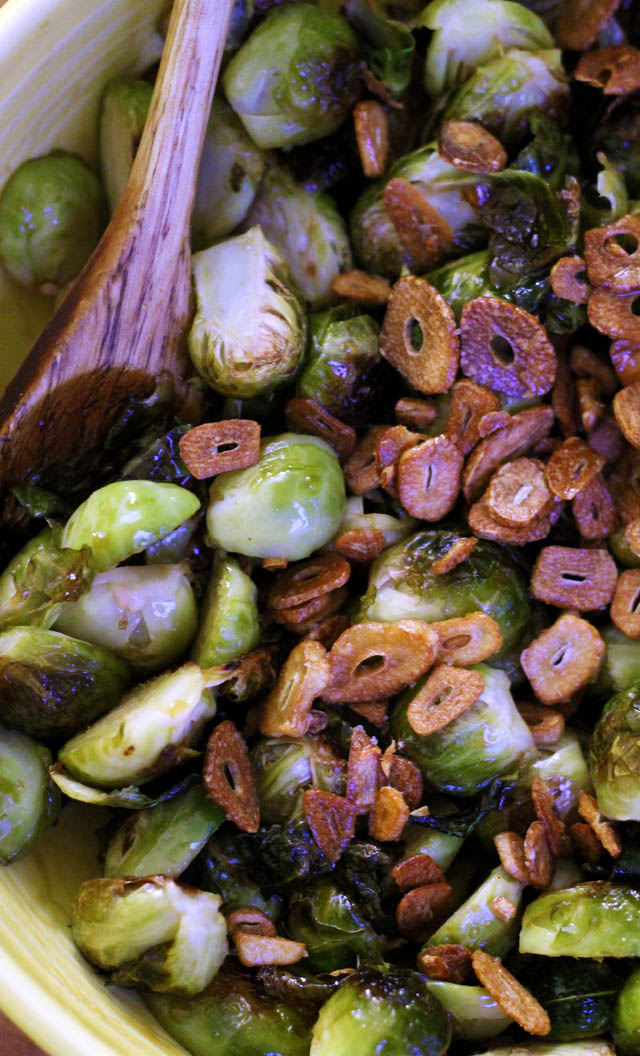 Let's keep things short and simple.
You've got turkeys to baste, I've got wedding vows to write, Jordan almonds to stress eat, and a wedding war zone in my living room.
Wanna trade?
My point being that I can wax poetic about the virtues of Brussels sprouts for a lifetime, but who has the time for that today?
Not I. And that's saying a lot because I really love Brussels sprouts.
I realize they're not everyone's favorite vegetable and, in fact, when I announced that I was bringing them to Thanksgiving, I was met with a very long and awkward silence.
Followed by a "Huh. Well. I guess we're open to new things."
Not exactly the kind of enthusiasm I was going for, but I'll take it.
As with most vegetables, I firmly believe that anyone who says that don't like them just hasn't had them prepared the right way. Normally I'm a roast-until-crispy kind of Brussels lovin' fool, but today I'm saucing them up. Balsamic honey style.
For this recipe, the Brussels still get roasted until crispy but instead of tossing them with plain Jane EVOO (extra-virgin olive oil for those who aren't as familiar with Rachael Ray lingo as I unabashedly am), you toss them with an infused oil that you've made garlic chips in. Otherwise known as liquid gold. Then, while the little sprouties roast, you simmer some white balsamic vinegar and honey down on the stove.
You'll want to bathe in that syrup, I tell you, but instead you'll toss your Brussels sprouts with it because it's the right thing to do. They'll still be crispy delicious but in an oozing with balsamic honey juice kind of way.
And if you thought the crispy sprouts were good, you'll die for the oozy ones. Really.
While we're on the subject, I just want to take a minute to thank all of my readers, every last one, for stopping by and sharing this space with me. Every minute here is more rewarding than the next for me, and I wouldn't change it or give it up for the world. Hope you all have a happy and love-filled holiday!

Brussels Sprouts with Balsamic Honey
Garlic-infused olive oil roasted brussels sprouts are tossed with a balsamic honey syrup, leaving them crispy on the outside and oozing with flavor on the inside.
Ingredients
8 cloves garlic, thinly sliced
¼ cup olive oil
kosher salt, to taste
2 lb Brussels sprouts, trimmed and halved
freshly ground black pepper, to taste
¾ cup white balsamic vinegar
2 tbsp brown sugar
2 tsp honey
1 bay leaf
Instructions
Heat oven to 400F.
In a small pan, heat the oil and garlic slices over medium-low heat. Allow to simmer until the garlic becomes crispy and browned, about 4-5 minutes. Remove from the heat and transfer the garlic to a small bowl with a slotted spoon, reserving the infused oil. Season the garlic with salt, to taste.
Toss the Brussels sprouts with the garlic infused oil, salt, and black pepper. Spread out on a parchment-lined baking sheet. Roast for 30-35 minutes, or until crispy.
Meanwhile, in the same pan, whisk together the white balsamic vinegar, brown sugar, honey, and bay leaf. Bring to a boil and then lower to a simmer. Allow to cool until thickened, about 5-6 minutes, stirring frequently. Remove from the heat and allow to sit for 6 minutes. Discard the bay leaf.
When the Brussels sprouts are done, toss with the syrup. Serve topped with the fried garlic chips.
Notes
Adapted very slightly from [The Food Network|http://www.foodnetwork.com/recipes/food-network-kitchens/brussels-sprouts-with-balsamic-honey.html]
Nutrition Information
Serving size:
⅙th of recipe
 Love Brussels sprouts as much as I do? Check out these: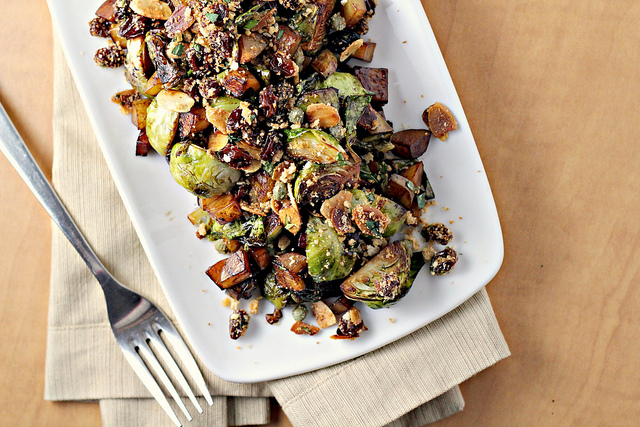 Brussels Sprouts and Potatoes with Almonds, Raisins and Capers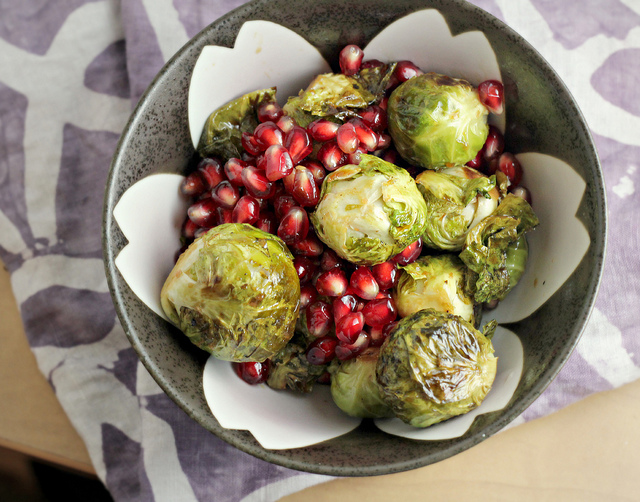 Roasted Brussels Sprouts with Pomegranates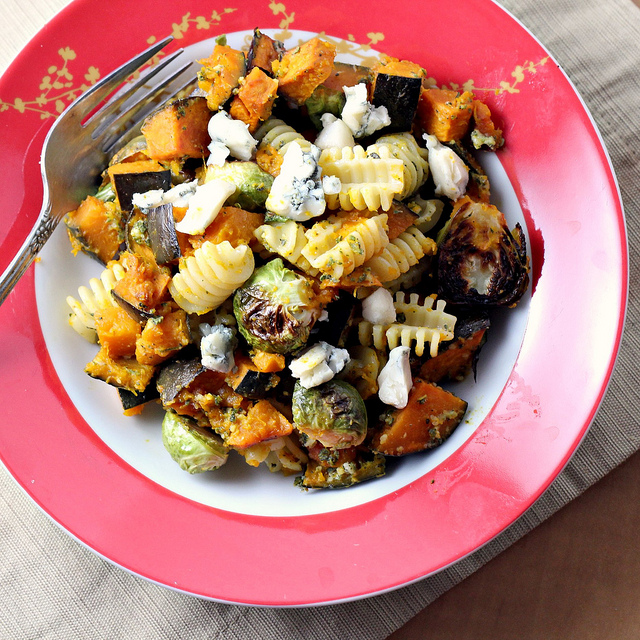 Pasta with Sage-Walnut Pesto, Winter Squash, and Brussels Sprouts
From Around the Web:
Balsamic Brussels Sprout Grilled Cheese from How Sweet Eats
Roasted Brussels Sprouts with White Wine Shallot Sauce from Hip Foodie Mom
Roasted Brussels Sprouts and Crispy Baked Tofu with Honey-Sesame Glaze from Cookie + Kate
Brussels Sprout, Mushroom, and Creme Fraiche Pizzas from Veggie and the Beast
Wild Rice Pilaf with Brussels Sprouts and Sage Vinaigrette from Oh My Veggies