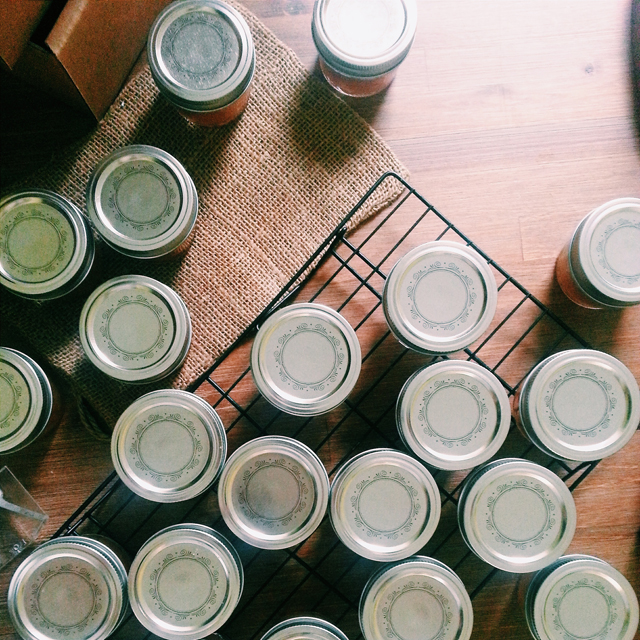 1. Welcome to my kitchen table. Otherwise known as APPLE BUTTER HELL.
2. Okay, fine, so I got the hang of it by the end, but it still took 5 hours to make 40 jars. Times 3. So glad it's done. So I can turn my attention to PIE.
3. Yes, you heard right, I am contributing some items for Thanksgiving, namely this sweet potato casserole, these brussels sprouts, my all time favorite cranberry sauce that I make every year (plus an extra batch for my brother…because he likes to eat it with a spoon), and two pies.
4. The.Boy keeps yelling at me for offering to bring too much, but when the Plan B is to thaw a pie FROM THE FREEZER AISLE.  I mean,I would just die. That pretty much goes against everything I stand for in this world.
5. Or, I guess we could just go without pie. But is that even a Thanksgiving, then? IS IT.
6. You have no idea how much Gilmore Girls I have been watching on Netflix. Guys, I might be addicted. HOW IS IT STILL SO GOOD.
7. This world is kind of a funny place. Yesterday, I broke my coffee pot. Like, cracked into a million pieces after falling from the drying rack into the sink broke. At first, I was beside myself and in full-on panic mode, and then I remembered that I just got a Nespresso! So I've been making myself cappuccinos every morning. And for dessert. It feels like the best.
8. I'm only moderately over-caffeinated at all times.
9. PLEEASSSEE tell me what you're making for Thanksgiving. I need to know.