After school (or work) snacking doesn't get better than a slice of salty caramel peanut butter cake! This is incredibly easy to make and a real treat.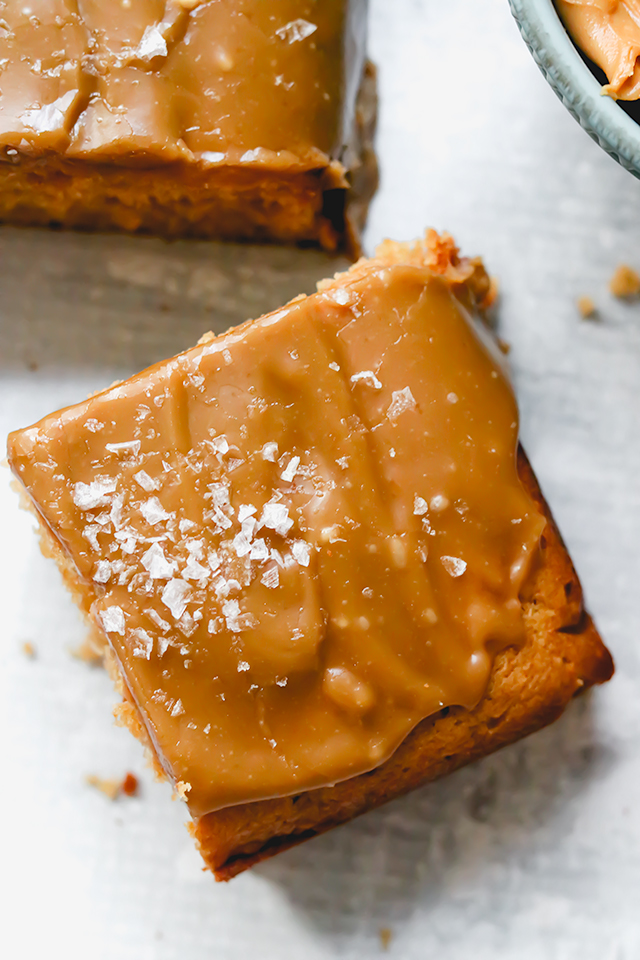 Can we for real make Snacking Cake Fridays a thing?!
Life would be so much happier!
If you're wondering what exactly a snacking cake is…you've come to the right place!
A snacking cake (per my very official definition) is a single layer, easy to prepare cake that you inadvertently find yourself snacking on all day long because you keep going back for "just one more little eensy weensy piece".
It's not a decadent over-the-top masterpiece, it shouldn't call for any crazy ingredients, and it definitely shouldn't require you to dirty every bowl in your kitchen.
This is simple baking at its finest – no frills good food. Sound good? I thought so.
This little salty caramel peanut butter cake number comes from the aptly titled Snacking Cakes cookbook by Yossy Arefi. It is full of deliciously simple cake inspiration and I am OBSESSED.
All of the cakes can be made in 8×8-inch baking pans, the vast majority can be made in one bowl, and they are all just dang good. There are fruity cakes, spiced cakes, chocolate cakes, and amped up vanilla cakes – basically a cake for any mood you're in and then some because each cake recipe also comes with suggestions for flavor variations and toppings you can add to dress it up if you so desire. 
I also really like that all of the cakes are straightforward and quick enough to be made with kids, so they make for a fun mommy-and-me weekend baking project.
I find it impossible to resist any dessert with the words "salted caramel" and "peanut butter" in its name, so when I spied this gem of a recipe on one of my many flip-throughs of this cookbook, I knew we had to try it.
The cake itself is a really simple peanut butter cake. It comes together in one bowl (as promised), making it easy to whip up on a weeknight or if you have a "helper" baking along with you. It's sweetened with brown sugar for a more sultry depth of flavor, with buttermilk adding a hint of tang and lightness to it. 
One important tip that the author gives for baking this cake is that you really should use a commercial peanut butter like Skippy or Jif. Natural peanut butters are great and that's what I tend to keep on hand, but they will make the cake too oily, so it's worth it to make a special trip to the store to get a more compatible peanut butter brand.
The caramel icing is a dream in and of itself, and also could not be easier to prepare. It's similar in flavor and technique to penuche, which is a fudgy candy made from brown sugar, butter, and milk. It's not a typical caramel, but it does have a caramel-ish flavor that compliments the nuttiness of the cake perfectly.
A sprinkle of flaky sea salt on top right before serving is a MUST to offset all of that sweetness and make the whole cake really sing.
Salty Caramel Peanut Butter Cake
After school (or work) snacking doesn't get better than a slice of salty caramel peanut butter cake! This is incredibly easy to make and a real treat.
Ingredients
For the peanut butter cake
¾ cup (150 g) brown sugar
2 large eggs
½ cup (125 g) smooth peanut butter
½ cup buttermilk, well shaken
½ cup neutral oil
1 tsp vanilla extract
½ tsp kosher salt
1¼ cups (160 g) all purpose flour
1½ tsp baking powder
¼ tsp baking soda
For the caramel icing
¼ cup (55 g) unsalted butter
½ cup (100 g) brown sugar
¼ cup heavy cream
1 tbsp water
pinch of kosher salt
½ cup (50 g) powdered sugar
flaky sea salt, to finish
Instructions
For the peanut butter cake
Heat oven to 350F. Grease an 8-inch square baking pan and line with parchment paper, leaving an overhang on two of the sides for easy cake removal later on. Set aside.
In a large bowl, whisk together the brown sugar and eggs until pale, about 1 minute of hearty whisking. Add in the peanut butter and whisk again until smooth. Add in the buttermilk, oil, vanilla, and salt. Whisk until completely combined.
Pour the flour, baking powder, and baking soda into the batter and whisk until well-combined.
Pour the batter into the prepared pan, smoothing with an offset spatula into an even layer.
Bake until golden and a toothpick inserted in the center comes out clean, 35-45 minutes. Allow to cool on a wire rack for 15 minutes, then remove the cake from the pan. Set it on a wire rack to cool completely.
For the caramel icing
Combine the butter, brown sugar, cream, and water together in a medium saucepan over medium heat. Melt the butter and bring to a rolling boil. Cook for 3 minutes once boiling. Remove from the heat and let cool for 3 minutes, stirring once or twice. Whisk in the salt and powdered sugar until smooth and thick. Spread over the cooled cake and sprinkle with flaky sea salt before serving.