Roasted zucchini, yellow bell peppers, and onions come together, along with a smear of goat cheese, to make a summer sandwich that is perfect for picnics or an easy lunch!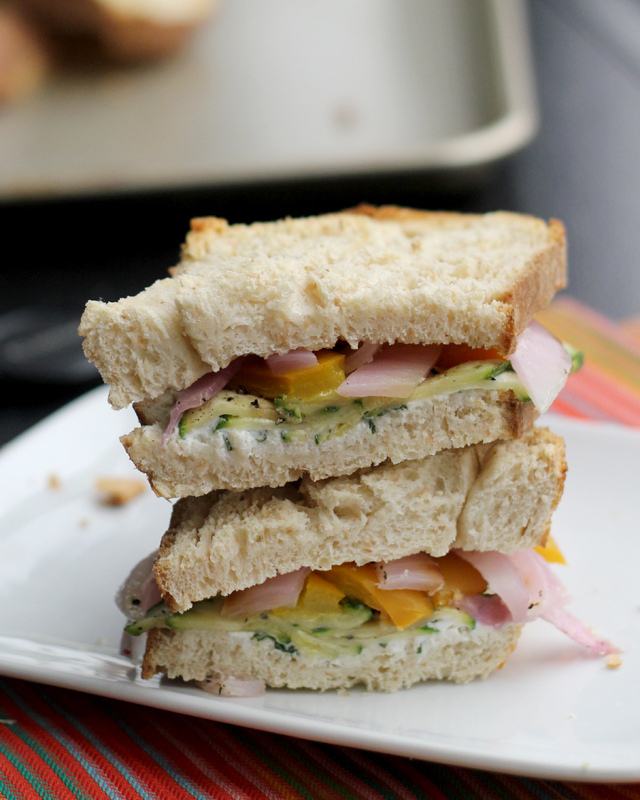 Sometimes I want to cook dinner without actually cooking dinner. Does that make sense?
I mean, it's not like I want take-out of anything. Ewww. No.
I just also don't want to stand in front of the stove for ten hours or chop five trillion things or clean six hundred dishes. All of which come along with home-cooked meals.
Last week was especially bad, namely because I had to contend with a big deadline that had me making and photographing three recipes almost every day.
Not to mention the refrigerator crisis of August 2013 (which should not be confused with the refrigerator crisis of May 2013..because only in student housing do you go through three fridges in the span of four months).
In which we discovered that the outlet to which ours was attached just…stopped supplying electricity to it. Always fun to discover when you walk in the door at 8:30 pm.
Apparently it was the "wrong" outlet.
Okay, fine, we thought. So we will plug it into the "right" outlet. No biggie.
Big biggie.
Because apparently back in May during our former refrigerator crisis, we were given the "wrong" refrigerator and so it was too wide to actually plug into the "right" outlet. Which is on the wall to the right of it and so there is not enough room to the side of the fridge to actually fit a plug in there as well.
WHO WOULD DESIGN A KITCHEN LIKE THIS?!?! Numskulls. That's who.
Anyways so rather than just get someone to change the "wrong" outlet to the "right" outlet, it was decided (not by me) that it would be much easier for me to take the morning off from work to empty my fridge and watch three men struggle to change out the "wrong" fridge for the "right" fridge. And then refill my fridge.
Which all got done in a moderately timely fashion. But after that, I was not so into the idea of cooking. Suffice it to say.
Luckily, sandwiches are not really cooking and these sandwiches in particular are kind of a set it and forget it kind of deal. You whisk together some goat cheese and mint, which takes but seconds. And then you slice a zucchini, quarter a pepper, and throw 'em all onto a baking sheet along with a bit of onion. Put the entire mess of veggies into the oven.
And then sit down with a glass of wine because you.are.done.
Perfect for Mondays or even kinda stressful Fridays. We can do this.
One year ago…Blueberry Cream Cheese Pie
Two years ago…Chocolate Cake with Raspberry-Nutella Filling and Chocolate Ganache, Roasted Eggplant, Tomato and Tapenade Pizza with Goat Cheese
Three years ago…Italian Sausage and Summer Squash Pasta
Four years ago…Carrot Cupcakes with Maple Cream Cheese Frosting
Roasted Zucchini, Pepper, Onion and Goat Cheese Sandwiches
Roasted zucchini, yellow bell peppers, and onions come together, along with a smear of goat cheese, to make a summer sandwich that would be perfect for picnics or an easy lunch!
Ingredients
4 oz soft goat cheese
½ tbsp milk
2 tsp thinly sliced fresh mint
1 lb zucchini
2 thick slices red onion
1 yellow bell pepper, quartered
5½ tbsp olive oil, divided
kosher salt and freshly ground black pepper
8 slices sourdough bread
Instructions
Preheat oven to 400.
In a small bowl, mix together the goat cheese, milk and mint. Set aside.
Slice the zucchini lengthwise into ¼-inch or ½-inch thick slices. If the zucchini is super long, you might want to cut it in half crosswise as well. Place on a parchment paper lined baking sheet (or two) in a single layer. Also add the pepper quarters and onion to the pans. Brush the veggies with olive oil and sprinkle with salt and pepper. Roast for 15 minutes or until zucchini is just tender.
Brush the bread slices with remaining olive oil and put in the oven to toast for 5-10 minutes, depending on just how toasty you want it.
To assemble the sandwiches, spread ¼ of the goat cheese mix on each of four slices of bread. Distribute the zucchini, bell pepper quarters, and onion among them. Top with the remaining bread slices. Cut in half and serve.