This pistachio cake with honey vanilla buttercream frosting is a true celebration cake – with a light crumb and a delectable frosting, it's the kind of cake that you will never forget after that first bite.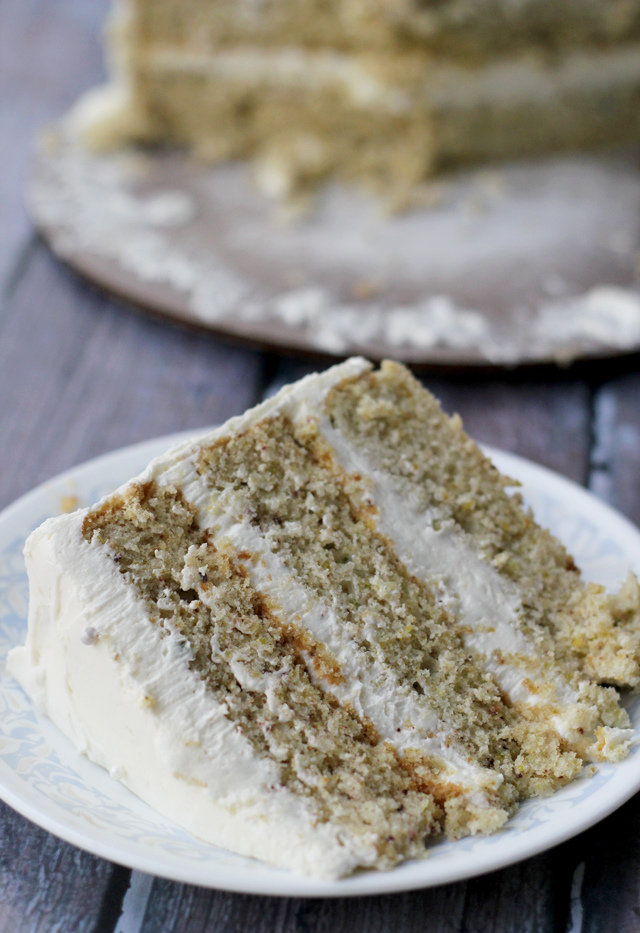 This cake is just not a good listener.
I started out every morning for the past six days explaining to it that, yes, we'd had a good run but it was time to go our separate ways. Say adieu. Run away and never look back.
And then the end of the night would come and there it was. In my belly. Showing absolutely no remorse for its sordid ways.
And, well…what is a birthday girl to do but go along with these ridiculous antics?
(And shovel as much of it into her mouth as possible before birthday week is over)?
I'm so glad we agree.
And yes, in case you were wondering, this is going to be THE wedding cake! Made by the fabulous Baked boys themselves.
I fell hard for it at first bite when we tried it out in their bakery. It just has all the things that good wedding cakes are made of: a light, tender crumb with pistachio crumbs scattered throughout and smothered in a honey vanilla buttercream to tie it all together.
Simple, sweet, classic.
And the best part is that I can make it for us myself, whenever we want. So that even though we're probably only going to remember to eat one bite at the wedding, I can rest assured that I have had my fill this past week. And then some.
One of the best parts of birthday week is getting surprises in the mail (actually, that's the best part of any week) and one of my favorite surprises was my Food Blogger Cookbook Swap present! Oh, you don't know what the Food Blogger Cookbook Swap is? Let me tell you. Basically, everyone who signs up gets paired with another blogger and is set with the task of choosing a lightly used cookbook to send them that will align with their food preferences. And so, in addition to sending a cookbook, everyone also receives a new cookbook! To be honest, I'm not sure which is more fun…getting a new cookbook or figuring out just which cookbook from my collection would be perfect to send to someone else. Both rewarding in their own way.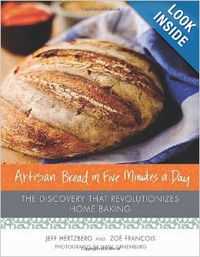 My pair was Hannah of Blue Kale Road. I noticed that she posted a lot of Middle Eastern and Indian-spice infused meals, so I chose to send her One Spice, Two Spice: American Food, Indian Flavors
, which I've made a few things from that I really loved. In return, Karen of Karen's Kitchen Stories sent me Artisan Bread in Five Minutes a Day, which I love. I haven't had a chance to bake anything from it yet, but it is pretty perfect as I often put off bread baking since I feel like I don't have the time to wait for dough to rise, though I do love having a homemade loaf on the counter. With this book, I'll get the best of both worlds…so thank you, Karen!
I truly hope this is more than just a one-time event because I really had a lot of fun with it! Thanks to Alyssa of www.EverydayMaven.com and Faith of http://www.anediblemosaic.com for hosting this fabulous event!
Be sure to check out the blogs of others who participated to see what they swapped and got in return!
A Baker's House, An Edible Mosaic, avocado bravado, Blue Kale Road, Blueberries And Blessings, Cheap Recipe Blog, Confessions of a Culinary Diva, Create Amazing Meals, Cucina Kristina, Culinary Adventures with Camilla, Cupcake Project, Dinner is Served 1972, Done With Corn, Everyday Maven, Flour Me With Love , From My Sweet Heart , girlichef , Great Food 360° , Healthy. Delicious. , I'm Gonna Cook That! , Je Mange la Ville , Karen's Kitchen Stories , Kitchen Treaty , Olive and Herb , OnTheMove-In The Galley , Our Best Bites , Paleo Gone Sassy , poet in the pantry , Rhubarb and Honey , Rocky Mountain Cooking, Shikha la mode , Shockingly Delicious , Sifting Focus , Spiceroots , Spoonful of Flavor , Tara's Multicultural Table , The Not So Exciting Adventures of a Dabbler , The Suburban Soapbox , The Whole Family's Food 
Two years ago…Lentil-Pomegranate Stew with Spinach and Raisins
Three years ago…Spaghetti and Spaghetti Squash with Lemon-Garlic Sauce and Ricotta
Four years ago…Sesame Noodle Salad with Dried Pineapple
Pistachio Cake with Honey Vanilla Buttercream
This pistachio cake with honey vanilla buttercream frosting is a true celebration cake - with a light crumb and a delectable frosting, it's the kind of cake that you will never forget after that first bite.
Yield:
1 triple layer 8-inch cake
Ingredients
For the cake
1 cup shelled pistachios
2½ cups cake flour
¾ cup all purpose flour
1 tbsp baking powder
1 tsp baking soda
¾ tsp salt
1 cup unsalted butter, softened
1¾ cups sugar
1 tbsp vanilla extract
1 large egg
3 large egg whites, at room temperature
¼ tsp cream of tartar
For the buttercream
1½ cups sugar
⅓ cup flour
1½ cups milk
⅓ cup heavy cream
1½ cups unsalted butter, soft, cut into small pieces
1 tsp vanilla extract
3 tbsp honey
Instructions
Preheat the oven to 325. Grease and line three 8-inch cake pans with parchment paper.
In the bowl of a food processor, pulse the pistachio meat until it is coarsely chopped. Remove 2 tbsp to a small bowl. Pulse the remaining pistachios until they have almost a powder-like consistency. Transfer to a large bowl and whisk together both the roughly chopped and fine pistachios with the all purpose flour, cake flour, baking powder, baking soda, and salt. Set aside.
In the bowl of a stand mixer fitted with the paddle attachment, cream the butter in the stand mixer for 3 minutes. Add in the sugar and vanilla and beat until fluffy, about 3 minutes. Scrape down the sides of the bowl. Add in the egg and mix until just combined.
Turn the mixer to low. Pour 1½ cups ice water into a measuring cup. Add the flour/pistachio mix to the batter in three additions, alternating with the ice water, mixing each time until just combined. Scrape down the bowl and mix on low speed for a few more seconds.
In a medium, clean bowl whisk together the egg whites with the cream of tartar until soft peaks form, about 3-5 minutes. Fold the egg whites into the batter.
Divide the batter evenly among the cake pans and smooth the tops. Bake for 40-45 minutes, rotating the pans halfway through baking, until a toothpick inserted in the center comes out clean. Transfer to a cooling rack and let cool for 20 minutes. Flip the cakes out of the pans, onto the rack and let cool completely before frosting. Remove parchment paper from the bottoms.
For the buttercream, in a medium heavy saucepan, whisk together the flour and sugar. Add in the milk and cream and cook over medium heat, whisking frequently, until the mixture comes to a boil and then thickens, 10-15 minutes.
Transfer the hot milk mixture to a stand mixer bowl and mix with the paddle attachment on high speed until cool, about 9 minutes. Reduce the speed to low and add the butter, a few pieces at a time, until it is full incorporated. Increase the speed to medium-high and beat until light and fluffy, a few minutes.
Add in the vanilla and honey and continue mixing until combined. If the frosting is too soft, chill it and mix again.
To assemble the cake, place one cake layer top side up on a serving platter. Use a long serrated knife to cut the top so that it is flat and even. Spread a little over a cup of frosting on top. Add the next later and, again, trim so that it is flat. Top with another cup of frosting. Add the remaining cake layer and trim the top again. Spread cake with a very thin layer of frosting for the crumb coating. Put in the freezer for 5-10 minutes. Spread the sides and top of the cake with the remaining frosting and decorate as desired.
Notes
Slightly adapted from
Baked Explorations: Classic American Desserts Reinvented