Roasted eggplant bisque with harissa and parmesan crisps – a bold-flavored soup that is simultaneously creamy, spicy and crispy.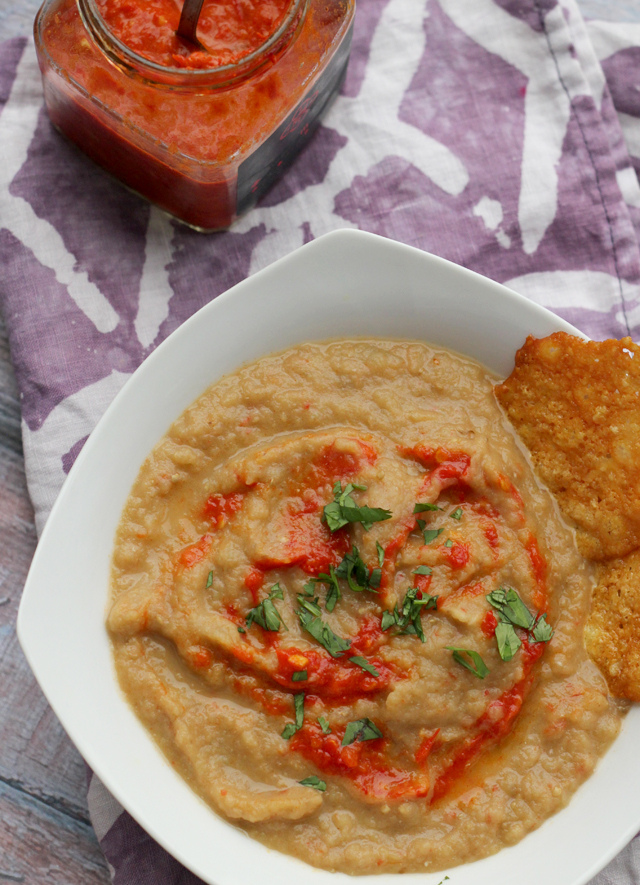 Not that women's undergarments are an entirely uncommon sight on one's morning commute, but a thong on 1st Avenue?
Right in the middle of the sidewalk? In broad daylight?
It's the kind of thing that gets you thinking.
Like, how did they get there?
Was this a post-Thirsty Thursday walk of shame situation in which our heroine is now prancing around work, COMMANDO-STYLE while her coworkers are none-the-wiser?
Or just the result of an unfortunate gust of wind that carried this pair of pink guitar-print panties from the top of the change-of-clothes pile meant for after an after work workout session as our heroine rummaged around in her purse trying to find her work ID. (I wish I couldn't say "been there, done that". But yes. My underwear has seen the streets of 1st avenue on a fair number of occasions because of this exact circumstance.)
Or, most likely, were these actually the possession of our local upper east side crossdresser who prefers to go for his midday runs in rain, snow, sleet, shine, or polar vortices while donning nothing more than a very very sheer piece of women's lingerie? (And isn't it just amazing that he hasn't gotten frostbite in the most unfortunate of places yet??)
I will never know.
But when you have a fifteen block walk to the grocery store in "feels like negative temperatures" weather, these are the kinds of things you think about.
That, and soup.
All the soup, nothing but the soup.
Warm creamy bowls of good-for-you soup that taste naughty when they're really oh so nice.
So, basically this soup, which is essentially just roasted vegetables pureed with hints of cream, spice, and sweetness.
You might be so enchanted after just one bowl that you won't even care where your underwear end up. (But, I really hope not.)
One year ago…Sweet and Salty Cake (Chocolate Cake with Salted Caramel Chocolate Ganache Frosting)
Two years ago…Grapefruit Cardamom Polenta Pancakes, Chocolate Peanut Butter Whoopie Pies
Three years ago…Red Chile Enchiladas with Chicken and Melted Cheese
Four years ago…Baba Ganoush on Pesto Pine Nut Bread
Five years ago…Crockpot Pulled Pork
Roasted Eggplant Bisque with Harissa and Parmesan Crisps
Roasted eggplant bisque with harissa and parmesan crisps - a bold-flavored soup that is simultaneously creamy, spicy and crispy.
Ingredients
8 tbsp grated Parmesan cheese
1 large eggplant, peeled and diced
1 medium tomato, seeded and coarsely chopped
1 onion, chopped
1 tbsp olive oil
1 tsp garlic powder
2 cups vegetable broth
2 tbsp heavy cream
2 tbsp honey
3 tbsp harissa, divided
½ tsp salt, plus more to taste
2 tsp chopped fresh cilantro
Instructions
Heat oven to 400F. On a parchment-lined baking sheet, sprinkle the cheese into 8 circles, about 1½ to 2-inches in diameter. Bake for 7-8 minutes or until golden brown. Let cool on pan. Set aside.
Lower oven to 375. In a large bowl, toss together the eggplant, tomato, onion, olive oil, garlic powder, and a good pinch of salt and black pepper. Place on a foil-lined baking sheet and roast for 20-30 minutes, or until softened.
Pour vegetables into a large pot with the vegetable broth. Bring to a simmer. Remove from heat and, using an immersion blender, puree. Alternatively, you can pour the mixture into a regular blender and puree it.
Stir in the cream, honey, 2 tbsp of the harissa, and salt. Bring back to a simmer to heat through. Divide among four bowls. Top each with 1 tsp of harissa, cilantro, and two parmesan crisps.