Amaranth flour and sesame seeds give the perfect nutty crunchy coating to fried tofu in this easy string beans stir fry.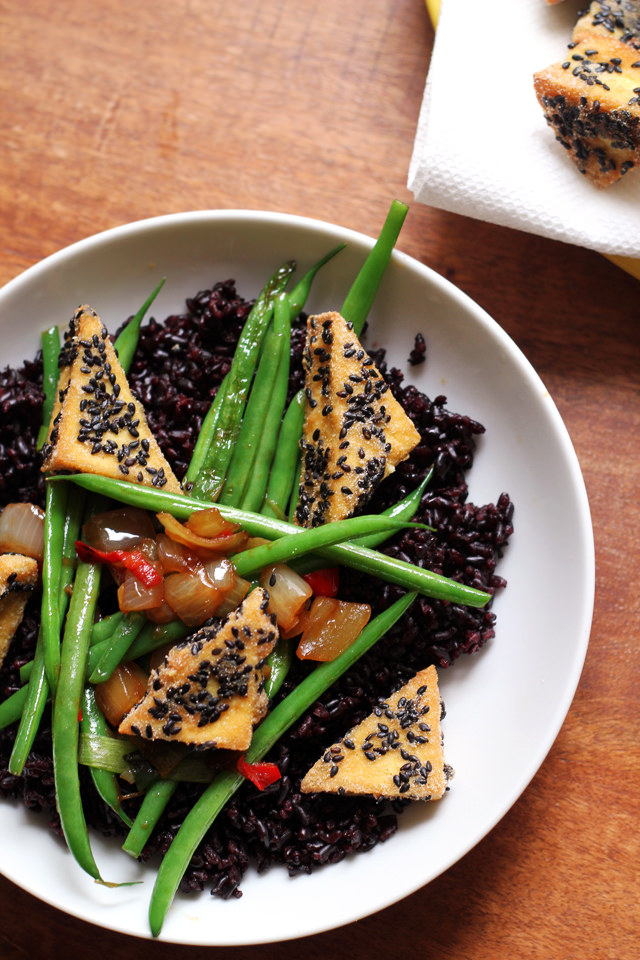 This is dude proof tofu.
Also: tofu haters proof tofu, tofu disbelievers proof tofu, tofu unenthusiasts proof tofu….you get the picture.
It's tofu for the people! ALL the people. Yes, even you.
The secret? Obviously it involves oil. The best things in life always do!
But it also has to do with the nutty crunchy salty amaranth and sesame crust that gives both flavor and texture to what would otherwise be a block of cold grey-blue mush. I love that stuff.
The tofu is really the main squeeze here if you ask me, but the stir fried green beans and onions do a good job of playing second fiddle. They're lightly seasoned with chilis, ginger, garlic, and tamari sauce and yet they are so full of flavor! I don't know how it happens, but it does. Then all of a sudden your husband is digging into his second helping and saying this is one of the best things he's ever eaten. I can't claim to understand him, but I'll take it!
I discovered this recipe in one of my current favorite cookbook go-tos called Grains as Mains
. Written by two of my favorite bloggers, Sarah from Sarah's Cucina Bella and Jodi of What's Cooking Good Looking, this cookbook does a great job of taking ancient grains (spelt, quinoa, buckwheat, farro, polenta…the things we know we should be eating more of) and making them exciting again by incorporating them into modern recipes that you can't help but want to eat. Featuring stunning photos of almost every recipe, I flip through it's pages on an almost-daily basis and every time I do, I stumble across a new recipe that I want to make.  Some examples? The Soaked Buckwheat Pancakes with Cherry Almond Sauce, the Caprese Farro Salad, or the Ratatouille Casserole with Farro and Feta. All happening in my kitchen. And soon.
If you're looking to incorporate more whole grains into your life, then this is definitely a cookbook you need in your wheelhouse. And even if you're not…you probably still need it. Because it really is that awesome.
Amaranth-Crusted Tofu with String Beans and Forbidden Rice
Amaranth flour and sesame seeds give the perfect nutty crunchy coating to fried tofu in this easy string beans stir fry.
Ingredients
1⅔ cup black rice
14 oz extra firm tofu, drained
¼ cup amaranth flour
3 tbsp black sesame seeds
salt and black pepper, to taste
1 egg, lightly beaten
peanut oil, for frying
2 tbsp sesame oil, plus extra to serve
1 onion, thinly sliced
2 tsp minced fresh ginger
1 spicy red chili, seeded and thinly sliced
3 garlic cloves, minced
1 lb green beans, trimmed
2 tbsp tamari sauce, plus extra to serve
2 scallions, cut into 1-inch long pieces
Instructions
Place the rice in a large saucepan and cook according to package instructions. Remove from the heat, cover, and set aside.
Pat the tofu dry with paper towels and cut into 16 triangles. Set aside.
Place the amaranth flour and sesame seeds in a shallow dish. Season to taste with salt and black pepper. Place the egg in a small bowl. Dip the tofu into the egg and then toss in the amaranth flour mixture until lightly coated. Place on a paper towel-lined plate and repeat with remaining tofu.
Heat peanut oil in a medium cast-iron skillet over high heat. Add the tofu and cook for 3-4 minutes per side, or until evenly browned, making sure not to crowd the skillet. Remove with a slotted spoon or skimmer to a paper towel-lined plate. Repeat with remaining tofu.
In a wok, heat the sesame oil over medium heat. Add the onions, ginger, and chiles. Cook for 5 minutes, stirring frequently, until softened. Add teh garlic and cook for another minute. Add teh green beans and cook, stirring frequently, for 3-5 minutes.
Add the tamari sauce and scallions. Season with pepper and cook, stirring, for about 3 minutes. Remove from the heat.
Divide the rice between 4 serving plates. Top with the green bean and onion stir fry and the tofu. Sprinkle with sesame seeds, sesame oil, and tamari, as desired. Serve warm.
Notes
Recipe from
Grains as Mains
Nutrition Information
Serving size:
¼ of recipe
 More stir fries!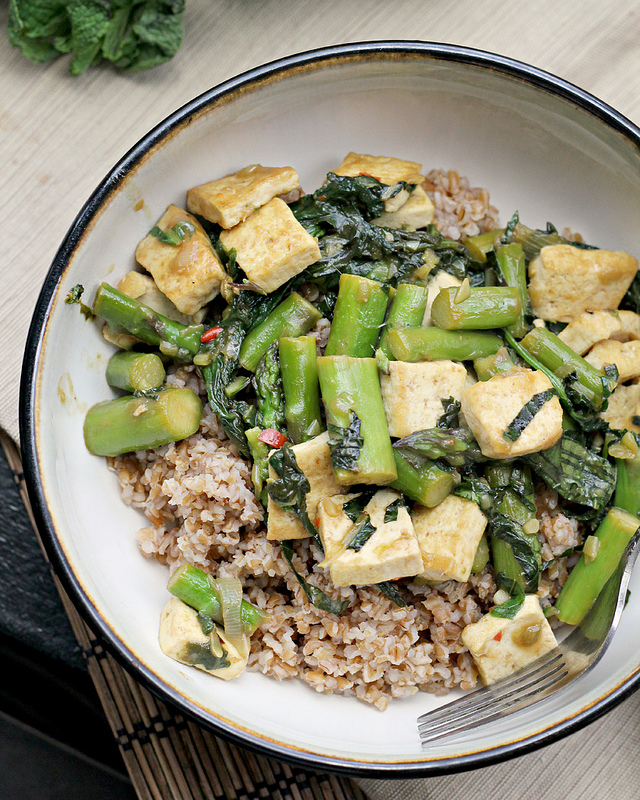 Green-Packed Stir Fry with Fresh Herbs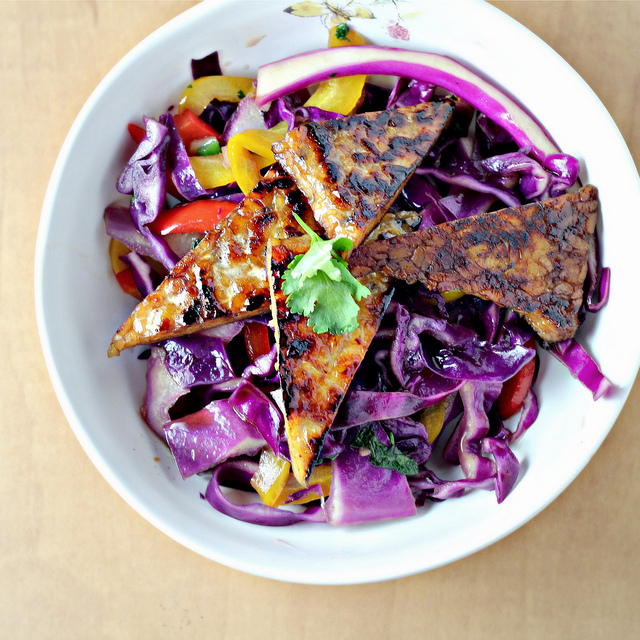 Star Anise-Glazed Tempeh with Stir Fried Peppers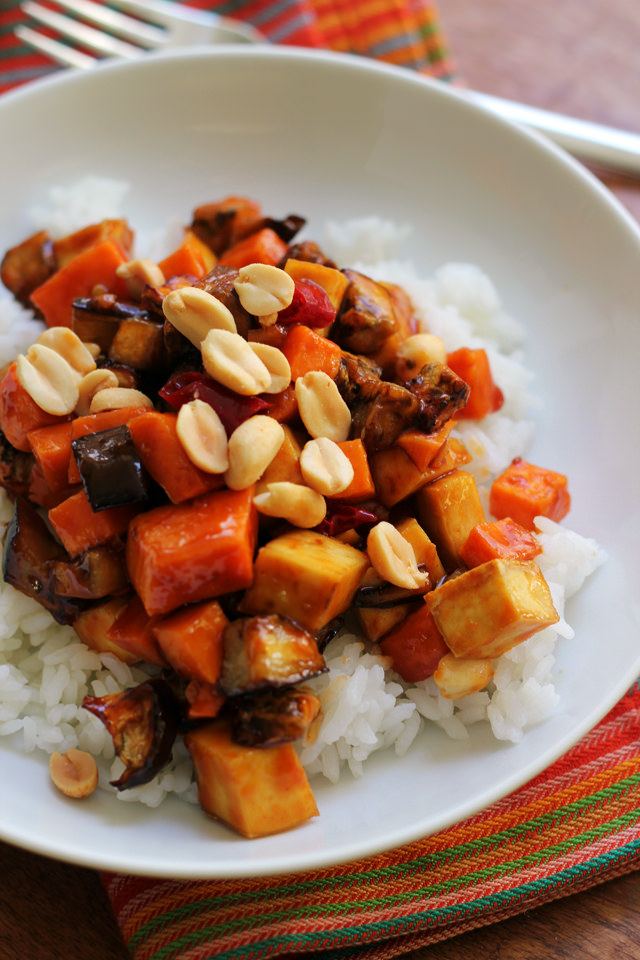 Crispy Kung Pao Tofu and Vegetable Stir Fry
From around the web:
Soy Sauce Noodles from Love & Olive Oil
Korean Barbecue Tofu Bowls from Oh My Veggies
Sesame Garlic Stir Fry Noodles from Delish Knowledge
Stir-Fried String Beans from Lemon & Anchovies
Crispy Honey Lemon Cauliflower from Closet Cooking