Almost hands-free risotto made sweet and savory with honey-roasted sweet potatoes and carrots, and creamy ricotta salata.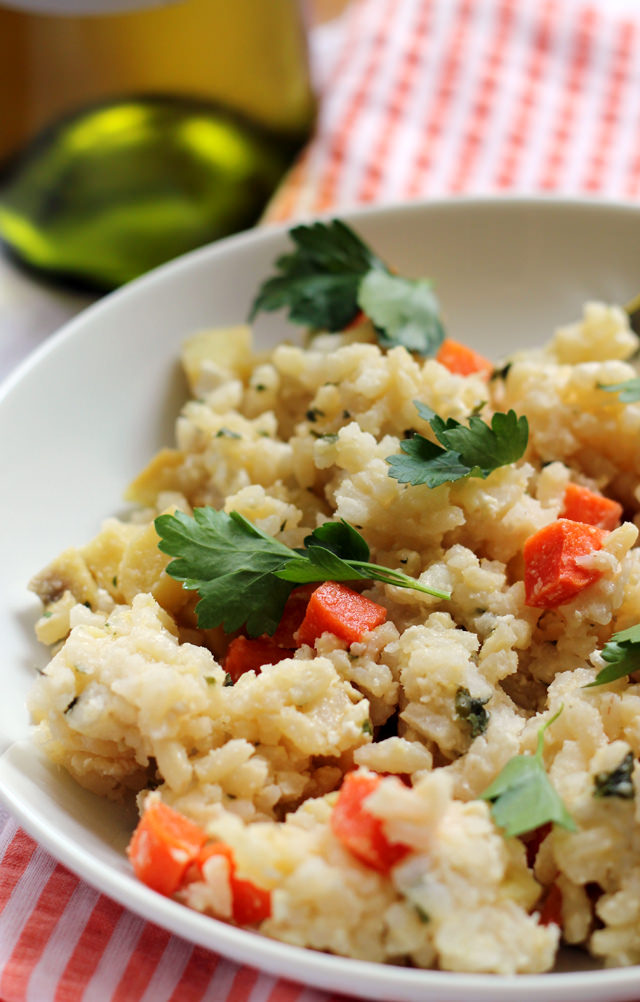 Spring food!!!!!!!!!!!!!!!
Or, Exhibit A in my petition to create a whole Easter menu around CARROTS.
I was thinking this and then twenty different variations on carrot cake. Don't even tell me you think that's not a great idea.
Seriously, though, I have been reeealllyyyy into carrots lately. There's no explaining it.
Okay, there is explaining it. It's that IT STILL FEELS LIKE WINTER OUTSIDE.
Did I mention that it snowed on Saturday? Did I mention that the troposphere and I are NOT ON SPEAKING TERMS?
But, carrots. They feel like a spring vegetable, but roast up like a winter one, and you gotta love that kind of ambidexterity.
This risotto is especially "large family gathering" perfect because it's almost hands-free! Meaning that the kind folks over at Cook's Illustrated figured out how you can get dreamy creamy risotto without having to actually stand near your stove for 45 minutes. Yes, I want to make out with them too.
I think this requires about 10 minutes of intensive hands-on time, five at the start and five at the end, where you actually have to be standing by the stove and stirring. The rest is totally set it and forget it. Man, I love that.
The mix of sweet and savory always sounds good to me, so I roasted up my carrots in a honey olive oil bath alongside their root veggie bestie, the sweet potato, letting them get all ultra tender and caramelized. Then I stirred them into their final risotto destination along with ricotta salata, which is just the right amount of salty to balance out their sweetness in the final dish.

Honey-Roasted Sweet Potato and Carrot Risotto with Ricotta Salata
Normally a very attention intensive dish, this risotto employs an almost hands-free method that lets you cook it without having to stand over the pot! It gets it's sweet and savory flavors from honey-roasted sweet potatoes and carrots, and creamy ricotta salata.
Ingredients
For the honey-roasted vegetables
2 tbsp olive oil
2 tbsp honey
3 medium carrots, peeled and cut into ½-inch dice
1 medium sweet potato, peeled and cut into ½-inch dice
salt, to taste
For the risotto
5 cups vegetable broth
1½ cups water
4 tbsp unsalted butter
1 large onion, chopped finely
salt, to taste
1 medium garlic clove, minced
2 cups arborio rice
1 cup dry white wine
4 oz ricotta salata, crumbled
1 tsp lemon juice
1 tsp minced fresh thyme
2 tbsp minced fresh parsley
Instructions
Heat oven to 450F. In a medium bowl, toss together the olive oil and honey with the carrots and sweet potato cubes. Season to taste with salt. Spread on a parchment-lined baking sheet and roast for 20-25 minutes, or until tender. Remove from the oven and set aside.
Meanwhile, start the risotto. Bring the broth and water to a boil in a medium saucepan over medium heat. Reduce the heat to low to maintain a simmer.
Heat 2 tbsp butter in a large Dutch oven over medium heat. When the butter has melted, add the onion and ¾ tsp salt. Cook, stirring frequently, until the onion is softened, 4-7 minutes. Stir in the garlic and cook until fragrant, about 30 seconds. Add in the rice and cook, stirring constantly, for 3 minutes or until lightly toasted and starting to look translucent around the edges.
Add in the wine and cook, stirring constantly, until almost completely absorbed, about 2-3 minutes. Stir in 5 cups of the hot broth mixture. Reduce the heat to medium-low. Cover and simmer for 16-19 minutes, or until the rice is al dente and almost all the liquid has been absorbed, stirring twice during cooking.
Add in ¾ cup of the remaining hot broth mixture. Stir gently until risotto becomes creamy. Stir in the cheese. Remove from the heat and cover. Let stand for 5 minutes. Stir in the remaining butter, lemon juice, thyme, parsley, and roasted vegetables. Season to taste with salt and black pepper, adding more broth as necessary to reach desired consistency.
 More risotto!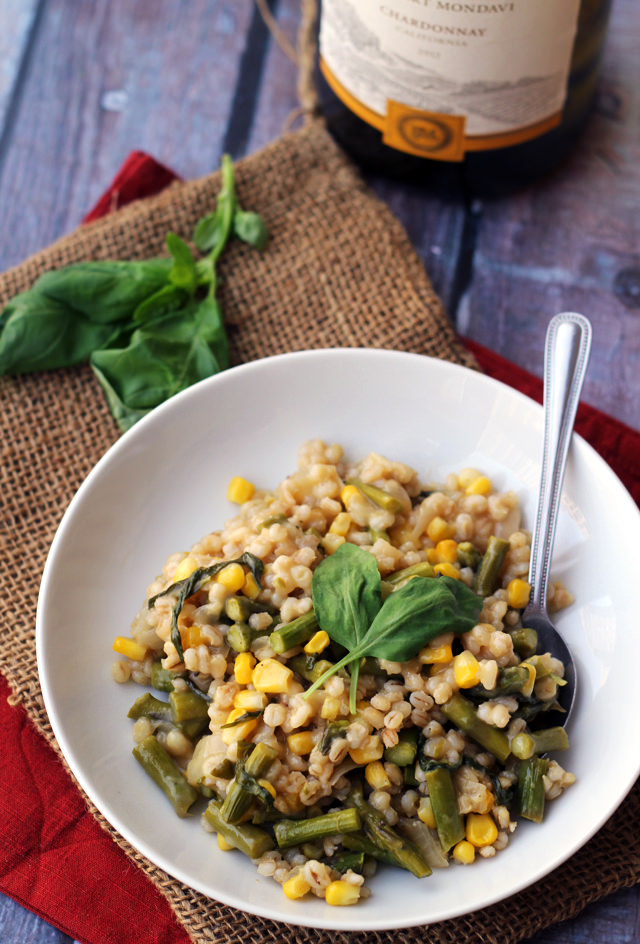 Corn, Asparagus, and Basil Barley Risotto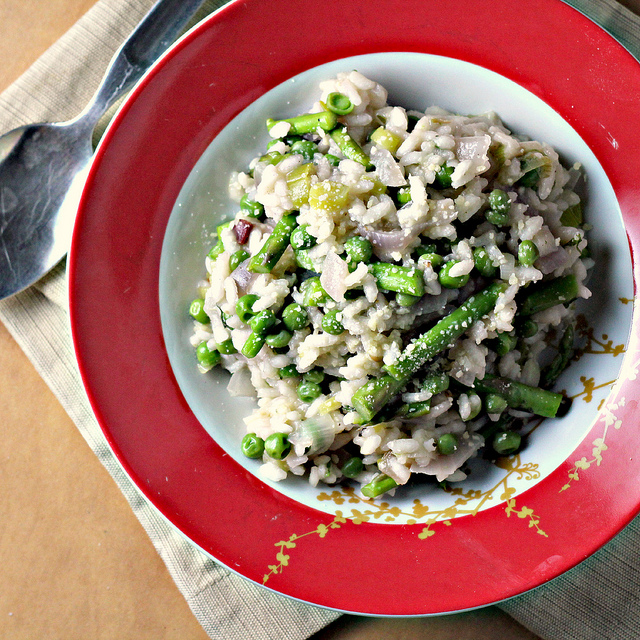 Asparagus and Green Pea Risotto with Fresh Herb Tarka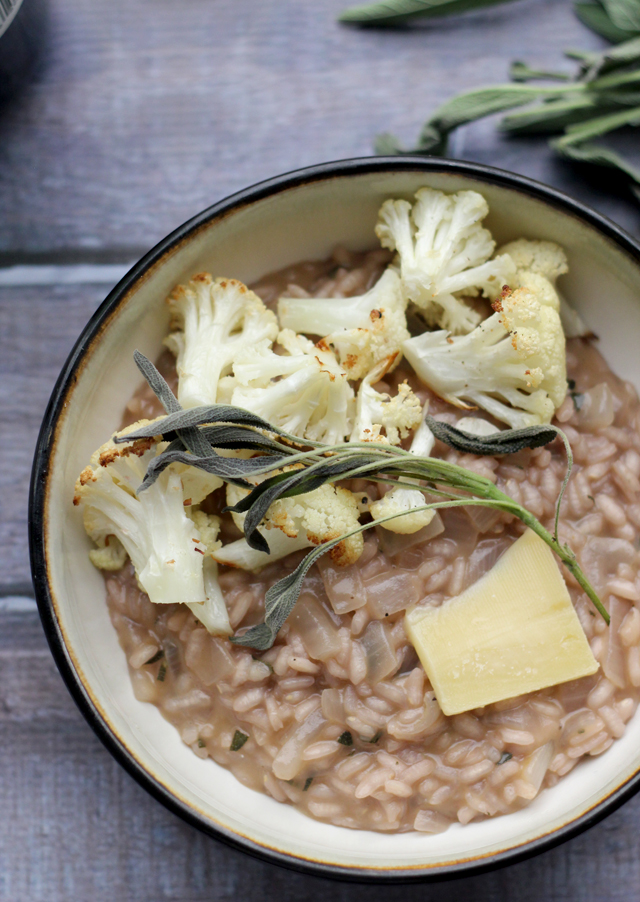 Roasted Cauliflower, Sage, and Almond Risotto
From Around the Web:
Lemony Roasted Cauliflower Risotto from Cookie + Kate
Red Wine and Goat Cheese Risotto from How Sweet It Is
Roasted Corn and Poblano Risotto from Spoon Fork Bacon
Hoppin' John Risotto from Bittersweet Blog
Sweet Corn, Gouda, and Farro Risotto from Foodiecrush