Triple chocolate coconut macaroons that are as rich and fudgy as truffles, but possibly even more decadent.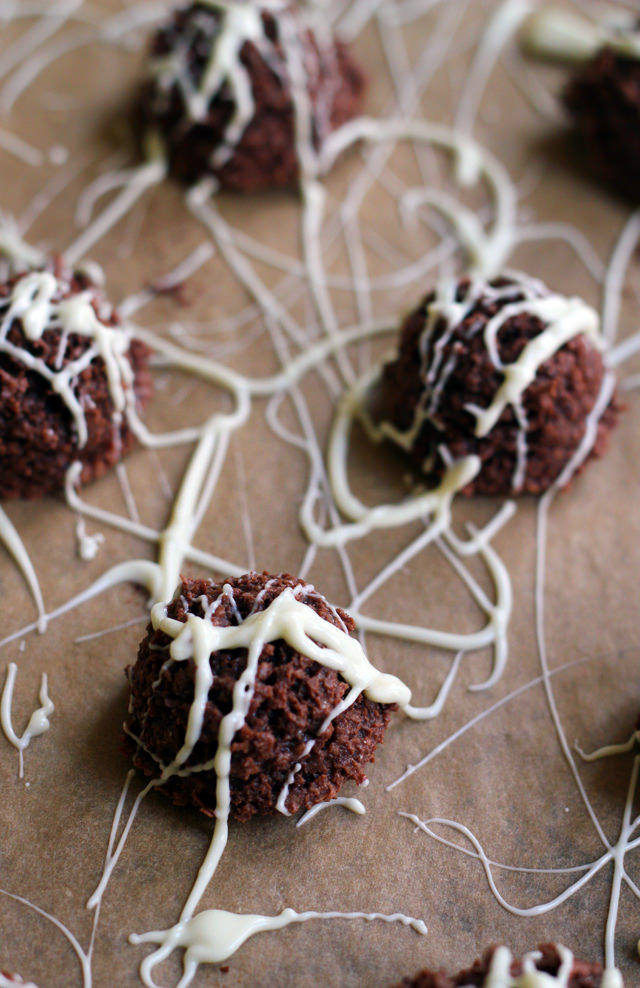 When a cookie fail leads you down the path to triple chocolate coconut macaroons…
…can it really be considered a cookie fail?
And…if this baking fail happened in the forest in your fifth story walk-up apartment and no one was there to hear you curse about it witness your temper tantrum see it but your husband (and we know he doesn't really count anyway)….did it really really happen?
Oh, Friday existentialism. You are TOO MUCH for me.
Let's just talk cookies.
I won't even spend one more breath on the lemon curd linzer cookies that were going to be sooooooo soooooo soooooooooo perfect for Easter except that the dough was too crumbly and wouldn't roll out no matter WHAT I DID. (What did I do to hurt you cookies?!? WHHHAAATTTTT?!?)
And instead I shall devote all of my breaths to these morsels of chocolate coconut fudge heaven.
Otherwise known as macaroons. You might have heard of them?
To be honest, I was macaroon deprived for most of my life because my dad hated coconut and my mom pretended she also hated coconut just so he wouldn't feel like such a weirdo.
Update to 2015: I LOVE COCONUT. But I'm married to someone who HATES COCONUT. Like mother, like daughter?
Except unlike my mother, I eat coconut whenever I dang well please and the.boy can either take it or leave it.
When it's mixed with double chocolatey goodness and topped with a white chocolate drizzle…apparently he takes it. By the handful.
After a stressful cookie dough night, these macaroons were so refreshingly easy!! The batter comes together in the food processor within mere minutes, and after that you are 20 minutes away from fudgy chocolate macaroon perfection.
Perfect for an easy entertaining treat (Easter and/or Passover, AHEM) or a night at home with Scandal reruns. I don't judge.

Triple Chocolate Coconut Macaroons
Triple chocolate coconut macaroons that are as rich and fudgy as truffles, and just as decadent.
Ingredients
4 oz (70%) dark chocolate, chopped
14 oz sweetened, flaked coconut
⅔ cup sugar
6 tbsp cocoa powder
3 large egg whites
½ tsp flaked sea salt
½ tsp vanilla extract
4 oz white chocolate, chopped
Instructions
Heat oven to 325. Line two baking sheets with parchment paper.
In a microwave safe bowl, heat the dark chocolate chunks in the microwave until melted in 30 second intervals, stirring after each interval. Set aside.
In a food processor, blend the coconut for 1 minute. Add sugar and cocoa powder, then blend for another full minute. Add the egg whites, salt, and vanilla, and blend until combined. Pour in the melted chocolate and pulse until combined and smooth. With a tablespoon measure, scoop the batter into 1-inch mounds and place them on the prepared baking sheets.
Bake for 15 minutes, or until the macaroons are shiny and just set. Let rest for 10 minutes to cool.
In a microwave-safe bowl, melt the white chocolate in 30 second intervals, stirring after each one. Drizzle over the macaroons. Place in the refrigerate or freezer to set, about 10-15 minutes.
 More coconutty treats!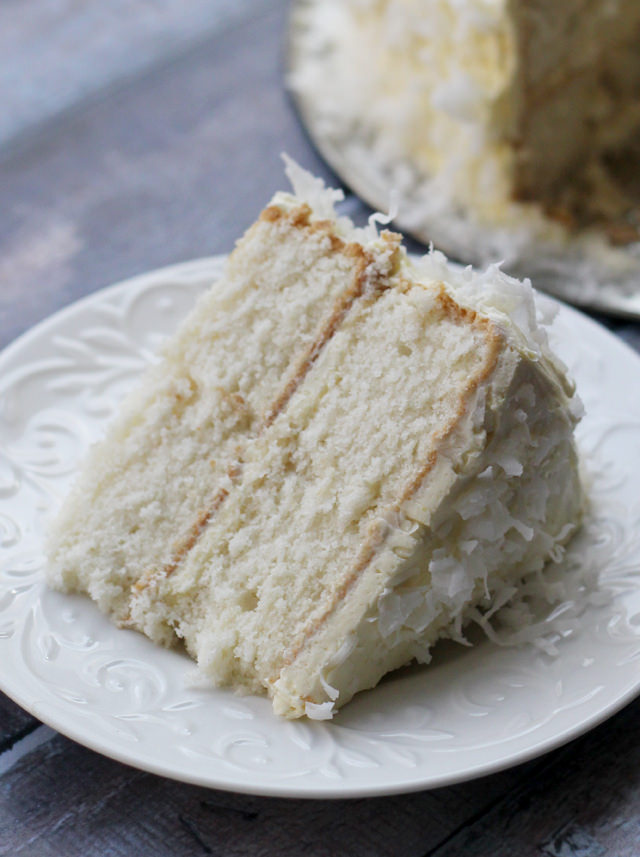 Coconut Cake with Silk Meringue Buttercream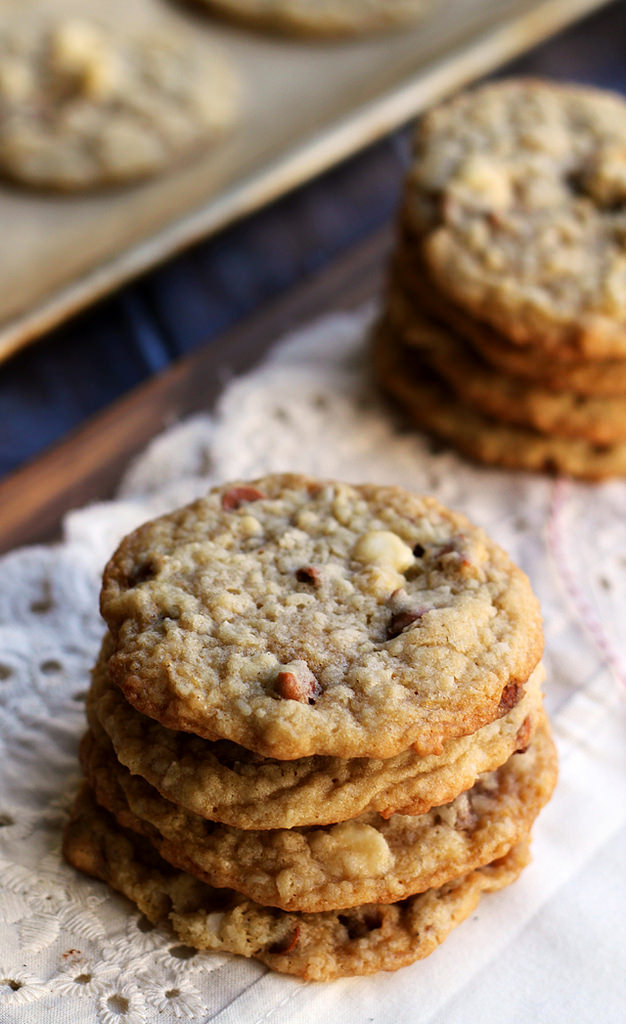 Chewy Cinnamon White Chocolate Chip Coconut Cookies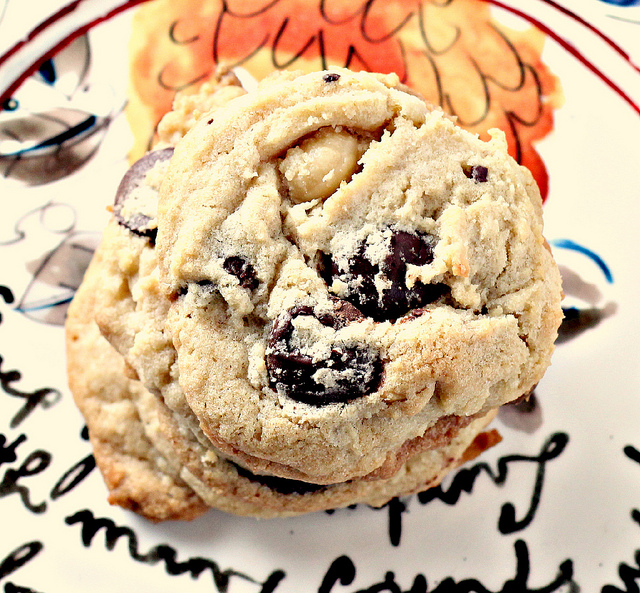 White and Dark Chocolate Coconut Macadamia Nut Cookies
From Around the Web:
Pina Colada Banana Bread from Cinnamon Spice & Everything Nice
Banana Coconut Cream Pie from Diethood
Coconut Waffles from Very Culinary
Coconut Cream Pie Bars from Willow Bird Baking
Banana Coconut Cream Parfaits from My Baking Addiction