Getting dinner on the table is easy when these spicy black bean, quinoa, and sweet potato burgers are on the menu!
Disclosure: This post was sponsored by Alexia Foods. As always, my thoughts and opinions are my own!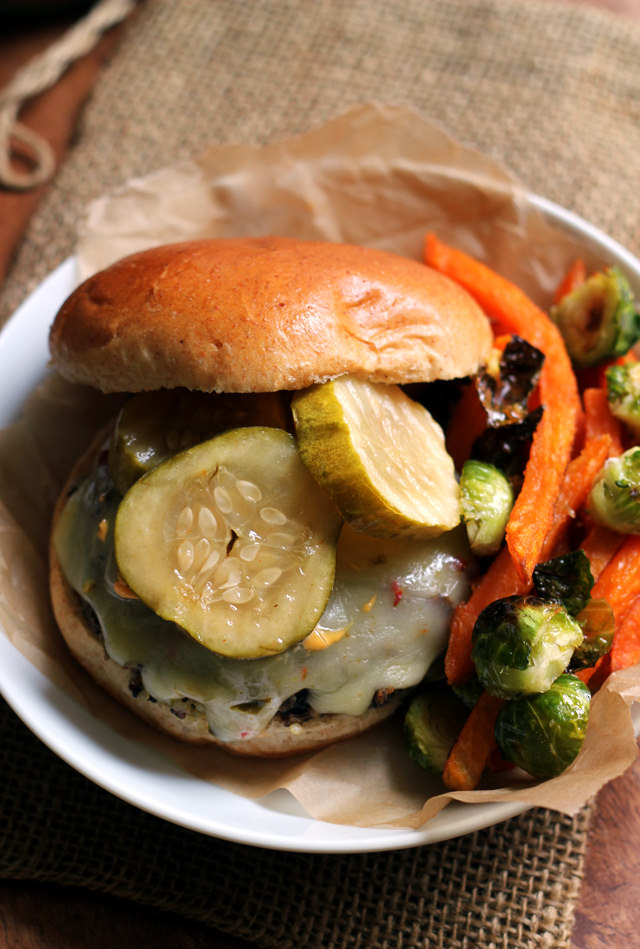 I never had a burger craving until becoming a vegetarian.
That didn't come out right.
I never met a burger worth craving until becoming a vegetarian.
Better.
You have to understand that when I was a kid, burgers were an almost-every-night-occurrence in my house. There was no room to miss them because we were eating them ALL. THE. TIME. Rain, sleet, shine, or the Blizzard of '96, my dad could be found on our deck, flipping patties on the barbecue.
Now that I'm a (sort of) adult who likes to eat a home-cooked meal every night, I totally understand the method to their madness. Burgers are EASY. They require under 5 minutes of prep time, 6-10 minutes over a heat source, and then voila. Dinner is served.
It's been about 6 years since I've had a meat burger and, honestly, I don't miss them. Maybe it was the over-consumption as a child, but I was never really that into them.
Veggie burgers, on the other hand, are a different story.
I am passionate about veggie burgers. Not the artificial color/flavor/ingredients kind from the freezer section…those are gross. I'm talking about the kind that require you to get your hands dirty – to dig deep into a bowl full of beans, grains, veggies, and seasoning. They require a bit more hands-on time than their meat counterparts, but if you prepare the filling ahead of time, it can sit in the fridge for days until you're ready to cook them off.
It's no fun having a burger without a side of fries, though, so I always make sure I have Alexia Foods Sweet Potato Fries with Sea Salt on hand for spur of the moment burger nights. I love them because they are all-natural, made from distinctive, real ingredients, and full of farm fresh flavor. Also, sweet potato fries = MY HAPPY PLACE.
Here, I've roasted them up with some honey-glazed Brussels sprouts and combined, they make for the perfect side to these spiced up black bean, sweet potato, and quinoa burgers. Aside from the heat in the burgers themselves, they get some added intensity from a slather of chipotle mayo, a few spicy pickle chips, and some thick slices of pepperjack. It's sweet and spicy flavor madness. All with under 20 minutes of hands on time.
Alexia Foods is more than just a one trick sweet potato fry pony. I am positively obsessed with their onion rings, enamored with their crinkle cuts, and have been known to bat my eyelashes at their parmesan peas. Check out their website for their full list of offerings and make sure you sign up for the Alexia Club 350 Newsletter, which will allow you to be the first to hear about new Alexia products, promotions, recipes, and tips!

Spicy Black Bean, Quinoa, and Sweet Potato Burgers
Getting dinner on the table is easy when these spicy black bean, quinoa, and sweet potato burgers are on the menu! Prepare the filling in the morning or the day before, and then cook off when you get home.
Ingredients
For the burgers
1 cup dried quinoa, rinsed
1 medium sweet potato
3½ cups cooked black beans
⅓ cup panko bread crumbs
1 large onion, quartered
4 cloves garlic, minced
1 can green chiles, with juices
1 tsp chipotle chili powder
1 tsp ground cumin
½ tsp salt, plus more to taste
8 oz pepperjack cheese
8 tbsp chipotle mayo
spicy pickles, for garnish
8 brioche burger buns
For the Brussels sprouts and sweet potatoes
1 lb Brussels sprouts, trimmed and halved
1 tbsp olive oil
1 tbsp honey
salt and black pepper, to taste
1 (15 oz) bag Alexia Sweet Potato Fries with Sea Salt
Instructions
For the burgers, in a medium saucepan, combine the quinoa with 2 cups of water and a pinch of salt. Bring to a boil and then lower the heat to a simmer. Cook, covered, for 15-20 minutes or until the water has evaporated. Let rest with the heat off for 5 minutes. Set aside.
Meanwhile, prick the sweet potato all over with a fork. Cover in a damp paper towel and microwave for 2-4 minutes, or until soft. Let cool for a few minutes and then peel.
Set aside ¾ cup of the black beans. In the bowl of a food processor combine the remaining black beans, sweet potato, bread crumbs, onion, garlic, green chiles, chili powder, cumin, and salt. Pulse until pureed, scraping down the sides of the bowl as necessary.
Scoop the filling into a large mixing bowl and stir together with the reserved black beans and the quinoa. Season to taste with salt and black pepper.
Heat oven to 400F.
Scoop the filling onto a parchment-lined baking sheet to form 8-10 patties. Bake for 25 minutes. Top with cheese slices and put back in the oven for another minute, or until cheese is melted. Serve atop brioche buns, topped with a smear of chipotle mayo and a few pickle slices.
To cook the Brussels sprouts and sweet potato fries, toss the Brussels sprouts with the olive oil and honey. Spread on a parchment-lined baking sheet and sprinkle with salt. On a second parchment-lined baking sheet, arrange the fries in a single layer. Bake for 20-25 minutes, or until cooked through and crispy.
Nutrition Information
Serving size:
1 veggie burger
More veggie burger recipes: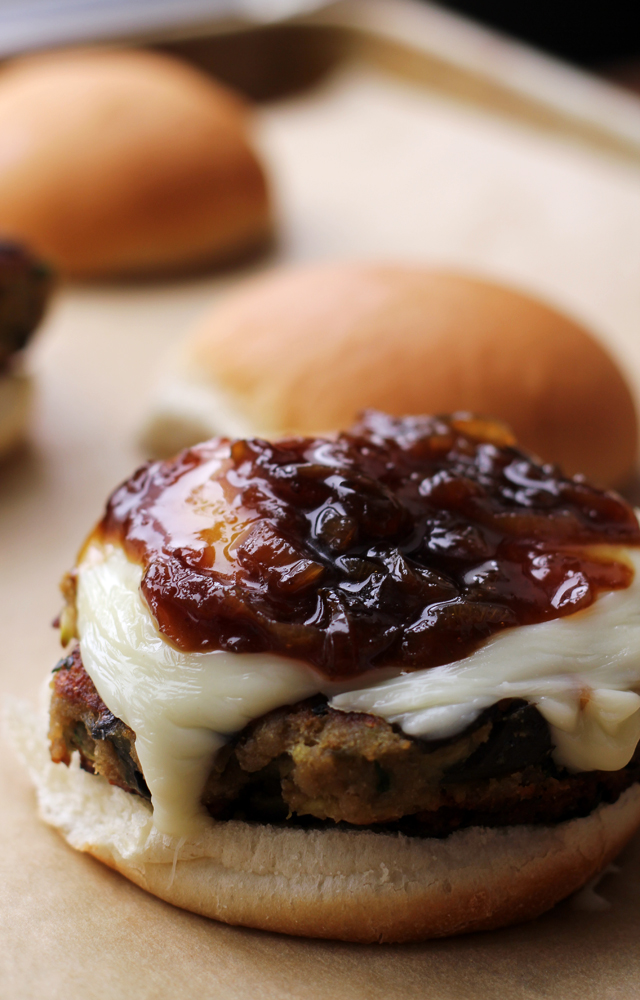 Eggplant Burgers with Honey-Beer Glazed Caramelized Shallots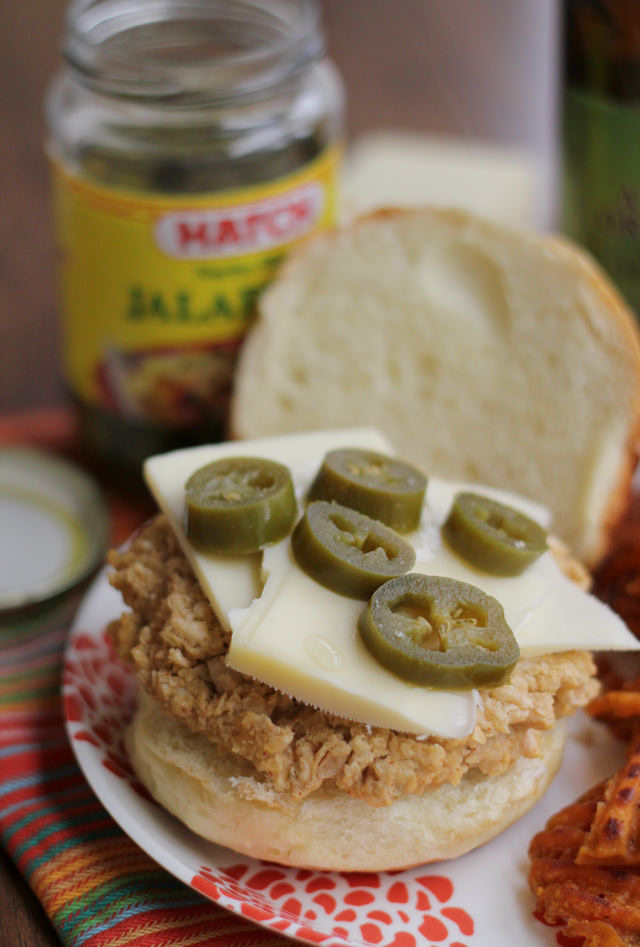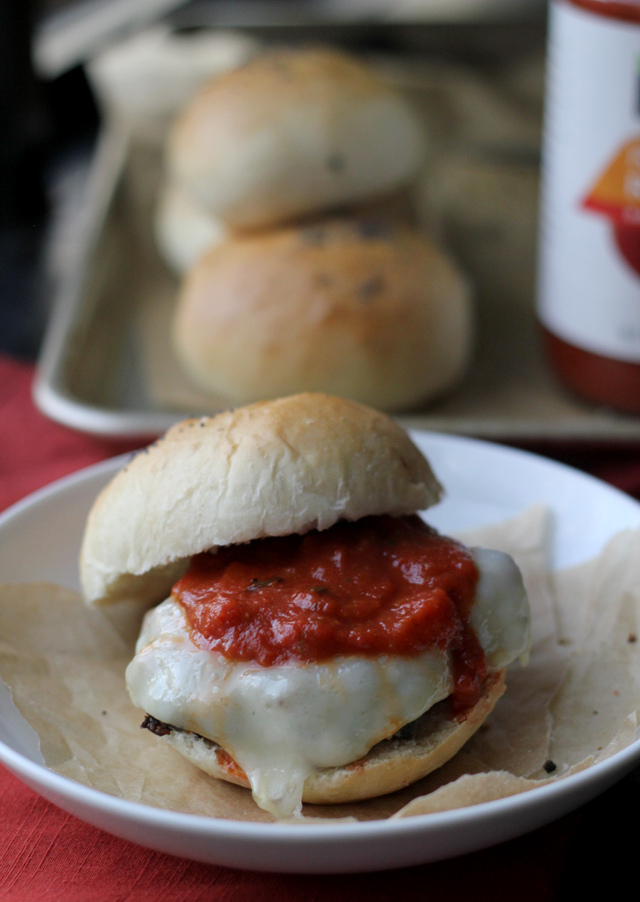 From Around the Web:
Tempeh, Brown Rice, and Millet Veggie Burger from The First Mess
Black Bean Edamame Burgers from Hip Foodie Mom
Meatloaf Veggie Burger with Mashed Potatoes and Gravy from Edible Perspective
Chipotle Black Bean Burgers from Bev Cooks
Chunky Portabella Veggie Burgers from The Kitchen Whisperer
Alexia Foods offers frozen potatoes, appetizers, breads and side dishes with minimal, but distinctive, real ingredients that serve-up exceptional taste. Alexia frozen sides are a delicious addition to a balanced meal with that little something extra and can be ready in 25 minutes—or less. Sign up for Alexia's Club 350 newsletter for more great meal inspiration!
Alexia. Farm to Flavor.
This is a sponsored conversation written by me on behalf of Alexia . The opinions and text are all mine.