A refreshing cucumber-tomato salad with crispy seared halloumi and rich olive croutons will be your new favorite SALAD OF SUMMER. It's so delicious and perfect for the season.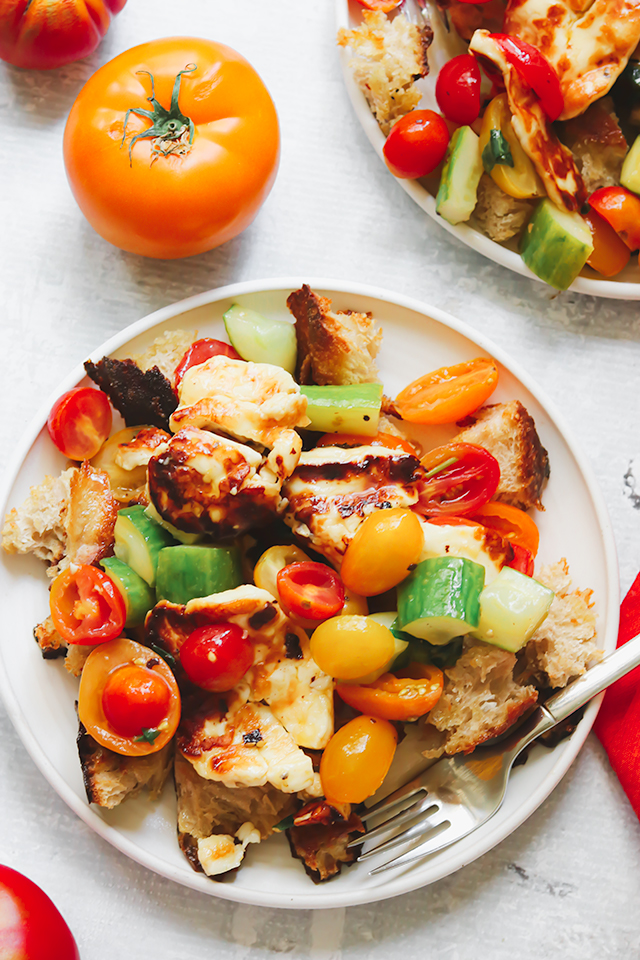 Calling it now – this is the only salad you'll need to take you through the rest of the season!!
At least, I know I won't be making anything else.
Okay, maybe a peach and burrata caprese or two. But mostly this cucumber-tomato halloumi salad.
It is just so light and refreshing –  a total celebration of summer produce that really lets the flavors of the season shine. 
This base of this salad is super simple. You'll barely even need a recipe for it.
Salty and refreshingly crisp cucumber cubes are tossed with cherry tomatoes in a garlicky red wine vinaigrette. These can marinate for quite a while in advance and will only get better the longer they sit, so feel free to prep ahead of time and serve them straight from the fridge. 
Next, seared halloumi is added to the mix, which adds the perfect chew and a whole lot of savory, salty flavor that brings out the sweetness of the ripe summer veggies. It's one of my favorite cheeses for salads because it holds its shape well and has a really bold presence.
The absolute best part of this salad, though, is the CROUTONS.
Bread cubes are saturated in olive oil and then baked until toasty and crisp. They have so much more flavor than any croutons you can buy in a store and add the perfect finishing touch to just about any salad.
If anyone out there other than me is still making their own sourdough, then this is the perfect way to use up those bread odds and ends that are past their prime. Any bread that we haven't eaten at the end of the week gets broken down into bite-sized chunks and then popped into a ziploc in the freezer for future homemade crouton consumption. Every time we eat them, I am so happy with my past self for making this best life choice. They are the best and I end up eating almost as many straight from the baking pan as I throw into the salad. 
Though I clearly think this salad is pretty perfect as is, feel free to mix, match, or add components based on whatever is growing in your garden or seasonal in your area!
Heirloom tomatoes can be roughly chopped and used to replace the cherry tomatoes if that's what you have on hand. Fresh sweet summer corn, grilled zucchini, roasted red peppers, or crispy chickpeas would also be excellent additions if you have any lurking in your fridge. 
Yay summer!
Cucumber-Tomato Salad with Seared Halloumi and Olive Oil Croutons
A refreshing cucumber-tomato salad with crispy seared halloumi and rich olive croutons will be your new favorite SALAD OF SUMMER. It's so delicious and perfect for the season.
Ingredients
For the croutons
1 lb slightly stale sourdough bread, broken into 1-inch chunks
⅓ cup olive oil
kosher salt, to taste
For the salad
4-5 cups seedless cucumber chunks
kosher salt and freshly ground black pepper, to taste
2-3 lb cherry tomatoes, halved
1 garlic clove, grated
2 tbsp red wine vinegar
½ cup olive oil
3 tbsp thinly sliced fresh basil
1 lb halloumi, cut into 1-inch cubes
Instructions
For the croutons
Heat oven to 400F. Spread the bread cubes on a large baking sheet. Drizzle with olive oil and toss to combine. Sprinkle with salt, as needed.
Bake until golden and crunchy, about 15-20 minutes, stirring once and rotating the pan halfway through. Allow to cool slightly.
For the salad
Toss the cucumber cubes with ½ tsp salt and pour into a colander in the sink. Top with an ice pack and let rest while you prepare the remaining ingredients.
In a large salad bowl, combine the cherry tomatoes with ½ tsp salt, the grated garlic, red wine vinegar, olive oil, and basil. Stir to combine.
Heat a large nonstick pan over medium-high heat and lightly coat with olive oil. Add the halloumi cubes to the pan and fry until golden on each side, 2-4 minutes.
Add the halloumi and cucumber to the bowl with the tomatoes. Toss with half of the bread cubes and divide among serving plates. Top with the remaining croutons and serve immediately.