Fruit-filled blueberry peach cobbler bars with a an easy one-bowl shortbread crust and topping – the perfect dessert to celebrate summer fruit.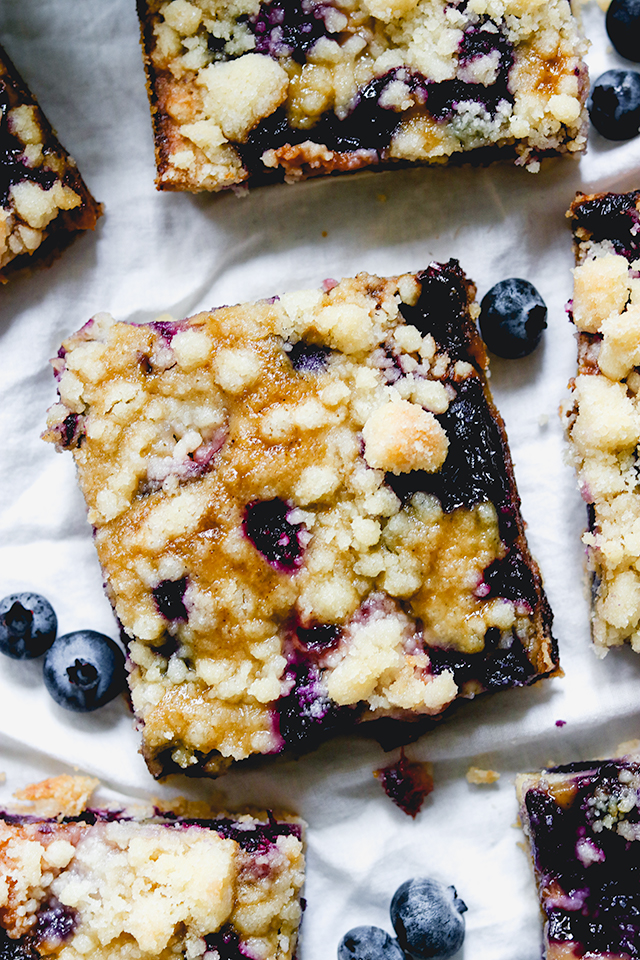 One of our favorite vacation activities this year was to scope out a local farm and go peach picking. The farm we went to was pretty empty so we had the whole place to ourselves and had the pick of the peaches! They also had blueberry bushes that were begging to be picked, which ended up being even more fun than peach picking.
If you haven't had a freshly picked blueberry before, then you need to put that on your MUST DO list immediately. I tend to think storebought and certainly frozen blueberries taste a little bit like nothing, but these berries picked straight from the bush were so intensely delicious. Deeply sweet with an edge of tartness.
I was in awe. I had no idea a blueberry could taste so good!
Another bonus to getting the fruit straight from the farm was that it was so cost effective. I can't remember exactly what the peaches cost, but the blueberries were only $3 a pound. At least here in NYC, you pay more than that for a tiny 6 oz container of berries! Totally worth it.
We chose to go fruit picking on our last day specifically so that I could head home and bake with it. We literally walked in the door and I headed straight to the kitchen to bake these bars! Talk about a one track mind.
These blueberry peach cobbler bars were the perfect way to showcase such perfect summer fruit. They are super juicy and the simple, no-frills filling really lets the fruit shine.
To make these, you'll start by making a shortbread-type mixture that doubles as both the crust and the crumb topping.
It can be made in one bowl by mixing flour, sugar, and salt with melted butter. Half of it will be pressed into your baking pan to form the crust while the other half will be reserved for the topping. 
The fruit filling is equally as simple to prepare and comes together in just one bowl.
It's made of a mix of eggs, brown sugar, cornstarch to thicken, and a bit of cinnamon to enhance the fruit's sweetness. After it's whisked together, the blueberries and peaches are folded in so that they're evenly distributed in the batter.
The batter gets poured right over the shortbread crust and then the remaining shortbread dough is crumbled on top.
These bake up into the most perfect handheld berrylicious treat! 
The crust is perfectly buttery with a sweet tart tangy filling that showcases the peaches and berries beautifully. 
Because they can be made ahead of time, they make a great treat to bring to a summer picnic or barbecue and will definitely be well-loved by all who eat them.
Blueberry Peach Cobbler Bars
Fruit-filled blueberry peach cobbler bars with a an easy one-bowl shortbread crust and topping - the perfect dessert for using up summer fruit.
Ingredients
For the crust and topping
3 cups (360 g) all purpose flour
1 cup (200 g) sugar
½ tsp kosher salt
¾ cup (170 g) unsalted butter, melted
For the filling
3 large eggs
⅓ cup half and half
1 cup (200 g) packed brown sugar
1 tbsp (7.5 g) cornstarch
1 tsp vanilla extract
¼ tsp ground cinnamon
pinch of kosher salt
2 cups fresh blueberries
1 cup chopped fresh peaches
Instructions
Heat oven to 350F. Grease a 9x13-inch baking pan and set aside.
For the crust, stir together the flour, sugar, and salt in a large bowl. Pour in the melted butter and stir until all of the dough is wet and comes together. Press half of the dough into the prepared baking sheet in an even layer, tamping it down with a measuring cup to ensure it is well packed. Set aside the remaining dough to use for the topping.
For the filling, whisk together the eggs, half and half, brown sugar, cornstarch, vanilla, cinnamon, and salt together in a large bowl. Fold in the blueberries and peaches until just combined.
Pour the fruit filling over the crust and spread into an even layer. Crumble the remaining dough over the top.
Place in the oven and bake for 40-45 minutes, or until set. Cool completely before slicing.