A fresh and hearty summertime stew of chickpeas with peppers, zucchini, and Israeli couscous topped with a tangy parsley aioli.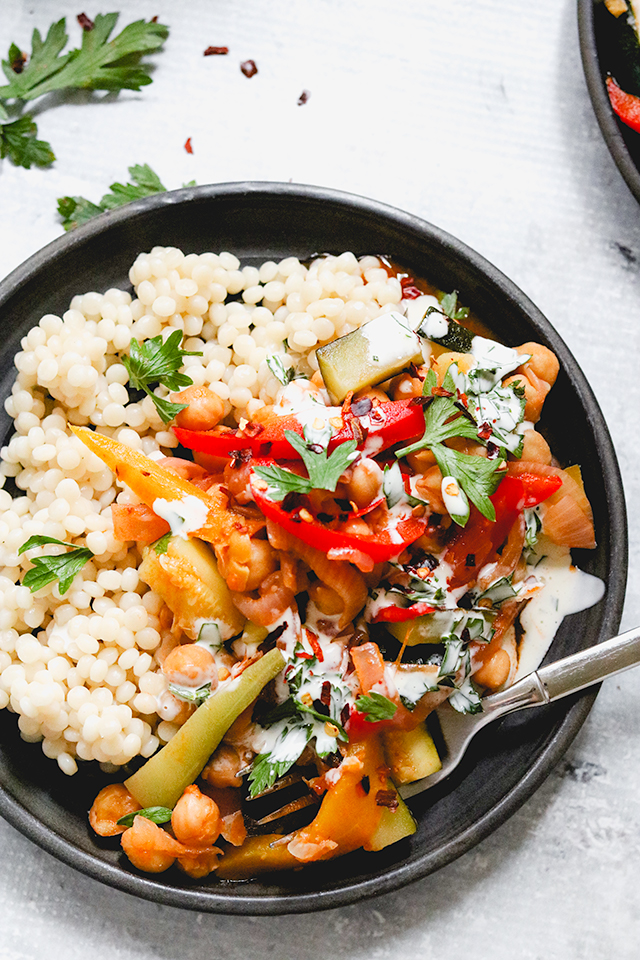 Hellooooooo from vacation!!!
I'm actually writing this ahead of time, so I have no idea what we're eating BUT I can say with probable certainty that whatever it is has nowhere near as much fresh flavor or veggie goodness as this stew. 
Before we left, Remy informed me that she planned on ordering room service pancakes for every meal followed by ice cream for dessert every night if that gives you any indication of what our eating habits are looking like.
That kind of indulgence / carb loading is all well and good for a week, but I guarantee you that when I get back I am making a bucketful of this stew and eating it nonstop for a few days.
We'll just call it my version of a cleanse, and leave it at that.
In all serious, this is my favorite kind of feel-good food.
It is literally bursting with fresh, flavorful, and nutritious ingredients, is simple to prepare, and makes a big batch that will have you eating all week long after under an hour of "work".
This was one of the first recipes that caught my eye when I was flipping through the Simply Julia cookbook, the latest tome from Julia Turshen, which focuses on straightforward, no frills, but DELICIOUS meals. Its bright colors called to me from the pages as I was skimming past and I knew it was going to have to be the first thing I made from the book.
Julia describes this as "the best way [she knows] to use up a ton of summertime produce" and I wholeheartedly agree.
It is a simple stew that is loaded up with onions, garlic, bell peppers, zucchini, and chickpeas. The flavors here are really clean and bare-bones, which allows the fresh veggies to shine.
The stew is simply seasoned with just oregano and as much salt and black pepper as you'd like, however it is infinitely adaptable to whatever flavors you want to add to it. You could add smoked paprika for more of a Spanish flair, ras el hanout for a Moroccan twist, or some heat in the form of harissa or red pepper flakes. 
Because the stew itself really is so simple, it needs a sauce to dress it up and Julia delivers on that as well in the form of a truly easy parsley aioli. This is a simple combination of fresh minced parsley, lots of lemon juice, and mayonnaise. 
You can use vegan mayonnaise if you want to keep this dairy free or regular mayonnaise if that's what you have on hand. I actually used kewpie mayonnaise, which is the only type of mayo I keep in our house. Made from egg yolks and seasoned with a unique blend of vinegars, kewpie mayo has a kind of umami flavor to it that I'm a little bit obsessed with.
The sauce is critical here for adding a necessary tartness and tang, so do not skip it!! 
I love this stew served over Israeli couscous, which adds a nice mouthfeel and soaks up all the stew juices in the best way. You can use whatever carb you happen to have on hand – regular couscous, pasta, quinoa, rice, or pretty much any whole grain!
Stewed Chickpeas with Peppers, Zucchini, and Israeli Couscous
A fresh and hearty summertime stew of chickpeas with peppers, zucchini, and Israeli couscous topped with a tangy parsley aioli.
Ingredients
For the sauce
1 large handful fresh parsley, finely chopped
3 tbsp lemon juice
½ cup mayonnaise (I used kewpie)
½ tsp kosher salt
For the stew
3 tbsp olive oil
1 red onion, thinly sliced into half moons
4 garlic cloves, minced
2 bell peppers, seeded and thinly sliced
2 tbsp tomato paste
2 tsp dried oregano
salt, to taste
2 medium zucchini, cubed
2 (15 oz) cans chickpeas, drained and rinsed
¼ cup water
1 tbsp red wine vinegar
To serve
Instructions
For the sauce
In a small bowl, stir together the parsley, lemon juice, mayo, and salt. Set aside.
For the stew
Heat the olive oil in a large heavy-bottomed pot or Dutch oven over medium heat. Once it is shimmering, add the onion, garlic, bell peppers, tomato paste, oregano, and salt to the pot. Saute, stirring occasionally, until the vegetables begin to soften, about 7 minutes.
Add the zucchini, chickpeas, water, and another pinch of salt to the pot. Increase heat to high and bring to a boil. Once boiling, decrease the heat to medium-low and cook, stirring every five minutes or so until the zucchini is tender and the mixture has thickened slightly. Remove from the heat and stir in the vinegar. Season to taste with salt and black pepper.
To serve
Divide the couscous among serving bowls. Top with the stew and a large dollop of the sauce. Serve immediately.