The combination of roasted almonds, sweet milk chocolate chips, bitter cacao nibs and a sprinkling of smoky salt makes these cookies totally irresistible!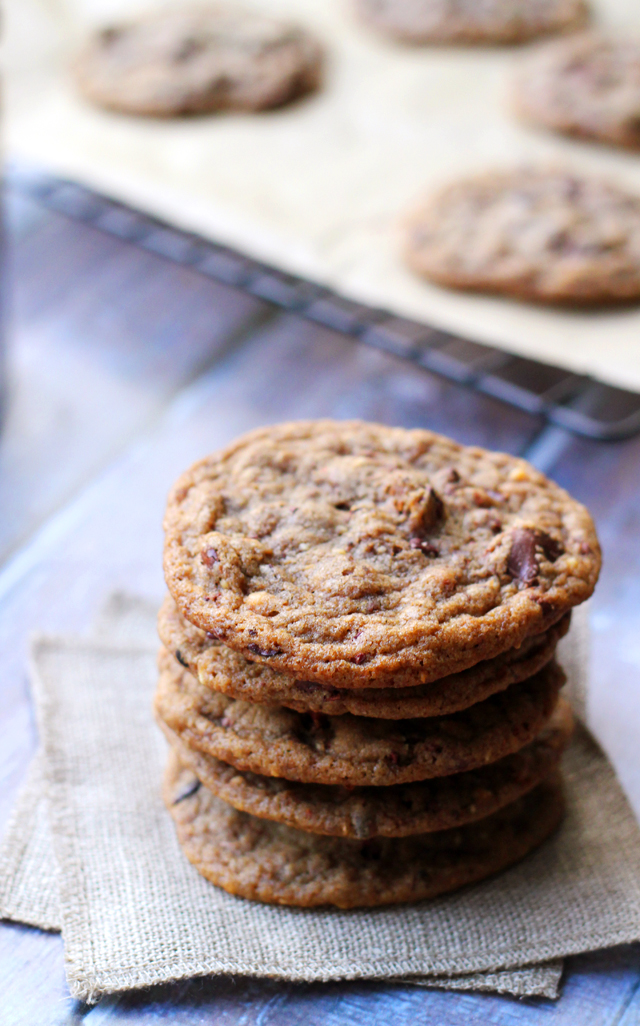 As it turns out, you can smoke anything.
Although, you should be forewarned that if you try to smoke a cigarette while walking by me on the street (e- or otherwise), I will scream WHAT IS THAT DISGUSTING SMELL as loudly as is humanly possible.
Then I will fake cough, point at you emphatically, and proceed to scream some more about how you're breathing cancer air on me.
And if you think I'm exaggerating, let's walk down York Avenue together and you'll just see how hyperbolic I can be.
Or, you can ask the.boy, who has been subjected to many such theatrical performances.
Let's just say that if there were an Oscar awarded for Best Street Screaming. I would be a shoe-in.
You don't even want to know what I do to people I catch smoking in Central Park, where it is ILLEGAL.
(Though if you think it involves running to find the nearest police officer or park ranger, dragging them over to the offending individual, and then standing there until they write them a ticket…there is a high probability that you are right.)
(Good guess.)
Obviously, I'm talking about smoking food, though.
I was first introduced to the wonders of the smoked food world by one Miss Hazel Sy of the blog Tasty Pursuits. We were baking for a fundraiser together when all of a sudden she ran outside with her cupcakes and started SMOKING THEM.
Not the lighting them on fire way, but the infuse them with flaming hickory wood flavor kind of way.
AKA the only kind of way I'll tolerate.
It was only after that first smoky-sweet bite that I realized that things other than pork and salmon could be smoked! And with fabulous results.
I started off with smoked cheeses, which are a bit of an easy sell. Because, CHEESE.
But smokiness in my sweet treats didn't come too easily to me.
Until these cookies. Which are a sweet salty lovers' dream.
Mixed into these are roasted almonds, milk chocolate chips, and cacao nibs with a pinch of smoked sea salt sprinkled on top for good luck. Or good memories.
Or happy taste buds.
Or all of the above.
I was very sad to part with any of them, but I managed to save a few to send to my friend Cheralee for The Leftovers Club this month! I hope they got to her okay and that she devours them as fast as I did.
Roasted Almond, Chocolate Chip, and Cocoa Nib Cookies with Smoked Sea Salt
The combination of roasted almonds, sweet milk chocolate chips, bitter cacao nibs and a sprinkling of smoky salt makes these cookies totally irresistible!
Ingredients
2 cups plus 3 tbsp all purpose flour
1 tsp kosher salt
1 tsp baking soda
9 oz unsalted butter, softened
1¾ cups dark brown sugar
¾ cup sugar
2 large eggs
1 tsp vanilla extract
3 cups large milk chocolate chips
1 cup roasted almonds, roughly chopped
½ cup cocoa nibs
smoked sea salt, for sprinkling
Instructions
Sift together the flour, salt, and baking soda in a large bowl. Set aside.
In the bowl of a stand mixer fitted with the paddle attachment, cream together the butter and sugars on medium speed until light and fluffy, about 4 minutes.
In a small bowl, whisk together the eggs and the vanilla. Add half of the flour to the batter and mix until just combined. Add all of the egg mixture, mixing until combined, and then the remaining flour. Mix until combined, about a minute.
Add the chocolate chips to the mixture, 1 cup at a time, mixing for 30 seconds after each addition. Add the almonds and cocoa nibs, mixing until combined. Transfer the batter to a large bowl, cover with plastic wrap and refrigerate for an hour.
Heat oven to 350F.
Using a 1½ tbsp cookie scoop, scoop the dough into heaping scoops onto parchment-lined baking sheets, leaving about 1-inch between each cookie. Sprinkle with the smoked salt. Bake for 10 minutes and then let the cookies cool on the pans for 10 minutes before removing to a rack to cool completely.
Notes
Recipe very lightly adapted from
Sweet
For more sweet and salty cookies, check out these: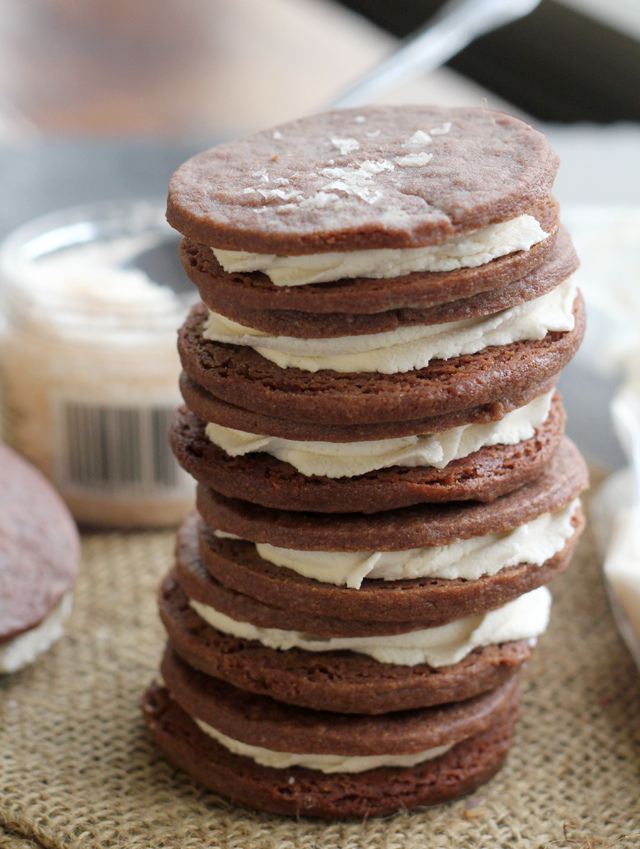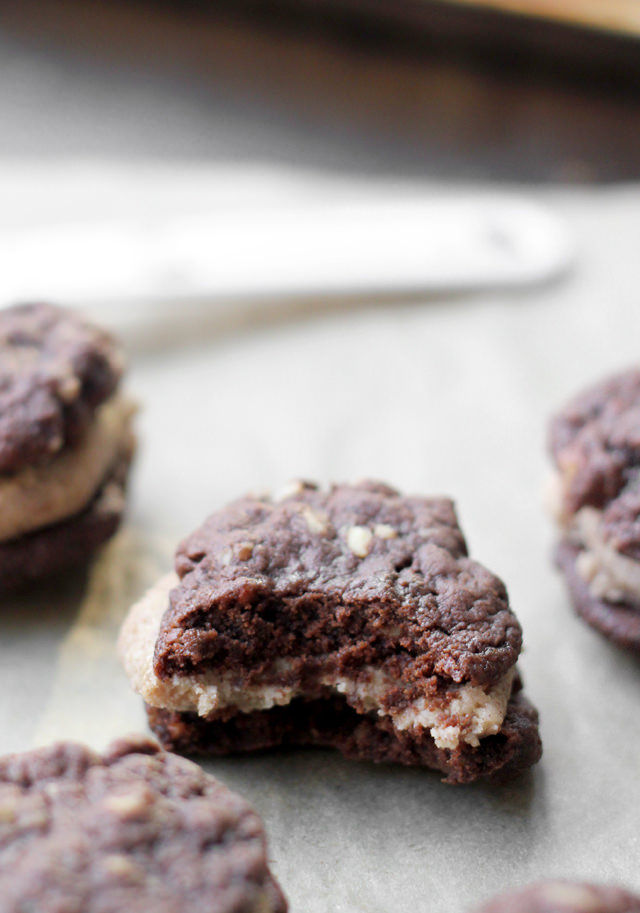 Chocolate Butter Pecan Sandwich Cookies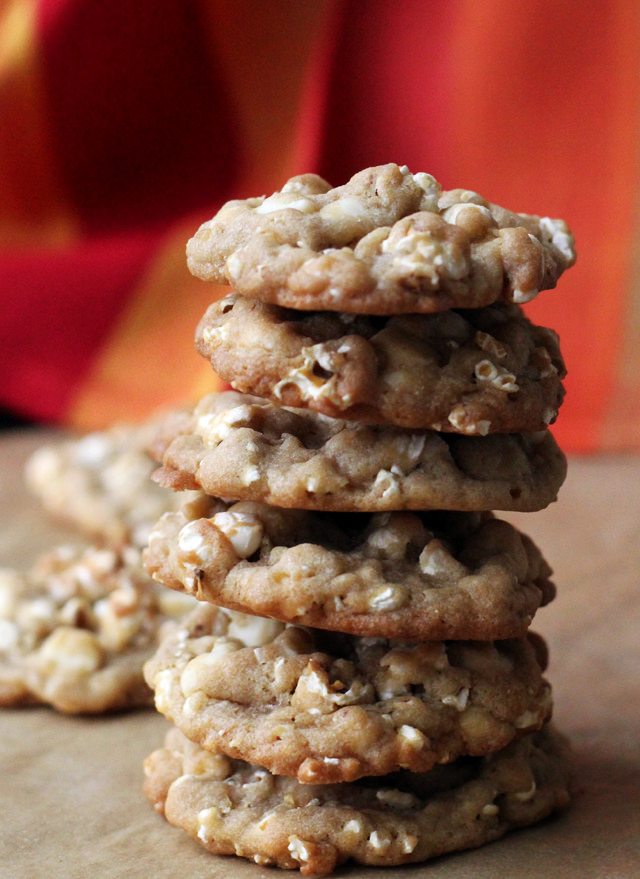 White Chocolate Buttered Popcorn Cookies
From Around the Web:
Salted Caramel Chocolate Chunk Cookies from Foodie with Family
White Chocolate Toffee Brown Butter Cookies from Baker By Nature
Pretzel Shortbread Cookies from My Name is Yeh
Black Sesame Macarons from The Tart Tart
Cookie Butter and Salted Caramel Cookie Sandwiches from Keep It Sweet Desserts