These chewy chocolate pecan cookies are stuffed with a brown butter pecan butter filling that leads to a perfect cookie sandwich bite.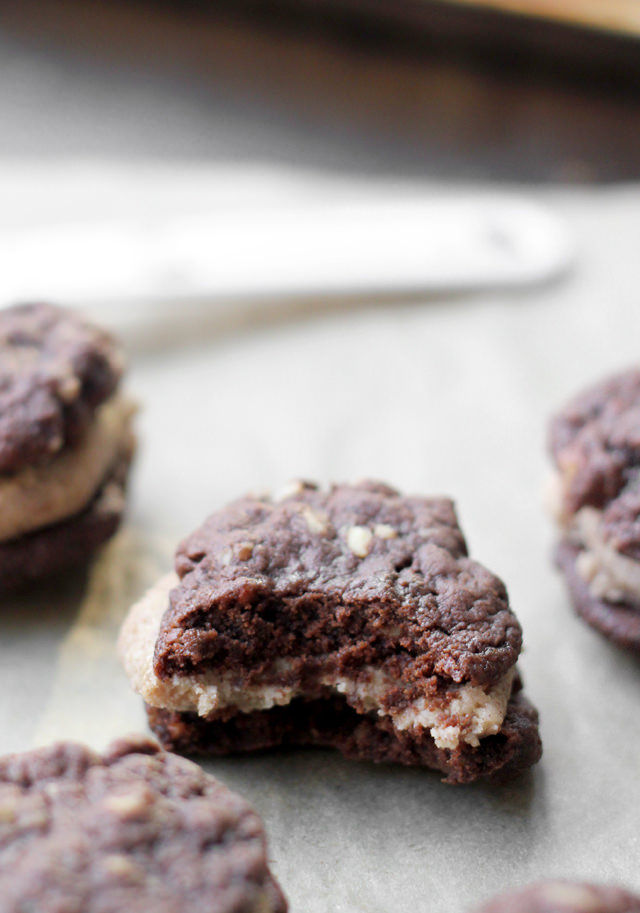 Why put peanut butter on your Greek yogurt every morning when you could instead be having brown butter pecan frosting.
That was my existential crisis of Wednesday.
And, I mean…Wednesdays are already pretty tough.
There is definitely no room to add chocolate-smothered breakfast drama into the mix. We can barely get ourselves out of the house as it is!
The.Boy was filled with no such internal conflict, in case you were wondering, and was perfectly fine stuffing his face with sugar, brown butter, regular butter, and, uh, more sugar for breakfast. God I wish I had his metabolism.
I, however, always feel like breakfast needs to be a touch on the redemptive side. High in protein, a touch of healthy fat, a nice drizzle of honey…and now with a glob of brown butter pecan heaven on the side!
(And yes, you can super size that.)
You might even choose to crumble a little soft chewy chocolate pecan cookie on top.
And that is why we are friends.
One year ago…Smoky Sweet Potato Burgers With Roasted Garlic Cream and Avocado Crema, Pasta with Black Kale, Caramelized Onions and Parsnips
Two years ago…Broccoli-Basil Mac and Cheese, Creamy Carrot and Parsnip Soup
Three years ago…Cranberry Blueberry Pie, Roasted Pumpkin, Wild Rice and White Bean Salad
Four years ago…Texas Barbecue Sauce Pulled Pork on a Whole Wheat Bun, Slow-Roasted Beets with Buttermilk, Blue Cheese, Pecans and Arugula
Chocolate Butter Pecan Sandwich Cookies
These chewy chocolate pecan cookies are stuffed with a brown butter pecan butter filling that leads to a perfect cookie sandwich bite.
Yield:
20-24 cookie sandwiches
Ingredients
For the brown butter pecan filling
6 tbsp unsalted butter
1 cup toasted, cooled pecans
¾ cup powdered sugar
1½ tsp vanilla
1 tsp kosher salt
For the chocolate pecan cookies
¾ cup plus 1 tbsp all-purpose flour
¼ cup plus 2 tbsp unsweetened cocoa powder
¼ tsp baking soda
½ cup plus 1 tbsp unsalted butter, softened
¾ cup plus 2 tbsp sugar
1 large egg
¼ cup toasted, cooled, and finely chopped pecans
1 tsp vanilla
½ tsp kosher salt
Instructions
For the filling, you must first brown the butter. Put it in a small saucepan over medium heat. Allow it to melt and then continue to cook it, stirring occasionally, until it starts to turn an amber color and smell nutty. Remove it from the heat and then pour it into a small bowl.
In a food processor, combine the brown butter, pecans, powdered sugar, vanilla, and salt. Pulse until a smooth puree forms, scraping down the sides as necessary. Store in the fridge until the cookies are ready.
For the cookie dough, whisk together the flour, cocoa powder, and baking soda in a bowl.
In the bowl of a stand mixer fitted with the paddle attachment, cream together the butter and sugar until light and fluffy, about 3 minutes. Mix in the egg and beat on low speed until incorporated. Scrape down the bowl and mix in the pecans, vanilla, and salt, mixing until just combined.
Add in the dry ingredients in 3 additions, and mix on low speed until just combined. Remove from the mixer, cover with saran wrap, and chill the cookie dough in the fridge for 1 hour or more.
When the cookies are ready to bake, preheat the oven to 375. Scoop the cookie dough into 2 tsp-sized scoops (a small cookie scoop) and place them on a parchment-lined baking sheet, about an inch apart. Press them flat so that they are about ¼-inch thick. Bake the cookies, one pan at a time, for 7 minutes. Allow to cool on the sheets for 10 minutes and then remove to a wire rack to finish cooling.
To make the sandwiches, spread about 2 tsp of filling onto the flat side of a cookie and top it with a second cookie, pressing gently. Repeat with remaining cookies.
Notes
Recipe from
The Dahlia Bakery Cookbook: Sweetness in Seattle
Nutrition Information
Serving size:
1 cookie sandwich