A decadent black magic chocolate cake with a rose buttercream filling and chocolate marshmallow buttercream frosting. Perfect for any celebration.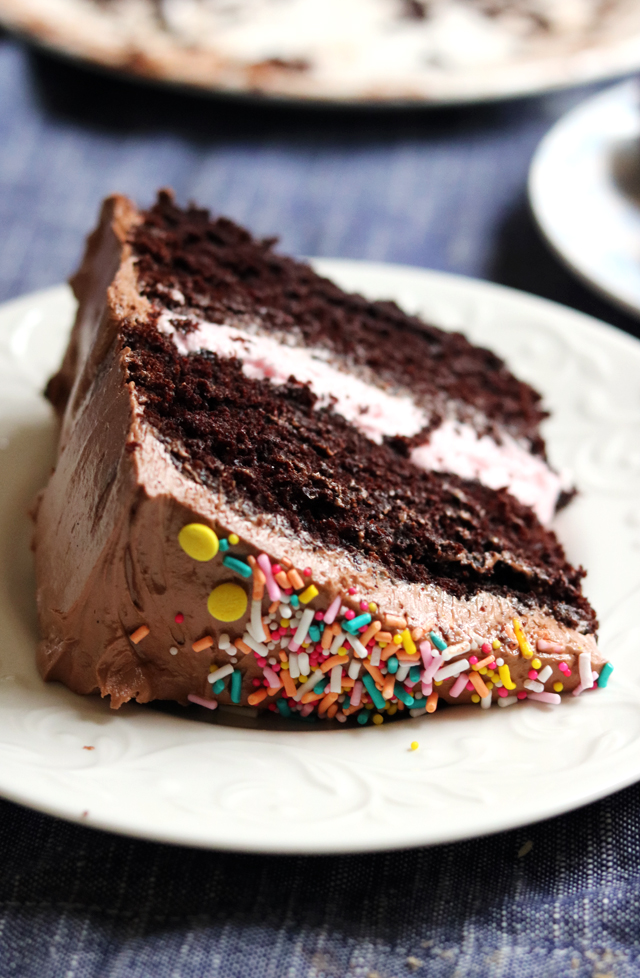 Thanksgiving may be all about the pie, but to me Christmas always feels like it's all about CAKE.
(Well, and cookies, but that goes without saying.)
Since Remy was born, I get the pleasure of hosting both Christmas Eve and Christmas Day so that we can celebrate with both families and don't have to leave our house for 48 hours.
ALSO, this means I get to bake to my heart's desire because I'll have a whole cadre of visitors to come over and eat it all. It's always a hot mess stress situation because of all the cooking and baking I end up doing but also a lot of fun because I get to try so many new recipes.
What makes it even more fun (<– saying this only slightly sarcastically) is that our families have completely different tastes.
Mike's family is all about the chocolate, whereas mine has more of a vanilla/fruit/anythingbutchocolate preference. To be honest, I'm in more of the latter camp as well (can't fight genetics) and am reeeallllyyyy picky about my chocolate desserts. They have to be insanely rich and deeply chocolaty for them to be worth eating, in my opinion.
There's a recipe for black chocolate stout cake in the blog archives that checks every one of those points for me, but the stout flavor doesn't go with everything so it's not as versatile as I'd like it to be.
Enter this black magic chocolate cake, which is deep, dark, sultry, and just about as perfect of an everyday chocolate cake that you can get.
It is an impossibly moist oil-based cake with a really rich chocolate flavor thanks to bittersweet chocolate, Dutch cocoa powder, and coffee in the batter. And it stays good for DAYS. When I first made this, I thought we were going to have some visitors over to help us eat it but then they all canceled on us so we were left eating it FOR A WEEK. And it was still moist and fluffy even on day 7. Pretty impressive.
The day that I made this cake, I had both leftover chocolate marshmallow buttercream and rose buttercream in the fridge so into the cake they went!! The chocolate and rose combination is kind of magical and I would do it all over again if given the opportunity. It's important to note, though, that both frosting recipes will yield more frosting than you need for just this cake so feel free to freeze the leftovers or just choose one to frost and fill the whole cake. Either way, you can't go wrong.
Black Magic Chocolate Cake with Rose Buttercream
A decadent black magic chocolate cake with a rose buttercream filling and chocolate marshmallow buttercream frosting. Perfect for any celebration.
Ingredients
For the chocolate cake
3 oz (85 g) bittersweet chocolate
1 cup (240 mL) freshly brewed coffee, hot
1 cup (240 mL) buttermilk
½ cup (120 mL) canola oil
3 large eggs, room temperature
2 tsp vanilla extract
2 cups (284 g) all purpose flour
2 cups (396 g) sugar
¾ cup (75 g) Dutch process cocoa powder
2 tsp baking soda
1 tsp baking powder
1 tsp salt
For the chocolate marshmallow buttercream
1 envelope (2¼ tsp) gelatin powder
¼ cup (60 mL) cool tap water to bloom the gelatin
1 tbsp vanilla extract
¾ cup (180 mL) water for the sugar syrup
¾ cup + 2 tbsp (300 mL) light corn syrup
2 cups (400 g) sugar
½ tsp kosher salt
20 oz (566 g) unsalted butter, soft but cool
12 oz (340 g) dark or milk chocolate, melted
For the rose buttercream
1½ cups (330 g) unsalted butter, softened
4 cups (480 g) confectioners' sugar, sifted
2-3 tablespoons milk
1 teaspoon pure vanilla extract
½ teaspoon rosewater
pinch of salt
pink food coloring gel, optional
Instructions
For the chocolate cake
Heat the oven to 350F. Grease and line two 8-inch cake pans with parchment paper. Set aside.
Place the chocolate in a medium bowl. Pour the hot coffee over it and cover with plastic wrap to trap the heat and allow the chocolate to melt. Whisk together the buttermilk, canola oil, eggs, and vanilla in a separate bowl. Set aside.
In the bowl of a stand mixer fitted with the paddle attachment, mix together the flour, sugar, cocoa powder, baking soda, baking powder, and salt on low speed until combined. With the mixer still running on low, pour in the buttermilk mixture. Increase to medium speed and mix until combined, about 30 seconds.
Remove the plastic wrap from the chocolate-coffee mixture and mix until the chocolate is melted and the mixture is smooth. Pour the chocolate-coffee mixture into the batter and mix until just combined. Remove the bowl from the stand mixer and give the batter a few mixes by hand with a spatula to ensure it is well mixed.
Divide the batter between the two prepared cake pans. Bake for 25-35 minutes, or until a toothpick inserted comes out with just a bit of crumb.
Allow to cool in the pans for 30 minutes. Remove from the pans to a wire rack and allow to cool completely.
For the chocolate marshmallow buttercream
First, make the marshmallow base. Mix the gelatin with ¼ cup of cool tap water and vanilla in a small bowl. Set aside. Meanwhile, combine the remaining ¾ cup water, corn syrup, sugar, and salt in a 3-quart stainless steel pot over medium heat. Stir until bubbling, mixing occasionally with a fork, about 5 minutes. Continue to cook without stirring until the mixture comes to 250F (120C), about 8 minutes. Pour the hot syrup into the bowl of a stand mixer and allow to cool to 212F (100C), about 8 minutes, then add the gelatin. Using the whisk attachment, mix on low speed until the gelatin has completely melted into the sugar syrup. Increase the mixer speed to medium-high and whip until it has tripled in volume, about 10 minutes. Scrape the marshmallow into a well-greased container. Cover tightly and let sit at room temperature to firm up, at least 2 hours or overnight.
Next, make the buttercream. To do this, transfer the marshmallow base to the bowl of a stand mixer fitted with the whisk attachment. Whip on medium speed and add the butter 1 tbsp at a time, waiting a few seconds after each addition. Pour in the melted chocolate and whip on medium speed until well combined.
For the rose buttercream
Whip the butter in the bowl of a stand mixer fitted with the paddle attachment on medium speed for 8 minutes or until pale and creamy.
Add in the remaining ingredients and mix on low for 1 minute to combine. Increase the speed to medium and mix for 6 minutes or until light and fluffy.
To assemble
Place the bottom cake layer on a serving plate or cake board. Top with 1.5 cup of the rose buttercream and spread over the cake with an offset spatula until it reaches the edges. Top with the second cake layer. Frost with the chocolate frosting and decorate as desired.