A black chocolate stout cake with a slightly bitter, malted caramel flavor gets filled with a sultry caramel cream cheese buttercream.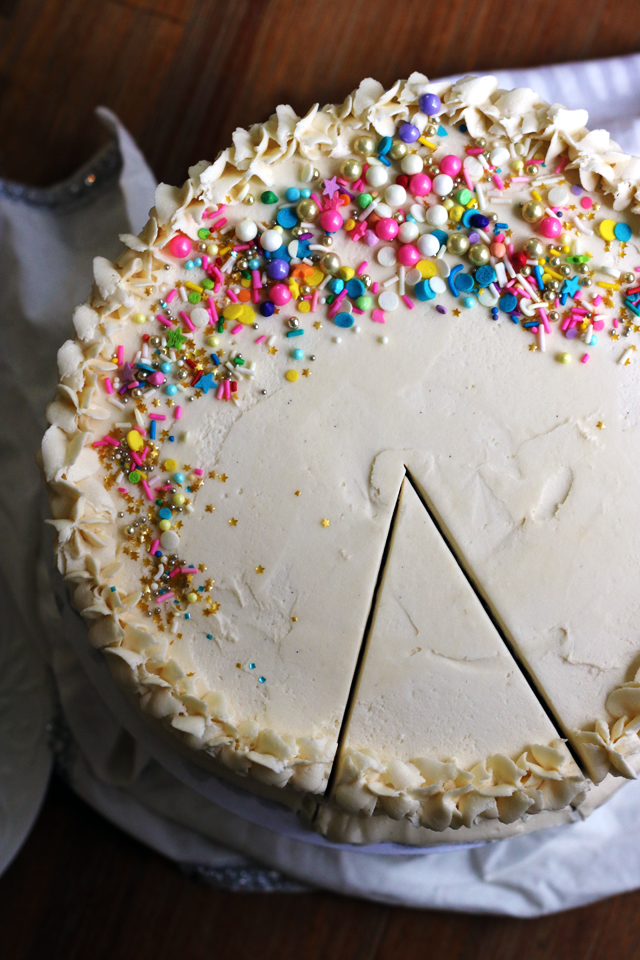 One of the calls you never want to get from your husband,
"Hey babe, you didn't write a check for $3,699.98 to a complete stranger in Yonkers, did you?"
Me: Uhhhhhhhhh. NOPE.
Yeah. So. THAT HAPPENED.
I don't know if you guys have ever had a check stolen from you, but I'm pretty sure we've all had a credit card number stolen (or know someone who has) and this is SO MUCH WORSE. It involves closing your current bank account entirely, redirecting all of the direct deposits/withdrawals to the new bank account that you inevitably open to protect all of your money, and crossing all of your fingers that you'll be able to get the stolen money back because, unlike with credit card thievery, it is not guaranteed and may take anywhere from 3 to 347 days to process.
Highly do NOT recommend it, for what that's worth.
We were initially super worried that someone had actually stolen a check from our home but then we remembered that over the summer one of the rent checks we had sent to our landlord had gotten lost in the mail. At the time we laughed about USPS for being incompetent, canceled the check and moved on with our lives. But know we know that there's probably some USPS check forger out there and so we really need to plead the case to our building's management company to invest in some sort of online credit card system for rent payments because this old fashioned snail mail thing is not working out.
Anyways.
Cake, anyone?
And not just any cake, but the richest, most dark chocolate-y chocolate cake I have ever had.
It requires a special trip to the store for black chocolate stout, but that's not a problem because I plan on stocking my fridge with it at all times just so I can make this cake on a whim whenever the chocolate urge strikes. So, monthly, if not more.
While Thanksgiving is all about pies, I often think of Christmas as a venue for CAKE CAKE CAKE. Especially the chocolate kind. This would be perfect for gracing your holiday table.
The rich chocolate is complimented perfectly by sultry sweet salty caramel cream cheese buttercream and each bite is basically perfection. Highly recommended.
Black Chocolate Stout Cake with Caramel Cream Cheese Buttercream
A black chocolate stout cake with a slightly bitter, malted caramel flavor gets filled with a sultry caramel cream cheese buttercream.
Ingredients
1½ cups black chocolate stout (Brooklyn Brewery makes a good one!)
1½ cups unsalted butter, cut into ½-inch pieces
1½ cups dark Dutch-process cocoa powder
3 cups all purpose flour
2¾ cups sugar
¾ tbsp baking soda
1½ tsp salt
1 cup full fat sour cream
3 large eggs, room temperature
For the frosting
8 oz unsalted butter, room temperature
7 cups powdered sugar
2 tbsp heavy cream
½ cup salted caramel
4 oz cream cheese, softened
For the salted caramel sauce
1 cup heavy cream
¼ cup sugar
¼ cup packed light brown sugar
4 tbsp unsalted butter
3 tbsp light corn syrup
¼ tsp salt
½ tbsp vanilla bean paste
Instructions
To make the cake, heat oven to 350F. Spray two 9-inch cake pans with baking spray. Line with parchment paper and spray again. Set aside.
Bring the stout and butter to a simmer in a large heavy pan over medium heat. Remove from the heat and stir in the cocoa powder. Whisk until smooth. Let cool for 5 minutes.
Meanwhile, whisk together the flour, sugar, baking soda, and salt in a large bowl.
In a separate large bowl, whisk together the sour cream and eggs.
Add the stout mixture to the egg mixture and whisk to combine. Using a spatula, combine the flour mixture with the stout-egg mixture until all of the ingredients are incorporated and the batter is smooth, scraping down the bottom of the bowl as necessary to incorporate all the dry bits.
Divide the batter equally between the prepared pans. Bake for 35-40 minutes or until a toothpick inserted comes out clean. Allow to cool completely on a wire rack.
For the frosting, combine the butter and 3 cups of the powdered sugar in the bowl of a stand mixer fitted with the paddle attachment. Add in the heavy cream and mix until just incorporated. Beat on medium-high speed for 1 minute, or until creamy. Scrape down the sides of the bowl.
Add the remaining powdered sugar, 1 cup at a time, mixing on low until the frosting is thick, beating for 1 minute after each addition. Increase the speed to medium-high and beat for 4 minutes or until fluffy.
Add the salted caramel sauce and mix until fully incorporated into the buttercream. Then add the cream cheese and beat on medium-high speed for 1 minute. Scrape down the bowl and beat again to ensure that all the cream cheese is incorporated. Frost and fill the cake as desired.
Caramel Sauce
For the salted caramel sauce, bring half a cup of the cream, the sugars, the butter, the corn syrup, and the salt to a boil in a saucepan over medium-high heat. Once the sugar has dissolved, whisk a few times to combine. Boil until the mixture is dark tan and the temperature reaches 250F. Remove from the heat and pour in the remaining cream and vanilla bean paste. Whisk to combine. Return the pan to low heat and bring to a low boil, stirring, until no visible chunks remain.
Pour into a glass jar or bowl and allow to cool completely. Store in the refrigerator until ready to use
Notes
Recipe from
Ovenly: Sweet and Salty Recipes from New York's Most Creative Bakery
More holiday cakes: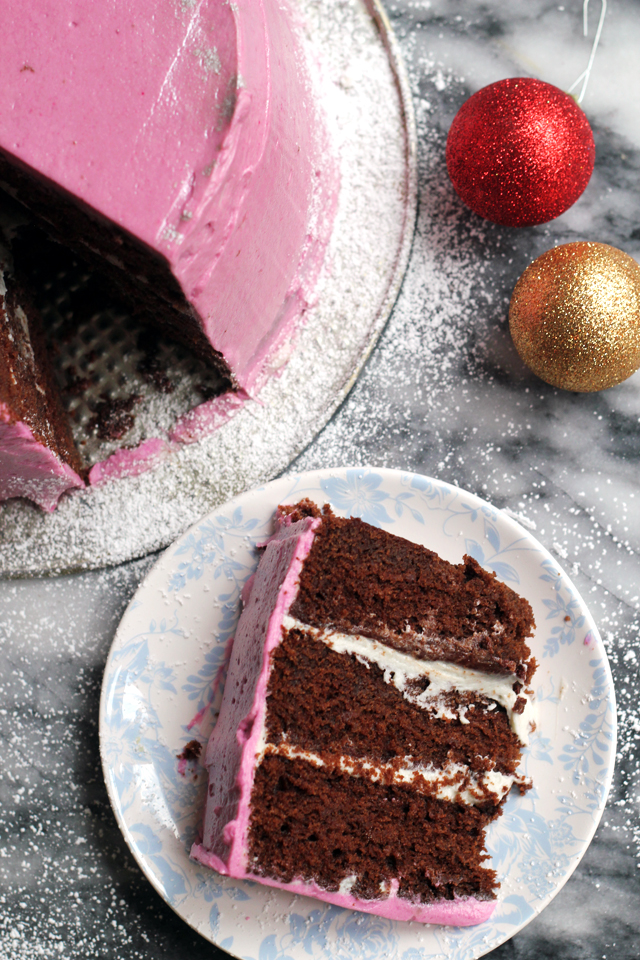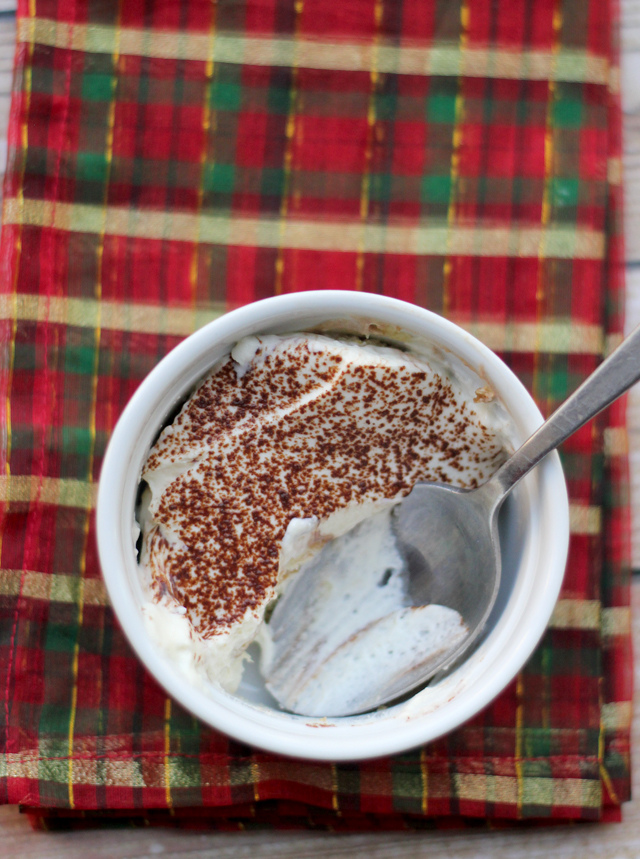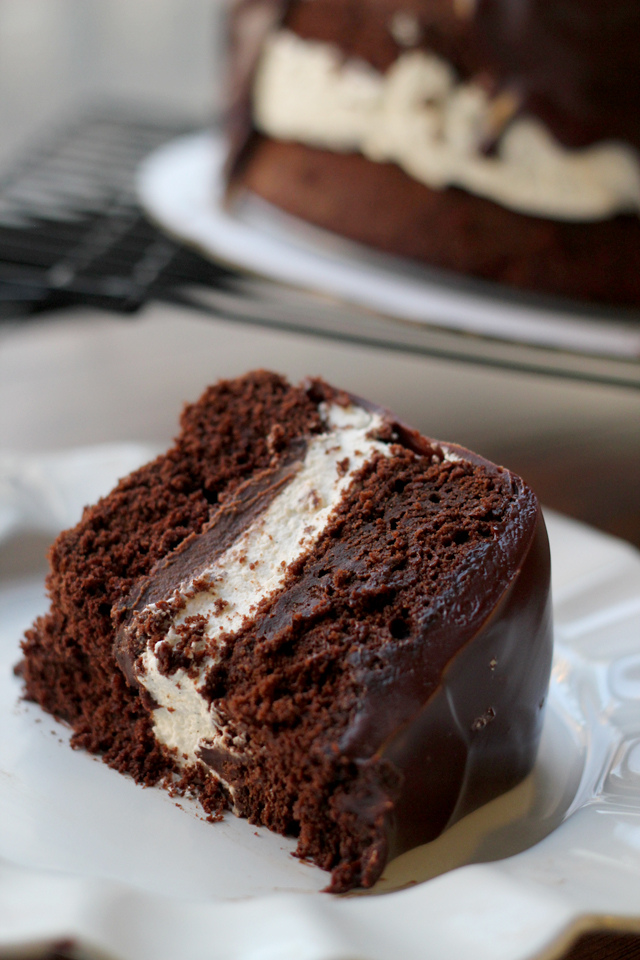 Salted Caramel "Ding Dong" Cake