Rich chocolate cake layers are filled with a pepppermint buttecream and peppermint dark chocolate ganache in this glorious wintermint cake.
Disclosure: This post was sponsored by International Delight®. As always, my thoughts and opinions are my own. Visit International Delight's website and share how ID helps you capture the spirit of the season for a chance to win a holiday brunch for friends and family sponsored by International Delight!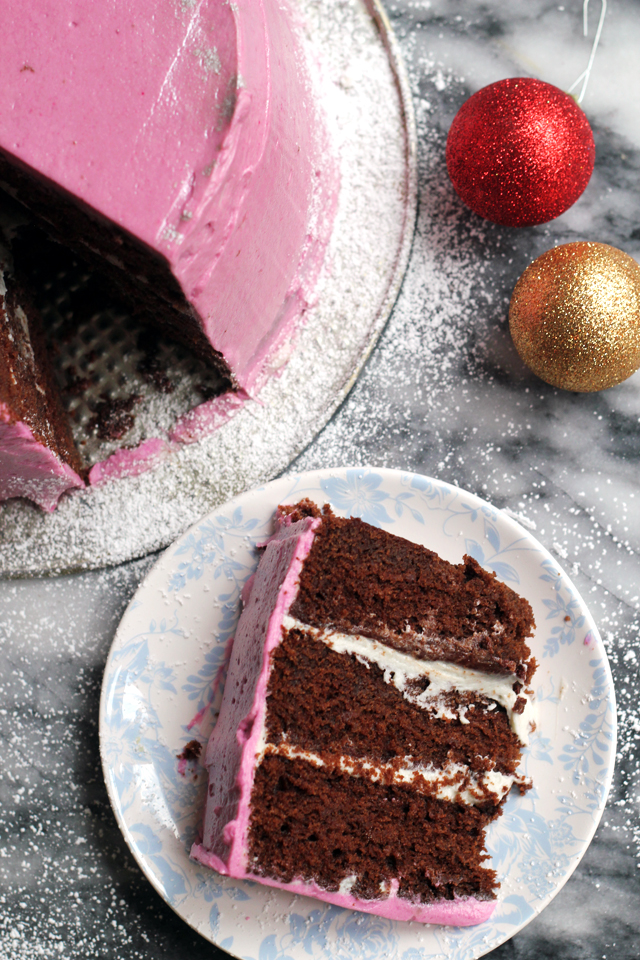 Cake, plus NEWS.
That's what I've got for you today, so I don't want to hear any of this "but I'm so full!", "I'm only eating salad!", "I can't even look at one more sweet thing!" nonsense.
There is always room for one more cake slice, even when half of your belly is being taken up by a 21 week baby. I don't take no for an answer.
So….how was your Christmas?!
Ours felt a lot like a whirlwind, between an ugly sweater party we hosted last Saturday, Christmas Eve that we hosted on Wednesday, Christmas Day at my mom's, and belated Christmas yesterday (Sunday) at The.Boy's parents'. Oh, and a Super Important Detailed Anatomy Ultrasound on Monday.
(More on that later.)
(!!!!!!!)
To say that I am super thankful to have this next week off from school to mentally prepare myself is an understatement. To say that I am EVEN MORE thankful to be headed to Charlottesville, Virginia on a Babymoon with The.Boy to just stay in a bed and breakfast and relax for the rest of the week….is an understated understatement.
So, just a little bit of baby talk and then it's ALL CAKE.
First of all, we are OVER HALFWAY THERE!! Whoa. This little munchkin is moving and shaking up a storm in there, and I love feeling every move. Even at 2AM when I get woken up to a large and resounding kick in my bladder that has me running for the bathroom. Even then.
Everything went well at our anatomy scan last week. Baby is healthy and growing according to schedule, and has all of her fingers and toes.
Yes…you heard right. HER fingers and toes. We are having a GIRL!!!
So consider this pink frosting to be a little bit of a reveal.
I can't say that I've been having many major cravings these days, but hot chocolate has been a mainstay since the early days of my pregnancy. I think it's probably because I can't have quite as much coffee as I'd like or was used to, so I crave something hot and lovely to fill up my belly. The only problem is I'm really not into anything that's all that sweet and finding dark hot chocolate that's just the perfect amount of rich with just the slightest hint of sweetness is really no easy feat. Recently, I'd taken a DIY approach until I discovered International Delight's line of refrigerated hot chocolates, which comes in both milk and dark chocolate flavors. Uh, JACKPOT.
Color me obsessed, because this stuff is the best for sitting around a dessert table with family or waking up to on a wintry morning or drinking just because.
It's also pretty darn good at turning a rich chocolate cake into something even richer and chocolatey-er. Case in point.
When I was trying to decide what desserts were on my shortlist for this year's holiday baking, this wintermint cake from the good old Baked boys caught my eye. Unfortunately, my family is not so much into the chocolate and peppermint combo, but it is pretty much The.Boy's family's favorite flavor combo EVER, so I brought it to our belated Christmas gathering yesterday.
This holiday season masterpiece is pretty much a classic chocolate cake that is made even better by substituting International Delight's hot chocolate for the hot water that the recipe called for. No brainer. It is filled with thin layers of peppermint chocolate ganache and thick layers of perfect peppermint buttercream.
For those of you who still have holiday or New Year's parties to attend this week, THIS CAKE IS FOR YOU.
And for the rest of you, I suspect that making it "just because" is just as good a reason as any.
Wintermint Cake
Rich chocolate cake layers are filled with a pepppermint buttecream and peppermint dark chocolate ganache in this glorious wintermint cake.
Ingredients
For the chocolate cake
¾ cup unsweetened dark cocoa powder
½ cup hot water
¾ cup hot International Delight Dark Hot Chocolate
⅔ cup sour cream
2⅔ cup all purpose flour
2 tsp baking powder
1 tsp baking soda
½ tsp kosher salt
6 oz unsalted butter, softened
½ cup vegetable shortening
1½ cups sugar
1 cup packed dark brown sugar
3 large eggs, room temperature
1 tbsp vanilla extract
For the peppermint buttercream
1½ cups sugar
⅓ cup all purpose flour
1½ cups whole milk
⅓ cup heavy cream
12 oz unsalted butter, soft
1 tsp vanilla extract
1 tsp peppermint extract
For the peppermint chocolate ganache
6 oz dark chocolate, coarsely chopped
½ cup heavy cream
½ tsp peppermint extract
Instructions
For the cake, heat oven to 325F. Grease and line 3 8-inch cake pans with parchment paper.
In a small bowl, whisk together the cocoa powder, hot water, hot chocolate, and sour cream. In a separate bowl, whisk together the flour, baking powder, baking soda, and salt. Set aside.
In the bowl of a stand mixer fitted with the paddle attachment, cream together the butter and vegetable shortening until totally combined, about 5 minutes on medium high speed. Add in the sugars and beat together until light and fluffy, about 5 more minutes. Add in the eggs, one at a time, followed by the vanilla.
Mix in the flour mixture in three additions, alternating with the chocolate mixture, scraping down the sides of the bowl after each one. Scrape down the sides of the bowl one last time and beat for a few more seconds.
Divide the batter between the three pans, using a small offset spatula to spread evenly. Bake, rotating the pans halfway, for 35-40 minutes. Transfer to a wire rack and allow to cool for 10 minutes. Invert onto a parchment-lined wire rack and let cool completely.
When the cakes are totally cool, make the frosting. In a medium saucepan, whisk together the sugar, flour, whole milk, and heavy cream. Bring to a simmer, whisking constantly, until thickened, about 8-12 minutes. Transfer to the bowl of a stand mixer fitted with the paddle attachment and beat on high speed until cool, about 10 minutes.
Reduce the speed to low and add in the butter, 1 tbsp at a time. Once all the butter is incorporated, increase the mixer speed to medium high and beat for 1-2 minutes until light and fluffy. If the mixture is too soupy, put in the fridge for 15 minutes and beat again. Add in the vanilla and peppermint extracts and beat until combined.
To make the peppermint chocolate ganache, in a microwave-safe bowl, combine the chocolate and heavy cream. Microwave for 1-2 minutes, until chocolate is melted completely, mixing after every 30 seconds. Mix until totally combined. Stir in the peppermint extract. Let cool for 15 minutes.
To assemble the cake, place one cake layer on a serving platter or rotating turntable. Trim the top so that it is flat. Cover with ¼ cup of the ganache on the top of the layer. Place in the freezer for 3 minutes to let the ganache set. Remove from the freezer and spread with 1 cup of buttercream. Top with the next cake layer and repeat, trimming, adding the ganache, and the buttercream. Add the third layer and trim the top. Spread the entire cake with a thin layer of peppermint buttercream for the crumb coat. Place in the refrigerator or freezer for 15 minutes to allow the frosting to firm up.
Color the frosting as desired using food coloring or food gel. Frost the cake as desired. Refrigerate for 15 minutes to firm up.
Notes
Adapted very slightly from
Baked Occasions: Desserts for Leisure Activities, Holidays, and Informal Celebrations
This is a sponsored conversation written by me on behalf of International Delight. The opinions and text are all mine.