There's a lot to love about this unconventional lemony spinach and artichoke baked ziti, which packs comfort into every bite!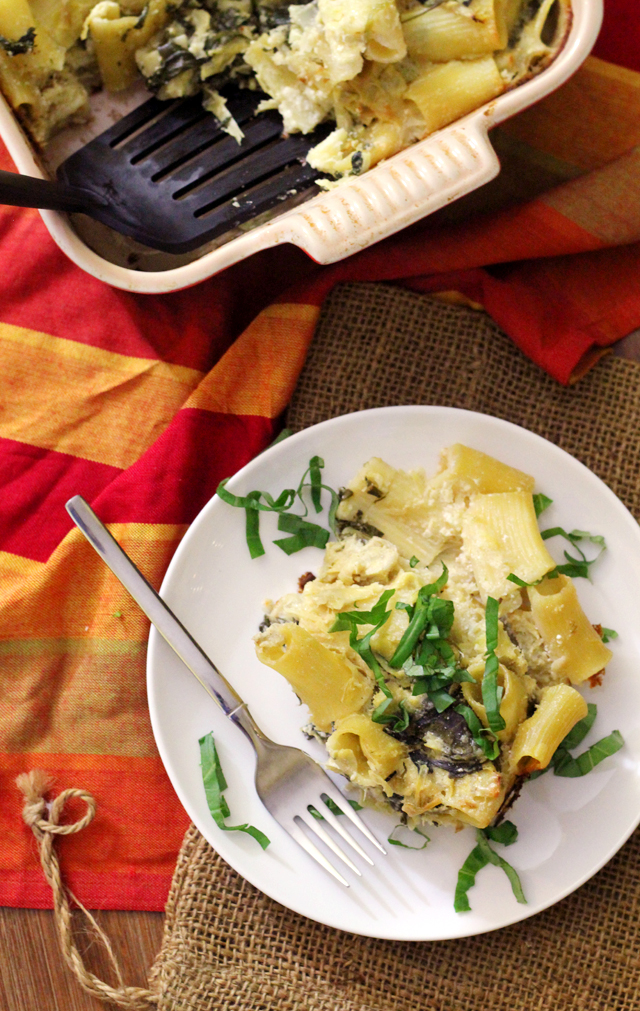 I did resolve to eat more green things this year.
Not only because we ate pie for lunch on not one, but two occasions while babymooning in Charlottesville, but also because I've had a cold for the past month straight and in my heart of hearts I just know that this is most probably a side effect of kale withdrawal and has nothing to do with the wildly changing temperatures around here combined with the fact that my winter jacket will no longer zip.
Ahem.
Plus, I LIKE GREEN THINGS AGAIN! And if that's not an excuse for a spinach and artichoke pasta celebration, I really can't imagine what is.
As you can see this is not exactly your typical New Year's fare. It has complex carbs! And cheese! And butter!
And in some circles, it probably comes with a side of shame,
But NOT HERE.
Here we have kale salads for lunch and big plates of comfort pasta for dinner, and if we just so happen to sneak in a few extra green things along the way…then so be it. The more, the merrier.

Lemony Spinach and Artichoke Baked Ziti
There's a lot to love about this unconventional pasta dish, which transforms the flavors of spinach and artichoke dip into a baked ziti to remember!
Ingredients
1 lb rigatoni
5 oz baby spinach
3 tbsp unsalted butter
1 tbsp olive oil
1 large onion, diced
1 lb frozen artichoke hearts
¼ cup dry white wine
½ cup grated Romano cheese
½ cup grated Parmigiano-Reggiano cheese
2 large egg yolks
1 tbsp lemon juice
½ tsp kosher salt
black pepper, to taste
For the sauce
4 tbsp unsalted butter
¼ cup all purpose flour
2 cups 2% milk
½ cup ricotta
2 tbsp lemon juice
½ tsp salt
black pepper, to taste
2 tbsp thinly sliced fresh basil, for garnish
Instructions
Bring a large pot of salted water to a boil. Cook the rigatoni according to package directions, adding the baby spinach to the pot in the last minute of cooking. Drain and set aside.
Meanwhile, for the filling, melt the butter in a large heavy-bottomed skillet over medium heat and cook until it turns amber. Add 1 tbsp of olive oil, followed by the onion, and cook until the onion starts to caramelize, about 7 minutes. Add in the artichoke hearts and cook until they are warmed through and softened, about 5-7 minutes. Add in the wine and simmer until it evaporates.
Remove the pan from the heat and transfer the artichoke mixture to the bowl of a food processor. Add the cheeses, egg yolks, lemon juice, salt, and black pepper to the food processor bowl and pulse until combined, but still coarse. Set aside.
To make the sauce, melt the butter in a medium saucepan over medium-high heat. Stir in the flour all at once and whisk until smooth. Whisk in the milk, a little bit at a time, until it is all added and has reached a batterlike consistency. Bring to a simmer and let it thicken, whisking constantly. Whisk in the ricotta, lemon juice, salt and black pepper. Season to taste with more lemon juice and/or salt.
Heat oven to 350F. To assemble the dish, in a 9x13-inch pan, stir together the artichoke mixture, the pasta and spinach, and the bechamel. Cover the pan with aluminum foil and bake for 30 minutes. Remove the foil and bake for 15 minutes more. Serve sprinkled with fresh basil.
Notes
Adapted from
The Smitten Kitchen Cookbook
Nutrition Information
Serving size:
⅛th of recipe