Both fried and steamed sprouts add flavor and texture to this smoky, lemony brussels sprouts risotto.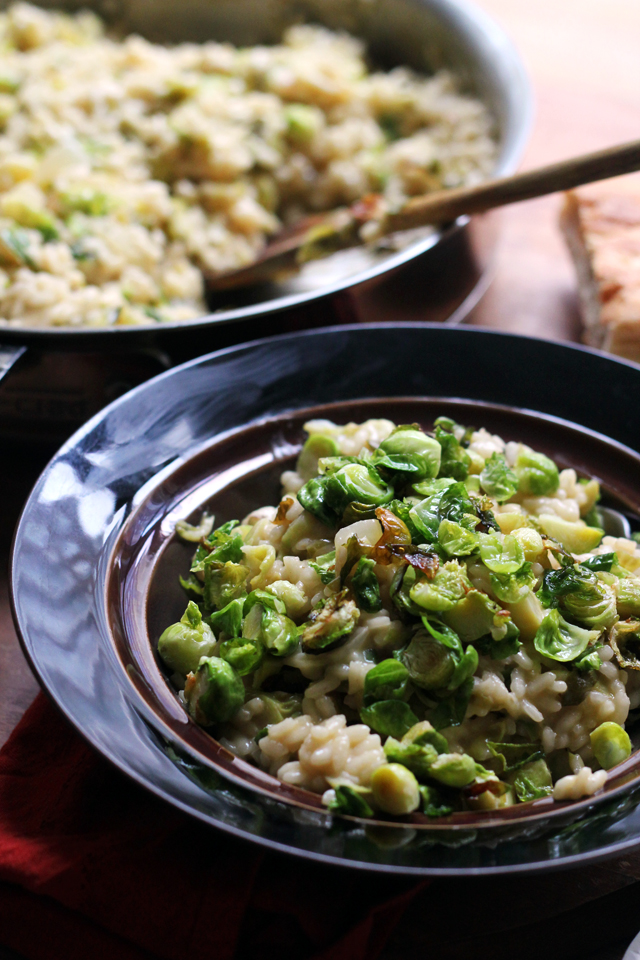 I honestly had no idea how unshakeable holiday traditions were to my family………
……until I offered (forced them to let me) to host Christmas Eve.
The CHAOS THAT HAS ENSUED. I just.can't.even.
And most of it because everyone (specifically/only my mother) HAS to have her seven fishes. Not that we've ever had them before in the history of my recollection, but just because I am now hosting, they have become non-negotiable.
Typical.
Well, unfortunately for her, I will likely not be conceding on this point, BUT she can always live vicariously through my blog friends who I have joined forces with to put together a Feast of the Seven Fishes Menu worth writing home about!!
Half of you are really excited about this, and the other half are like "huh"? Let me explain. The Feast of the Seven Fishes is the traditional Sicilian menu that is prepared on Christmas Eve. Basically, it's just seven different fishes prepared a few different ways. Plus a few side dishes, an aperitiv to cleanse your palate, and dessert. Everything in moderation (except, apparently, moderation).
In contrast, the Christmas Eve dinners that I remember from my youth mainly involved my mother freaking out so much about having to host people for Christmas the next day that we were left to eat peanut butter and jelly for dinner while she tried to vacuum around us.
I like to think this brussels sprouts risotto is a happy medium, not to mention a fabulous addition to a Feast of the Seven Fishes meal, if you're so inclined to go that route. It's fancy enough to stand on it's own for a holiday dinner, but it's light lemony flavor also lets the other components of this menu shine. See below for the recipe as well as the rest of the Feast of the Seven Fishes menu that we have put together!

Brought to America from Southern Italy where it is all now but forgotten, the Feast of the Seven Fishes is a meal eaten by Italian-Americans that features (at least) seven fish/seafood dishes. Along with our hosts, Heather from All Roads Lead to the Kitchen and Lora from Savoring Italy, some bloggers have gotten together to share menu ideas for your Seven Fishes feast. Along with the traditional seven fish and seafood dishes, we've included some side dishes, a palate cleanser, a dessert, and a cocktail.
Salmon Rillettes from Karen's Kitchen Stories
Marinated Shrimp Salad from A Healthy Life For Me
Pistachio Crusted Baked Cod from Cravings of a Lunatic
Pasta con le Sarde from Savoring Italy
Tuscan Seafood Stew from Food Done Light
Mixed Seafood Risotto from All Roads Lead to the Kitchen
Linguine with Scallops and Broccoli from Kudos Kitchen By Renee
Brussels Sprouts Risotto from Eats Well With Others
Marinated Roasted Vegetables from That Skinny Chick Can Bake
Limoncello Sorbet from Creative Culinary
Zuppa Inglese from Christina's Cucina
Cranberry Limoncello Spritzer from Snappy Gourmet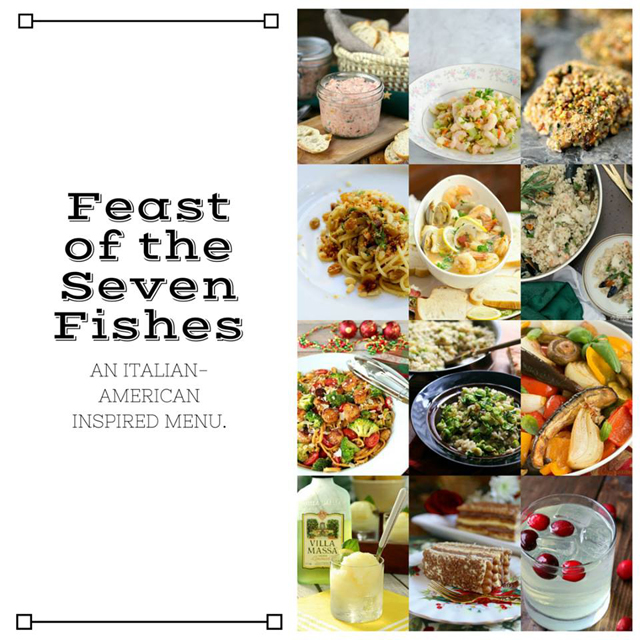 Brussels Sprouts Risotto
Both fried and steamed sprouts add flavor and texture to this smoky, lemony brussels sprouts risotto.
Ingredients
2 tbsp unsalted butter
2 tbsp olive oil
2 small onions, finely chopped
2 large cloves garlic, minced
2 cups arborio rice
18 oz brussels sprouts, trimmed and divided, 7 oz shredded and 11 oz quartered lengthwise
2 cups dry white wine
4 cups vegetable broth
1 cup sunflower oil
1½ cups grated smoked Gouda
juice of 1 meyer lemon
Instructions
Put the butter and olive oil in a large saute pan over medium-high heat. Add the onions and fry for 10 minutes, until soft and tender, stirring occasionally. Add the garlic and cook for another minute, until fragrant. Add the rice and shredded sprouts to the pan. Cook for a minute, stirring constantly, until toasted. Pour in the wine and let it simmer for a minute, scraping up any browned bits on the bottom of the pan. Add in the broth, 1 cup at a time, adding the next cup only when the previous has almost evaporated. Stir frequently. Continue until the rice is cooked and all the broth is used up.
While the rice is cooking, pour the sunflower oil into a large cast-iron skillet. Place ove rhigh heat. When the oil is very hot, add the quartered sprouts to it, working in batches. Fry for about a minute, or until golden and crispy. Transfer to a plate lined with paper towels. Repeat with remaining sprouts.
To the risotto, add the smoked Gouda and half the fried sprouts. Stir in the lemon juice and season to taste with salt and black pepper. Serve topped with remaining fried sprouts.
Notes
Adapted from Plenty More