A spicy vegan chili stuffed with white beans, hominy, and bold flavor served with sweet and spicy sweetpotato jalapeno corn muffins.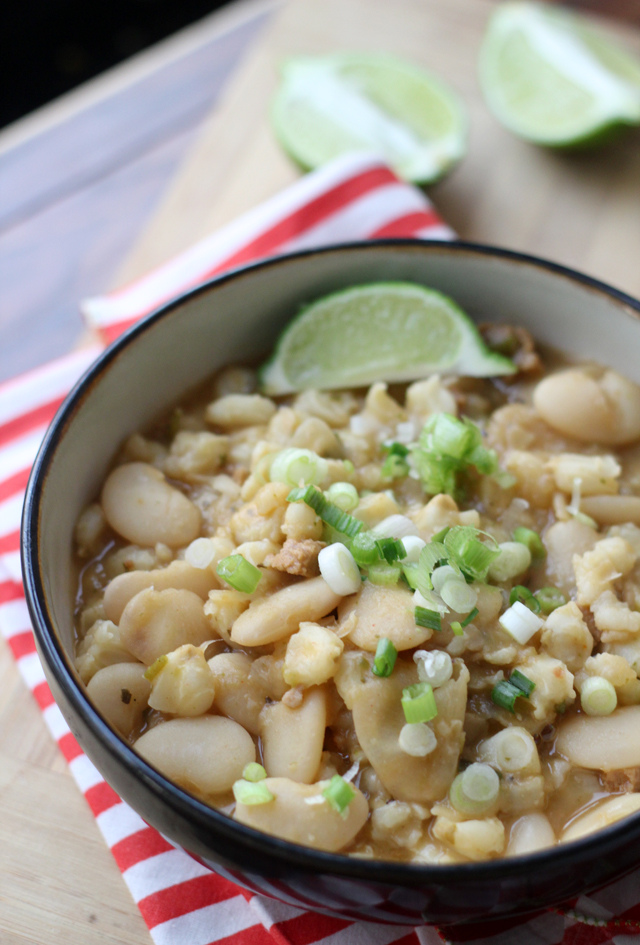 Disclosure – I received free samples of California sweetpotatoes mentioned in this post. By posting this recipe I am entering a recipe contest sponsored by the California Sweetpotato Council and am eligible to win prizes associated with the contest. I was not compensated for my time.
If tomato = tomahto.
And potato = potahto.
Then…
…what exactly is the deal with sweet potato v. sweetpotato?!?
Same thing? Polar opposites? Typo?
…
…
Bueller?
I'll just tell you. Because I totally can't take the suspense and know you're at the edge of your seat. Plus I'm impatient.
When sweet potatoes are (a) grown in California and (b) grown in soft sand and then hand sorted to minimize scarring and scratching…they become sweetpotatoes! California sweetpotatoes, if we're being all precise.
And sweetpotatoes, in case you didn't know, are absurdly nutrient dense with 4 grams of fiber, 2 grams of protein, oodles of vitamin C, and MORE THAN A DAY'S WORTH of vitamin A in every serving. Bet your run-of-the-mill yam can't do that.
Actually, just FYI, most tubers labeled as yams in grocery stores in the US are actually sweet potatoes. It is very hard to find a real yam here. You'd probably have to go to the Caribbean to find one or some super specialty store.
Even though the weather hasn't quite gotten the memo yet (it hit 80 here in NYC last week. And has been a solid 75 since then.), it is fall. Officially.
And fall means chili season.
And chili season means my favorite carbs to use as a sopper-upper! Biscuits, beer bread, and corn muffins…mmmm.
This past weekend, I made this white bean and hominy chili and while it was perfectly spicy hearty delicious, it was a little low on the veggies. And we can't have that, can we?!
So I stuffed a vegetable into my corn muffins. And now they are sweetpotato jalapeno corn muffins.
So moist. So orange. So perfect for sopping-upping. Or just eating. I won't tell.
To see what everyone else whipped up in the Recipe Redux California sweetpotato sponsored recipe contest, check out these links:
One year ago...Pumpkin Almond Cake with Almond Butter Frosting
Two years ago...Pumpkin Hazelnut Cookies with a Brown Sugar Glaze, Savory Zucchini Crumble with Figs and Ricotta
Three years ago...Caramel Macchiato Cupcakes with Caramel Italian Meringue Buttercream, Michael Symon's Lasagna
Four years ago...Swedish Tea Ring, Pumpkin and Pine Nut Linguine
White Bean and Hominy Chili
A spicy vegan chili stuffed with white beans, hominy, and bold flavor.
Ingredients
1 lb dried white beans, soaked overnight and boiled until tender
1 lb dried hominy, soaked overnight and boiled until tender
1 tbsp olive oil
1 vegetarian Mexican chipotle sausage, finely chopped
2 white onions, chopped
3 garlic cloves, minced
2 poblano chiles, seeded and chopped
2 tsp chili powder
1 tsp ground cinnamon
12 oz pumpkin beer
4 cups water
1 tsp dried oregano
2 tsp hot sauce
½ tsp salt, plus more to taste
2 tbsp thinly sliced scallions
2 tbsp chopped fresh oregano
lime wedges, for garnish
Instructions
Mash ⅔ cup beans with a fork.
Heat a large pot over medium heat. Add the oil to the pan. Add the vegetarian sausage and saute for 4 minutes. Add the onion, garlic and poblanos and saute until tender, about 6 minutes. Add the chili powder and cumin and cook for 30 seconds, stirring constantly. Add the mashed beans, white beans, hominy, water, beer, oregano, hot sauce, and salt to the pot. Bring to a boil. Cover and simmer for 20 minutes or until thickened. Season to taste with salt and hot sauce.
Serve garnished with the scallions and lime wedges.
Sweet Potato Jalapeno Corn Muffins
Sweet and spicy corn muffins packed with a healthy punch with the addition of sweetpotatoes!
Ingredients
2 California sweetpotatoes
4 eggs
8 oz low fat cream cheese, softened
½ cup nonfat Greek yogurt
⅓ cup agave nectar
½ cup olive oil
2 cups yellow cornmeal
1 cup flour
1 tbsp baking powder
1½ tsp salt
½ tsp baking soda
½ tsp chipotle chili powder
3 jalapenos, thinly sliced, seeds removed
Instructions
Preheat oven to 400. Pierce potatoes all over with a fork and then wrap in aluminum foil. Bake until tender, about 45 minutes.
Lower oven to 375. When potatoes are cool enough to touch, remove the skins and mash with a fork. In a large bowl, whisk together the sweetpotato, eggs, cream cheese, greek yogurt, and agave nectar. Stir in the olive oil.
In a separate bowl, whisk together the cornmeal, flour, baking powder, salt, baking soda, and chili powder. Whisk the cornmeal mixture into the sweet potato mixture until just combined.
Split the batter among one cupcake tin. Top with jalapeno slices. Bake for 25 minutes or until a toothpick inserted comes out clean. Let cool before eating.
Notes
An Eats Well With Others Original