The epitome of summer: heirloom tomato and burrata caprese with homemade pesto.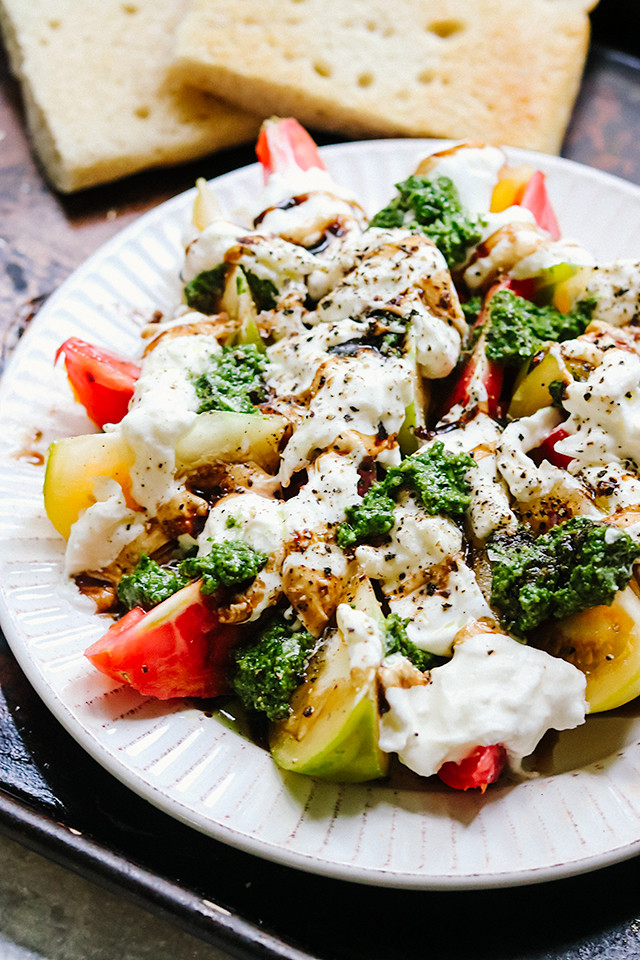 This is not so much as a recipe as it is a nudge.
A (not so) subtle reminder that it's the last week of August so please please please get thee to a farmer's market and buy all of the heirloom tomatoes!!!!
ALL OF THEM.
Leave no survivors.
And get a hearty bunch of basil too while you're at it because we have pesto to stock our freezer with, and lots of it.
This is not a drill. I repeat, this is NOT a drill.
Next stop: caprese!!!
With burrata in place of mozzarella, because is there any other way?!
Top those fresh heirloom tomatoes that you've hoarded with dollops of creamy cheese, drizzles of olive oil and your best balsamic vinegar, and spoonfuls of pesto.
It's a summer night's dream, especially when served with a crusty loaf of bread. Ain't nothing better.
Heirloom Tomato and Burrata Caprese
The epitome of summer: heirloom tomato and burrata caprese with homemade pesto.
Ingredients
For the pesto
1 quart fresh basil leaves
½ cup raw walnuts
½ cup grated pecorino romano
½ cup grated parmesan cheese
½ cup extra virgin olive oil
kosher salt, to taste
For the caprese
2 lb ripe heirloom tomatoes, sliced into wedges
½ lb burrata
2 tbsp olive oil
1 tbsp balsamic vinegar or balsamic syrup
¼ cup pesto
flaky sea salt
Instructions
For the pesto
Combine the basil, walnuts, cheeses, olive oil, and salt in the bowl of a food processor. Pulse until it forms a sauce, but is not necessary completely pureed. Set aside.
For the caprese
Arrange the tomatoes on a serving platter. Tear the cheese into the shreds over the tomatoes and drape them over the top.
Drizzle with the olive oil and vinegar. Top with the pesto and sprinkle it with the flaky sea salt, to garnish. Serve with good bread.
Notes
Recipe adapted slightly from
Shaya