Get your red velvet fix first thing in the morning with these red velvet crumb muffins!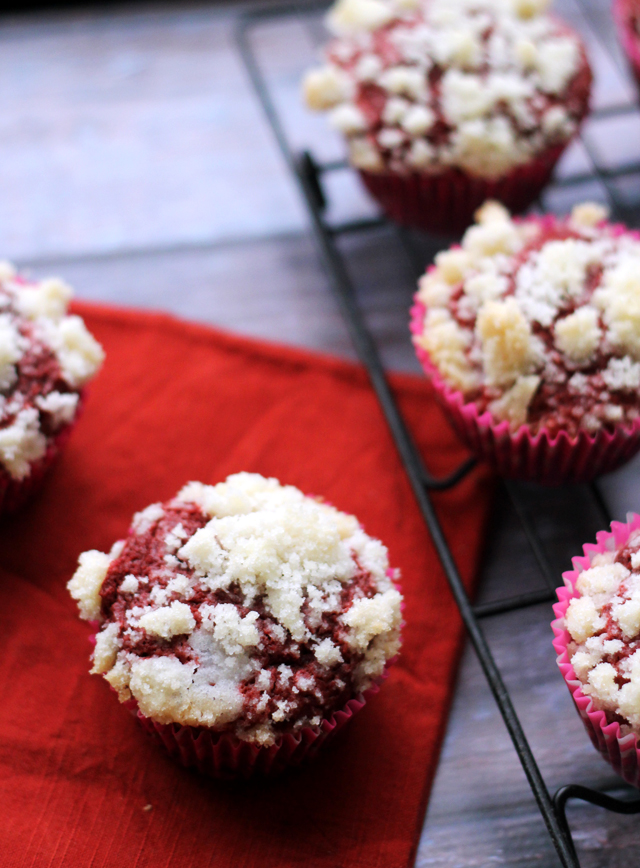 Not to brag or anything, but I am a wound healing pro.
I believe an ER resident described my skinless pinky as "beautifully pink" yesterday morning when I went in for my wound check.
Personally, I don't really know what all the fuss was about since I was busy trying to not puke all over him. But I'll take it.
Muffin party for making it 48 hours out without even a single sign of necrotic, infected tissue?!
I vote yes.
The question on everyone's tongue, though, is are these muffins? Or "MUFFINS".
Muffins being, you know, breakfast. And "MUFFINS" being dessert for breakfast.
Personally, I refuse to distinguish between the two because whether you're getting breakfast or dessert for breakfast, it's probably good stuff.
My friend Deborah over at Taste and Tell is the red velvet master of the world, so much so that she's even writing an entire cookbook devoted to it! So when I stumbled across these in my muffin search, I knew they were the real deal.
I only made one small change to these, which was to sub in some whole wheat flour for all purpose because BREAKFAST. But even with that healthy change, these are definitely a celebration-worthy morning treat. Deliciously cocoa-infused with a hint of tang and a lot of crunch from the crumb topping.
But you can't have red velvet without the cream cheese frosting, you say?! Well, the cream cheese is actually mixed into the muffin batter, giving it a softer texture and a hint of tang in every bite.
On the scale of muffin versus "MUFFIN", I'd say these fall somewhere in between. They're sweet but not too sweet, and they somehow just feel more like a muffin than a cupcake. But no judgment if you also decide to have one for dessert, too.
Let the muffin party begin!
Red Velvet Crumb Muffins
Get your red velvet fix first thing in the morning with these red velvet crumb muffins!
Ingredients
1 cup all purpose flour
1½ cups whole wheat flour
1½ cups granulated sugar, divided
4 teaspoons baking powder
1 teaspoon salt
½ cup unsweetened cocoa powder
⅔ cup buttermilk
1 tablespoon Red Velvet Emulsion or red food coloring
1 cup vegetable oil
2 eggs, slightly beaten
8 oz cream cheese, softened
For the crumbs
½ cup all purpose flour
1 cup sugar
¼ cup butter, cubed
Instructions
Heat oven to 375F. Line two muffin pans with cupcake liners.
In a large bowl, whisk together the flours, 1 cup of sugar, baking powder, salt, and cocoa powder. In a second bowl, whisk together the buttermilk, red food coloring, vegetable oil, and eggs. Fold the wet ingredients into the dry ingredients until moistened.
Beat together the cream cheese and the remaining ½ cup sugar. Fold the cream cheese mixture into the muffin batter, mixing until just combined. Divide the batter evenly among the muffin tins, filling each about ¾ full.
For the crumbs, in a small bowl mix together the flour and sugar. Using your fingers, rub the butter into the flour mixture until it resembles coarse sand. Sprinkle this crumb mixture over the muffins.
Bake until a toothpick inserted comes out clean, about 18-22 minutes.
Can't get enough red velvet in your life? Check out these!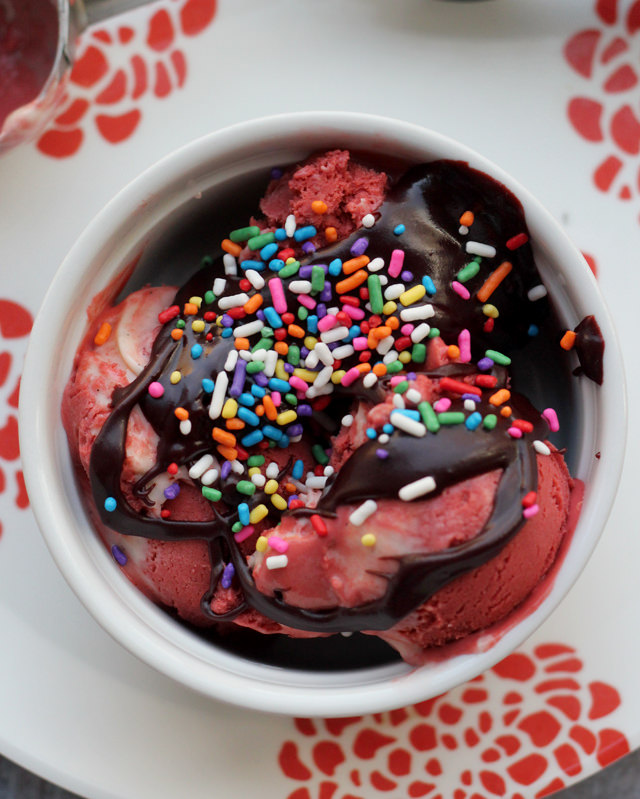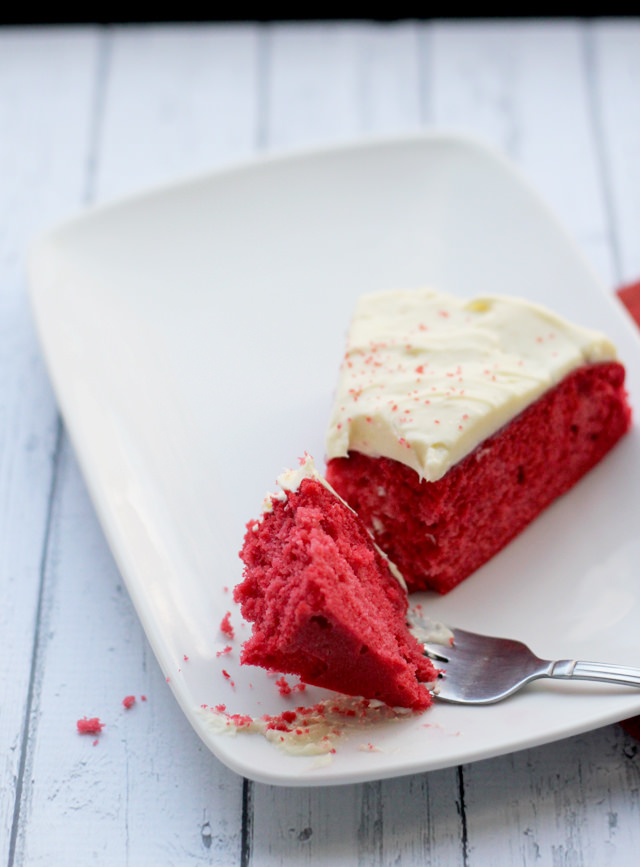 Red Velvet Cake with White Chocolate Cream Cheese Frosting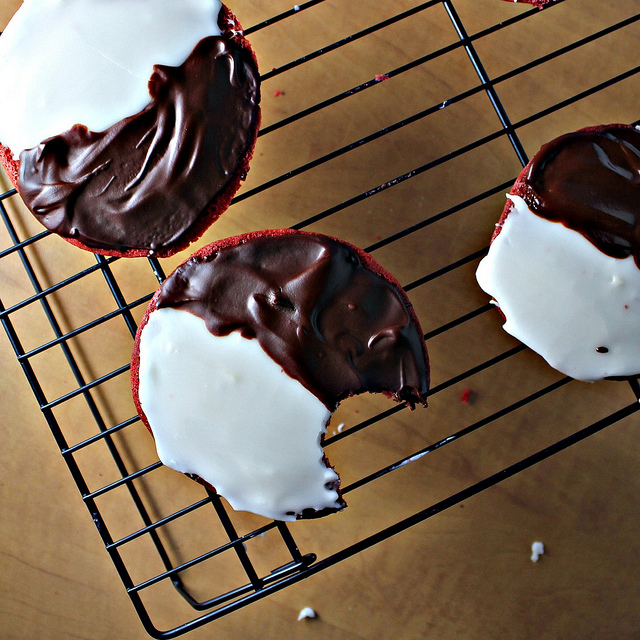 Red Velvet Black and White Cookies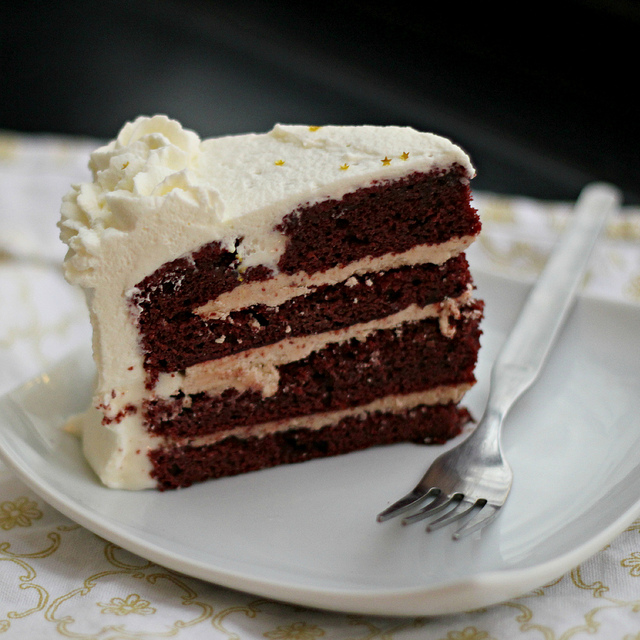 Red Velvet and Cinnamon Layer Cake
From around the web:
Red Velvet Cheesecake Bars from Baked by Rachel
Red Velvet Peanut Butter Blossoms from I Am Baker
Red Velvet Waffles with Cream Cheese Icing Drizzle from Taste and Tell
Red Velvet Cookie Cake from Crazy for Crust
Red Velvet Cupcakes with Blueberry Cream Cheese Frosting from Keep It Sweet