Whipped ricotta toast with ripe heirloom tomatoes on crusty sourdough bread and topped with basil and balsamic syrup is the perfect way to enjoy summer tomatoes!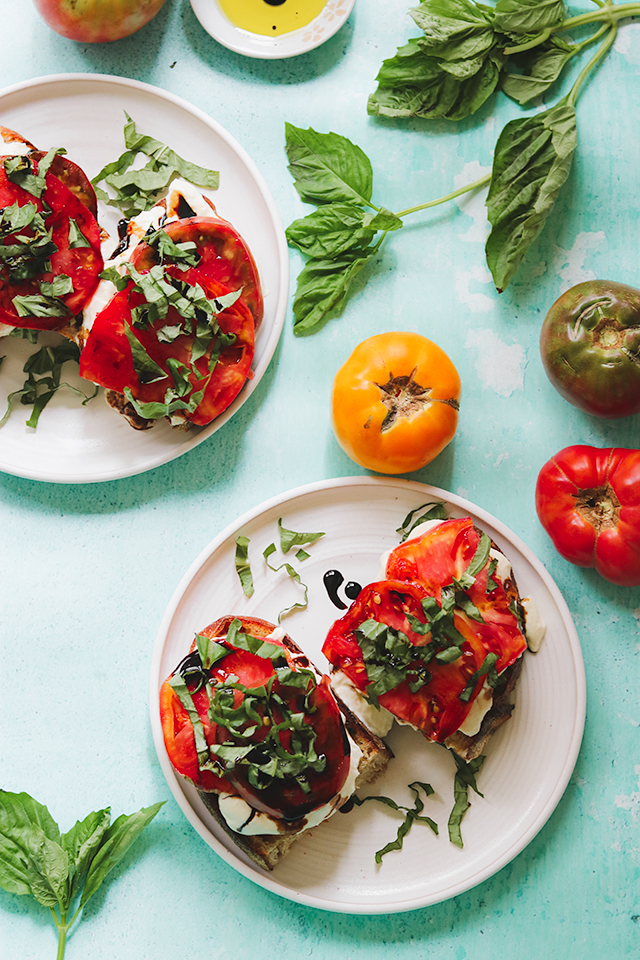 I read somewhere recently that whipped ricotta toast is bumping avocado toast from its long-held spot as TOAST QUEEN and can we just get a collective amen to that??
(I mean, it's on TikTok so it MUST be true.)
Look, I love avocadoes as much as the next millennial, except for two things.
One, I am quite allergic to them and even just one bite will make my stomach feel like it's ripping itself to shreds for many hours afterwards. 
Two, they are impossible!! Open one up and there is an 85% chance it will be riddled with mushy inedible brown spots, so basically you've just spent $3 on trash.
Clearly I've been burned by many avocadoes in the past.
All that to say whipped ricotta toast is here, and I am here for it!!
Making whipped ricotta is super simple – throw a tub of ricotta in a food processor and press go! Process it until it's completely smooth, lost all its graininess, and looks almost fluffy.
It will be light and creamy with the best mouthfeel, and it's kind of a miracle how a quick stint in a food processor can turn even the most mediocre grocery store ricotta into something really special.
Honestly, I could just eat it like this but it is even better smeared all over toasted bread and smothered in toppings.
And OH THE TOPPING OPTIONS. They are limitless. 
Whipped ricotta is pretty much a blank slate that goes with everything – fruit, vegetables, chocolate, caramel, chili oil….I actually can't think of anything I wouldn't want to eat on ricotta toast. Mmmm.
HOWEVER, it is still summer so today we're topping it with ripe heirloom tomatoes, basil, and balsamic syrup. AKA the holy trinity of summer food goodness.
It couldn't be easier or more delicious.
We're starting our toasts with sourdough bread that's been olive oil soaked, toasted in the oven, and then rubbed with raw garlic. 
It's topped with dollops of olive oil-infused whipped ricotta, layers upon layers of ripe summer tomatoes, and fresh basil!
You can add a balsamic drizzle if you like, some red pepper flakes if you're craving heat, and/or really any other herb that's flourishing in your garden.
Eat it for breakfast, brunch, lunch, dinner or whatever meal your heart desires.
Whipped Ricotta Toast with Ripe Heirloom Tomatoes
Whipped ricotta toast with ripe heirloom tomatoes on crusty sourdough bread and topped with basil and balsamic syrup is the perfect way to enjoy summer tomatoes!
Ingredients
For the whipped ricotta
1 lb ricotta
2-4 tbsp olive oil, to taste
salt and black pepper, to taste
For the toast
4 thick slices of sourdough bread, halved
olive oil, for brushing
1 raw garlic clove
4 large heirloom tomatoes, cut into ½-inch thick slices
salt, to taste
fresh basil, thinly sliced
balsamic syrup, for drizzling
Instructions
For the whipped ricotta
Combine the ricotta and 2 tbsp of olive oil in the bowl of a food processor. Process for 1-2 minutes or until smooth and airy. Add more olive oil to taste. Season to taste with salt and black pepper. Set aside.
For the toast
Heat oven to 350.
Brush the sourdough slices all over with olive oil and spread on a baking sheet in a single layer. Place in the oven and bake for 5 minutes per side, flipping halfway through, until toasted.
Once out of the oven, rub the bread slices with the raw garlic.
When ready to serve, top the bread with spoonfuls of the whipped ricotta. Divide the heirloom tomato slices evenly among the toasts, sprinkling them lightly with salt. Sprinkle with basil and drizzle with balsamic syrup, if using. Serve immediately.