Creamy roasted winter squash and radicchio risotto – perfect for date nights and Sunday dinners.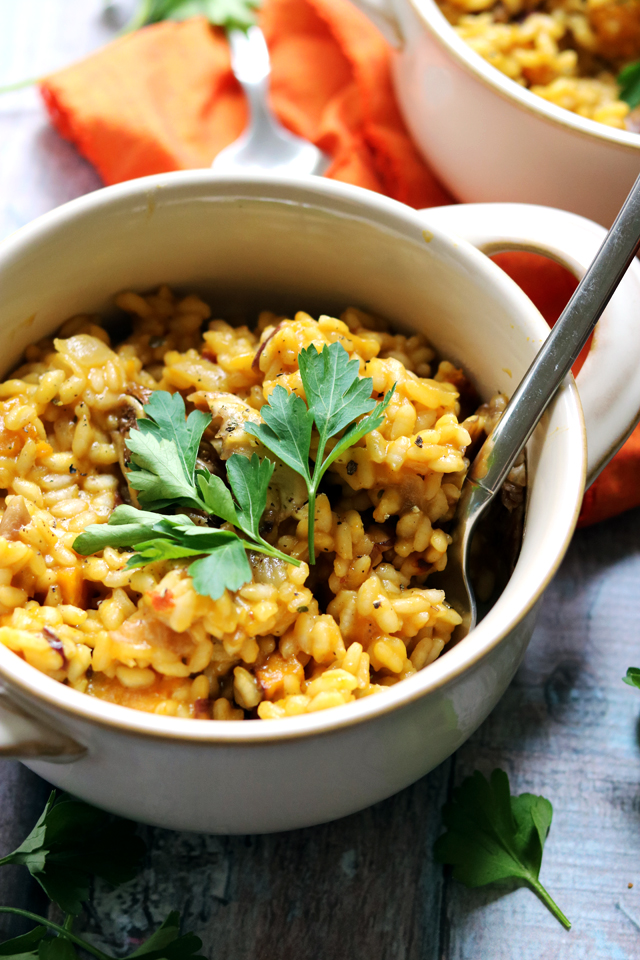 Happy Valentine's Day!!!
Anyone out there having a date night in tonight?? I guess we are…if you consider dining next to an (almost) threenager who thinks picking her nose and eating it (and announcing it to the table) with Dumbo on in the background to be a "date night". Which….I guess I do? It's all relative.
I'm still not totally firmed up on what I'm making, but this risotto is high on the list of contenders. It's got that high quality, date night feel but with minimal effort so you have time to spend where it really counts (ie, on dessert).
Risotto seems like it should be really complex and time-consuming, but let's get honest – rice takes 15-20 minutes to cook. Add in a few minutes to chop and saute onions at the beginning and stir in grated parmigiano cheese at the end, and you have yourself a true thirty minute meal. Forty, tops.
This recipe for risotto pairs sweet caramelized roasted kabocha squash with bitter radicchio to make a meal that is appetizing to both the eyes and the palate. Half of the squash is stirred in at the beginning so that it almost melts into the dish for added creaminess, while the rest is mixed in at the end so you also get some squash chunks to savor. It's a great combination of flavors and textures – perfect for date night, if that's what you're needing, but also a solo cozy dinner on the couch while bingeing on Netflix.
Winter Squash and Radicchio Risotto
Creamy roasted winter squash and radicchio risotto - perfect for date nights and Sunday dinners.
Ingredients
2 cups kabocha squash, cut into ½-inch dice
2 tablespoons extra virgin olive oil
1 tablespoons thyme leaves
4 cups vegetable broth
5 tablespoons butter
1 cup diced white onion
2 cups Arborio rice
½ tsp red pepper flakes
¼ cup dry white wine
1 cup thinly sliced radicchio
½ cup grated Parmigiano-Reggiano
¼ cup sliced flat leaf parsley
Instructions
Heat oven to 425F.
In a large bowl, toss the squash with 2 tbsp of the oil, 1 tsp of the thyme, and ¾ tsp salt and black pepper, or to taste. Spread on a parchment-lined baking sheet and roast for 20-30 minutes, or until tender.
Meanwhile, mix 4 cups of water into the 4 cups of vegetable broth in a medium pot. Bring to a boil and then turn off the heat.
In a large Dutch oven, melt 3 tbsp of the butter over medium-high heat. Once it starts to foam stir in the onion, remaining 2 tsp of thyme, red pepper flakes, ½ tsp salt, and black pepper to taste. Cook until the onion is tender and translucent, about 5-7 minutes.
Stir in the rice and half of the squash. Cook for 2 minutes, stirring constantly, until the rice is translucent. Stir in the wine and cook until it has been completely absorbed, stirring constantly. Add the hot broth mixture, 1 cup at a time, stirring constantly and only adding the next cup after the previous has been absorbed.
After about 15 minutes of cooking, begin testing the rice for doneness. It should be creamy and tender with a little bit of bite to it. Once done, remove from the heat and stir in the remaining squash. Allow to rest for 2 minutes, then stir in the radicchio and half of the Parmigiano. Season to taste with salt and black pepper. Stir in the remaining 2 tbsp of butter and the parsley. Serve with the remaining Parmigiano cheese on the side.