A lightly spiced sweet cherry streusel pie that tastes like a warm hug and is an excellent use of one of summer's best stone fruits.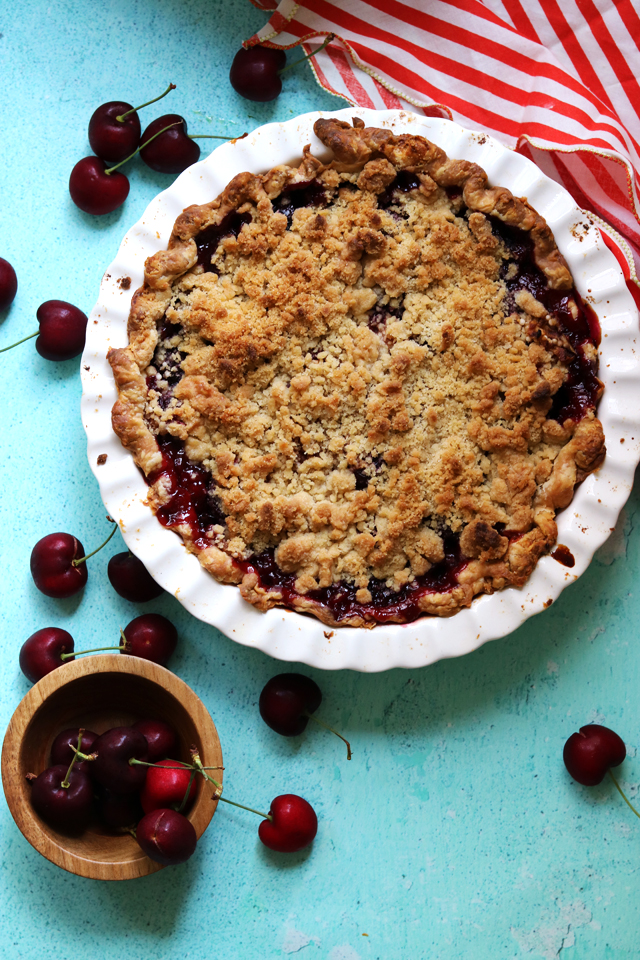 Yesterday we had friends over who were visiting from out of town. It was kind of a spur of the moment decision after we got rained out of our original plans, which were to let the kids expend all of their energy at a playground and then go out to a low key dinner.
Womp womp. This is what happens when no one has the foresight to check the weather. I mean, I didn't even bring an umbrella with me to work yesterday which was clearly a poor life choice. Thankfully the downpour happened as I was on my way home, so I didn't have to spend the whole day in wet shoes (THE WORST).
There was too much pizza, a glut of kids throwing toys in every direction, and just total wonderful chaos.
Everyone went to bed too late and now I'm paying for it this morning, but it was completely worth it.
The only thing that would have made it better????
PIIIIIEEEEEE.
In hindsight, I should probably always have a pie tucked away in my fridge for surprise guests. NOTED. Won't make that mistake again.
Also, for my own gratification because I just love pie so much!!! My husband is much more of a chocolate cake/brownie kind of guy so he thinks I'm crazy but I could basically eat pie and only pie forever and be pretty happy.
I already have a double crust cherry pie and a sour cherry pie and cherry hand pies that I've posted in the past, but there's always room for more. And who doesn't love a pie topped with STREUSEL.
It's half the stress of a double crust pie and equally as (if not more!!!) delicious.
This cherry pie is lightly spiced with cinnamon and cardamom, gets a hint of tartness from shredded green apple hidden in every bite, and is sheer perfection with a dollop of vanilla ice cream on top.
If you've stocked your fridge with way too many cherries, like I have, then MAKE THIS. And then you can make the other pies I've listed above.
Because like I said…there's no such thing as too much pie.
Sweet Cherry Streusel Pie
A lightly spiced sweet cherry streusel pie that tastes like a warm hug and is an excellent use of one of summer's best stone fruits.
Ingredients
For the crust
1¼ cups all purpose flour
½ tsp kosher salt
1½ tsp sugar
¼ lb (1 sticks) cold unsalted butter, cut into ½-inch pieces
½ cup cold water
2 tbsp cider vinegar
½ cup ice
For the streusel
1 cup all purpose flour
3 tbsp packed brown sugar
4 tsp sugar
¼ tsp kosher salt
6 tbsp unsalted butter, cut into ½-inch cubes
For the filling
1 small granny smith apple
5 cups sweet cherries, pitted
2 tbsp fresh lemon juice
¾ cup packed brown sugar
3 tbsp small tapioca pearls
¼ tsp ground cinnamon
¼ tsp ground cardamom
2 dashes Angostura bitters
Instructions
For the crust
Whisk together the flour, salt, and sugar in a large bowl. Add the butter to the flour mixture and toss to coat. Using a pastry blender, cut the butter into the flour until only pea-sized pieces of butter (or smaller) remain.
In a separate small bowl, combine the water, cider vinegar, and ice. Sprinkle 2 tbsp of the ice water mixture over the flour-butter mixture. Toss with your hands until fully incorporated. Add more of the ice water, 1-2 tbsp at a time, using your hands to mix. Add just enough of the water mixture so that the dough comes together into a ball. Wrap in plastic wrap and refrigerate for at least 1 hour.
Roll out the pie disc into an 11-inch round. Use this to line the pie plate and crimp the edges as desired. Freeze for at least 30 minutes.
Heat oven to 425F and place a baking sheet in the oven to preheat..
Remove the frozen pie from the freezer and use a fork to prick it all over the bottom and sides, about 15-20 times. Line the pie tightly with aluminum foil, making sure the edges are completely covered. Fill with pie weights or a pound of beans and place on the preheated baking sheet. Bake for 20 minutes. Remove from the oven, lift out the foil and pie weights, and allow to cool for a minute. Return to the oven and bake for an additional 3 more minutes. Remove and allow to cool completely while you prepare the filling.
For the streusel
Whisk together the flour, sugars, and salt in a large bowl. Sprinkle in the butter cubes and toss to coat in the flour mixture. Incorporate the butter into the flour by rubbing it in between your fingers until the mix is chunky and starting to form crumbs. Chill for at least 15 minutes before baking.
For the filling
Heat oven to 425F.
Peel the apple and then grate it using the large holes of a box grater. In a large bowl combine the apple shreds with the cherries, lemon juice, sugar, tapioca pearls, cinnamon, cardamom, and bitters. Toss until well combined. Pour into the partially prebaked pie shell. Sprinkle the streusel on top in an even layer.
Place the pie on a rimmed baking sheet lined with parchment paper in the lowest rack of the oven. Bake for 20-25 minutes, or until the crust is starting to brown. Lower the oven temperature to 375F and move the pie to the middle rack. Bake until the juices are bubbling in the center, 30-35 minutes longer.
Allow to cool completely, about 2-3 hours, before serving.