These super juicy sweet cherry hand pies have a deeply rich filling that is flavored with caramelized sugar, pinot noir, vanilla bean, and star anise.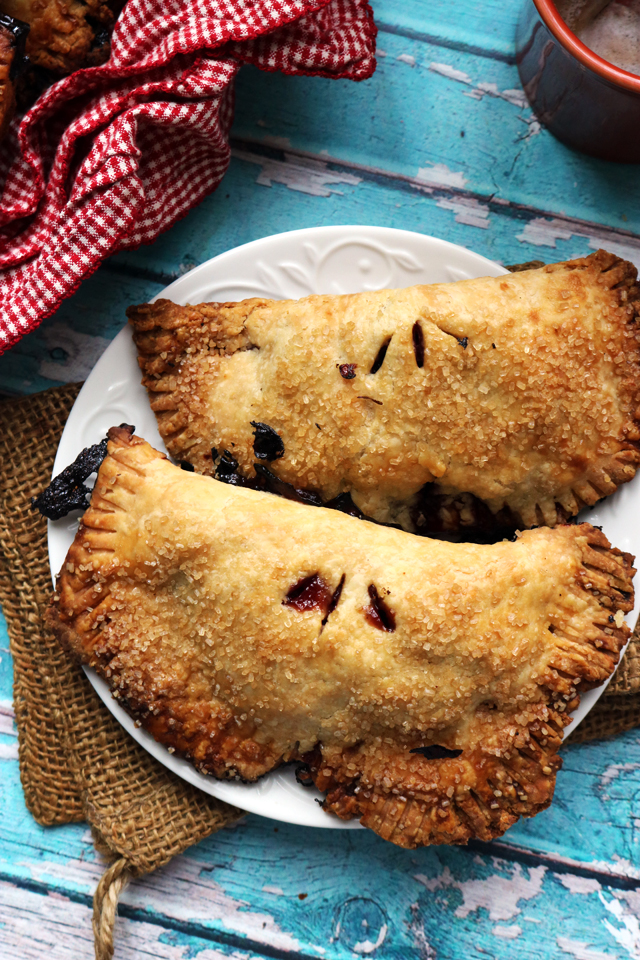 Hand pies AS BIG AS YOUR FACE!!!
It just doesn't get any better.
I actually think these would be more appropriately called "two-hand" pies.
Because the best way to eat them is obviously huddled in a corner with a pie in each hand hoping that no one notices the mysteriously empty serving plate on the table.
While sharing is caring in a variety of situations, I have to advocate keeping as many of these to yourself as possible. I shared them with my in-laws for Mother's Day and it is STILL on my life regret list.
Yeah, okay, they were a huge hit and everyone loved them.
WHATEVER.
I only got to eat one! ONE!! That's, like, seven less than I wanted.
(And yes, the recipe makes eight. Why do you ask??)
As much as I love classic cherry pie, the combination of flavors in these hand pies puts it TO SHAME.
There's cherry, obviously, which is basically my early summer spirit fruit.
And then there's the sauce that the cherries get swaddled in.
It's a combination of reduced cherry juice, caramelized sugar, pinot noir syrup, star anise, and vanilla bean.
MOTHER. OF. YES.
There is absolutely no reason to eat cherry pie any other way.
(I mean, I probably will because I can never turn down pie.)
(But I almost certainly won't even enjoy it as much. You can mark my words.)

Sweet Cherry Hand Pies with Pinot Noir and Vanilla
These super juicy sweet cherry hand pies have a deeply rich filling that is flavored with caramelized sugar, pinot noir, vanilla bean, and star anise.
Ingredients
For the pastry dough
2⅔ cups pastry flour
⅔ cup all purpose flour
2 tbsp sugar
1 tbsp kosher salt
1 cup unsalted butter, very cold and cut into ½-inch dice
¼ cup vegetable shortening, freezer-cold
½ cup ice cold water
2 tsp distilled white vinegar
For the filling
1 vanilla bean or 1 tbsp vanilla bean paste
⅓ cup sugar
½ cup Pinot Noir
1½ lb sweet cherries, stemmed, pitted, and halved (about 4 cups)
4 whole star anise
½ cup tart dried cherries
2 tsp cornstarch
To finish the pies
1 tbsp cornstarch
½ cup cold water
3 tbsp heavy cream
3 tbsp demerara sugar
Instructions
For the pastry dough
Place the flours, sugar, and salt in the bowl of a food processor fitted with the blade attachment. Pulse a few times to combine. Add in the frozen butter and shortening. Pulse until butter is broken up into pea-sized pieces, about 9-12 times.
Mix together the water and vinegar in a measuring cup and whisk to combine. Pour this into the food processor while pulsing, 1 tbsp at a time, adding just enough so that the dough comes together.
Remove the dough from the bowl of the food processor. Shape into a 4x6-inch rectangle. Wrap in plastic wrap and refrigerate for at least 2 hours or overnight.
For the hand pies
Unwrap the dough and cut it into 8 equal pieces. Pat each into a flat disk and then roll on a lightly floured surface to a circle that is about 6 inches in diameter. Place the circles on a parchment-lined baking sheet with parchment in-between them if you have to layer them on top of each other. Refrigerate while you prepare the filling.
Place the sugar in a medium saucepan over medium-high heat. Cook until it starts to become amber in color, about 3-4 minutes. Remove from the heat and add ¼ cup of the wine. Return to the heat and cook just until sugar dissolves. Add the cherries to the pan and cook just until they begin to release their juices and soften, about 10 minutes. Stir frequently and scrape up any brown bits from the bottom of the pan.
Strain out the cherries, reserving the cooking liquid. Transfer the cherries to a bowl and return the cooking liquid to the pan. Add the vanilla bean paste, star anise, remaining ¼ cup of wine, and dried cherries to the pan. Return the heat to medium and cook until the dried cherries become plump and only about 2 tbsp of liquid remains, about 8-10 minutes. Remove the star anise from the pan and discard.
Pour the dried cherries and their syrup into the bowl with the cooked cherries. Stir in the cornstarch and mix to combine. Place in the refrigerator and allow to cool. Once cold, it is time to shape and fill the hand pies.
Remove 4 of the pastry rounds from the refrigerator. In a small bowl, mix together the cornstarch and cold water. Brush this starch water mixture around the border of each of the pastry rounds. Place ⅛ of the cherry filling (about ½ cup) off the center on each circle of dough. Fold the top part of the dough over the filling and seal the edges using the tines of a fork to make a crimped pattern. Repeat until all of the pastry rounds are filled.
Divide the eight hand pies between 2 parchment-lined baking sheets. Brush the top of each with heavy cream and sprinkle with the demerara sugar. Use the tip of a sharp knife to cut a few slits in each of the pies. Place in the refrigerator and chill for 30 minutes.
Meanwhile, heat oven to 375F.
Once pies are chilled, place in the oven and bake until golden brown and bubbling, about 50-55 minutes, rotating the pans halfway through the baking time. Allow to cool for 5-10 minutes or to room temperature before serving.
Notes
Recipe from
The Dahlia Bakery Cookbook: Sweetness in Seattle