An easy baked ziti filled with all of the colors of the Italian flag – red tomato sauce, green chopped spinach, and white creme fraiche-parmesan sauce.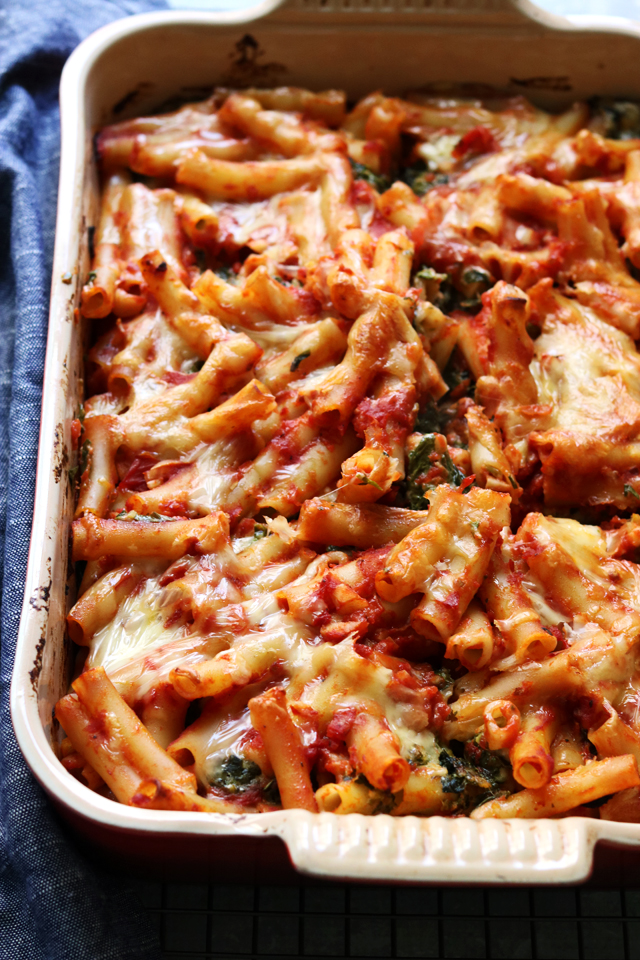 I know what you're thinking:
does the world really need another baked ziti recipe?!?!?!
And I am here to tell you – abso-freaking-lutely YES!!!
I mean, as a full-blooded Italian I've basically had pasta coursing through my veins since before I could speak, so clearly not biased at all on the importance of incorporating it into every aspect of your being.
But, still.
This will not surprise you at all, but I am very easily persuaded when it comes to purchasing new cookbooks. So when my friend Annie started a new cookbook of the month feature in September, I knew it would be simultaneously amazing and terrible. AMAZING because we have similar tastes in food so I knew that I would basically have to have any and all of the books she recommended. And TERRIBLE for exactly the same reason.
My apartment only has so much bookshelf space, if you know what I mean.
So for the first month, she featured Julia Turshen's fabulous Now & Again and I was SOLD. Literally, in that I purchased it almost immediately. And I have absolutely no regrets about it.
What I love about this book is that it features three to four course menus that are organized by season and are filled with delicious, EASY recipes that you'll be dying to eat. And then Turshen takes her awesomeness a step further by recommending (totally craveable) ways to use up the leftovers!!! It's a working mom's dream.
One of the first things I made from the book (at Annie's recommendation) was the Italian flag baked ziti. This is the ULTIMATE in comfort food – a baked pasta dish with a simple garlicky tomato sauce filled with layers of a creamy spinach and parmesan creme fraiche filling. One bite and it was an instant favorite. I suspect it will be my go-to baked pasta dish for a while to come.
Italian Flag Baked Ziti
An easy baked ziti filled with all of the colors of the Italian flag - red tomato sauce, green chopped spinach, and white creme fraiche-parmesan sauce.
Ingredients
2 tbsp olive oil
kosher salt and freshly ground black pepper, to taste
4 garlic cloves, minced
28 oz canned crushed tomatoes
3 leafy fresh basil sprigs, tough stems reserved and leaves chopped
1 lb ziti
2 (10 oz) packages frozen chopped spinach, defrosted and squeezed dry
1 cup creme fraiche
¾ cup grated parmesan cheese
1 cup coarsely grated mozzarella cheese
Instructions
Heat oven to 400F.
In a large heavy-bottomed pot or saucepan, heat the olive oil over medium-high heat. Add the garlic, tomatoes, basil stems, salt, and black pepper to the oil, stirring to combine. Bring to a boil and then lower the heat to a simmer. Cook for 20 minutes, or until reduced slightly. Remove the basil stems. Turn off the heat and set aside.
Bring a large pot of salted water to a boil. Add the pasta and cook it until it is al dente, about 1 minute less than the package instructions. Drain and stir into the tomato sauce. Set aside.
Meanwhile, stir together the spinach, creme fraiche, Parmesan cheese, half of the mozzarella, and the chopped basil leaves in a large bowl. Season with 1 tsp salt. Stir again.
Pour a third of the pasta into a 9x13-inch baking pan and spread into an even layer. Top with spoonfuls of half of the spinach mixture, then spread into an even layer. Top with half of the remaining pasta and the remaining spinach mixture. Add the rest of the pasta to the top. Sprinkle with the remaining mozzarella.
Place in the oven and bake, uncovered, until it is browned and bubbling, about 30 minutes. Rest for 15 minutes before serving.