Roasted butternut squash or pumpkin wedges come together with black-eyed peas and coconut milk to make this luxurious restaurant-quality curry.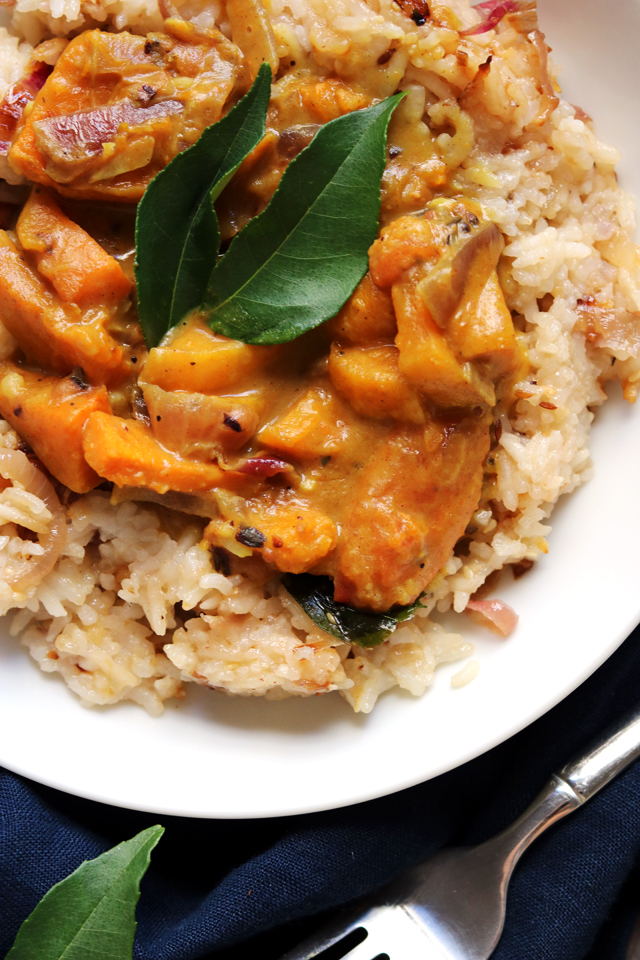 Last week when I was alone potty training an almost-threenager-going-on-fifteen for DAAAYYYZZZ ON END, I demanded a one hour break during which I headed straight to my version of mecca:
a spice store.
Yes, my husband is still making fun of me for going grocery shopping during my "ME" time. But guuuuuyyyyssss, it wasn't just any spice store. IT WAS KALUSTYAN'S.
Have you been there? Did you want to move in?????
I did.
And then because I may have purchased allthespices and didn't want to hear my husband's claims that "I never use half of them" (<– lies, I mean does he even eat the food I cook?!?!?), I came home and made curry.
Not just any curry. Possibly THE BEST CURRY I'VE EVER EATEN. It's from the Fresh India cookbook (which I got for Christmas!!!) and it is unreal. If all the recipes in that book taste so good, I may never cook from another cookbook again.
Seriously though, I may have licked my plate clean. Basically, you take garam masala coated squash or pumpkin slivers and roast them until they are delectably sweet. Meanwhile, you lightly caramelize onions and then simmer them in a bath of coconut milk and spices. Add in the squash, allow the flavors to meld and mix, and you have a curry that is sweet, lightly spiced, and mostly savory. IT'S SO GOOD.
Eat it with naan or rice or whatever your heart desires. BUT JUST EAT IT.
Pumpkin, Black-Eyed Pea, and Coconut Curry
Roasted butternut squash or pumpkin wedges come together with black-eyed peas and coconut milk to make this luxurious restaurant-quality curry.
Ingredients
1¼ lb butternut squash, peeled and seeded
3 tbsp olive oil, divided
1 tbsp garam masala
salt and black pepper, to taste
1 tsp mustard seeds
2 Indian green chiles, slit lengthwise and seeds removed
1 large onion, halved and thinly sliced
3 garlic cloves, minced
1¾ cup cooked black-eyed peas
⅓ lb ripe tomatoes, cut into wedges
½ tsp ground turmeric
14 oz can coconut milk
Instructions
Heat oven to 400F.
Cut the squash into quarters lengthwise, then cut into ½-inch quarter moons. Transfer to a large bowl and then toss with 1 tbsp of olive oil, the garam masala, 1 tsp salt, and ½ tsp black pepper. Spread on a parchment-lined baking sheet in a single layer and then roast for 30 minutes or until caramelized and tender.
Meanwhile, place the remaining 2 tbsp of olive oil in a large lidded pan over medium heat. Once hot, add the mustard seeds. When they start popping stir in the green chiles and the onion. Saute for 12 minutes or until the onions are tender and golden, then stir in the garlic. Cook for another few minutes then stir in the black-eyed peas and mix together. Add in the tomatoes and cook until they start to soften and become jammy at the edges.
Add the turmeric, ⅓ tsp black pepper, ½ tsp salt, and the coconut milk to the pot. Stir in the roasted squash and mix until combined. Cover with the lid and heat through for 5 minutes. Season to taste with salt and black pepper.
Serve atop a bed of rice or with naan.