Pretty much the brownie-est cookies you'll ever meet! These chocolate truffle cookies contain three types of chocolate and are utterly decadent.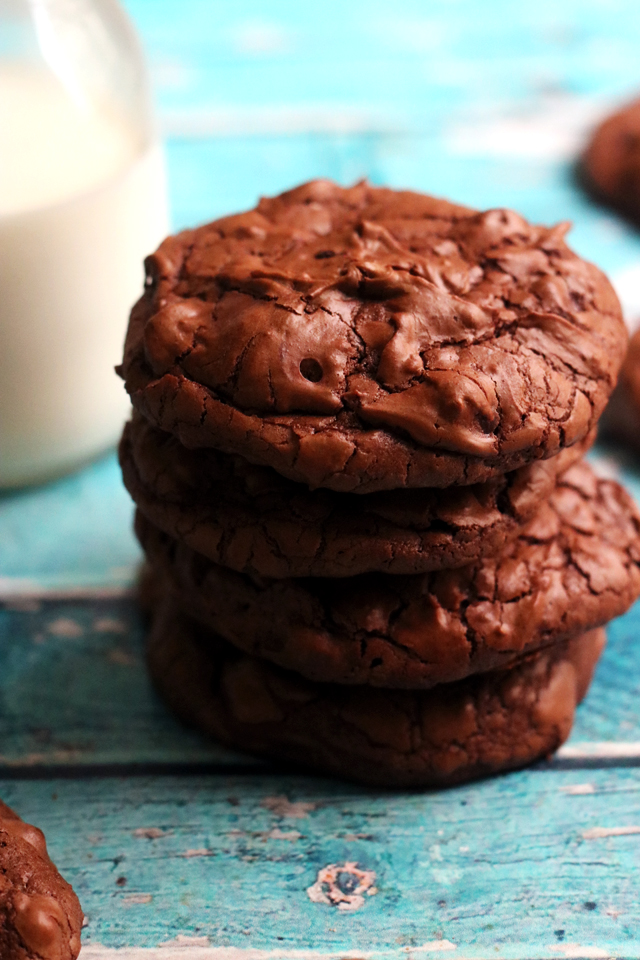 Maybe you've noticed, but I don't take to diets well.
I'm more in the camp of changing your lifestyle rather than crash coursing into some celery cleanse that lasts three days before you inhale all the complex carbs in sight.
For me right now that means exercising daily, making better food choices, and having more dance parties in my living room. It also means a weekly "let all hell break loose day" that involves eating dessert and not counting a single calorie. Because a lifestyle that doesn't involve weekly cookies is a lifestyle that is just not worth living.
That there is my truth.
And for real if I'm limited to only eating cookies one day a week, then they had better be the best dang cookies out there.
I'm talking Willy Wonka-esque, magical, decadent, perfection. The Louboutins of the cookie world.
I refuse to settle for less.
Enter: CHOCOLATE TRUFFLE COOKIES.
Or, basically, brownies in the shape of cookies. With over a POUND of chocolate in them (almost two if you count the chocolate chips!!!) these are INSANE. They're super rich, with that classic brownie fudge factor + crackly exterior. And they are pppeerrfeecttt for surviving an exceptionally draining stretch of night shifts.
(As an aside, if you want to completely derail your healthy lifestyle goalzz then switch to a night shift for two weeks. IT. IS. KILLER.)
Make them. Eat them. Share them. In that order.
Chocolate Truffle Cookies with a Crackly Crust
Pretty much the brownie-est cookies you'll ever meet! These chocolate truffle cookies contain three types of chocolate and are utterly decadent.
Ingredients
1¼ cups all purpose flour
3 tbsp + 1 tsp unsweetened cocoa powder
½ tsp baking powder
½ tsp salt
1 lb + 4 oz bittersweet chocolate, chopped
½ cup + 2 tbsp unsalted butter, softened
2¼ cups sugar
6 large eggs, room temperature
1 tbsp vanilla extract
12 oz bittersweet chocolate chips
Instructions
Heat oven to 350F.
Sift together the flour, cocoa powder, and baking powder into a medium bowl. Whisk in the salt and set aside.
Melt the bittersweet chocolate in the microwave in 30 second intervals, stirring after each. Set aside to cool slightly.
Combine the butter and sugar in the bowl of a stand mixer, then cream together using the paddle attachment until well combined, about 3-4 minutes. Add in the eggs, one at a time, mixing well after each addition. Increase the speed to high and then beat the eggs until light and pale, about 3-4 minutes. Slowly add in the melted chocolate and the vanilla, mixing until just combined. Remove from the mixer and fold the dry ingredients and chocolate chips into the wet ingredients until just combined.
Immediately scoop the cookies onto parchment-lined baking sheets using a 1.5-oz or scant ¼ cup scoop, leaving 2-inches between each cookie. Flatten the dough slightly with your hands.
Bake the cookies one tray at a time until crackly and softly set, about 14 minutes, rotating the pan halfway through.
Remove from the oven and cool on a wire rack. Allow to cool completely before attempting to remove them from the baking sheet.