Make the holidays extra decadent with this white chocolate pistachio cheesecake encased in a buttery chocolate cookie crust.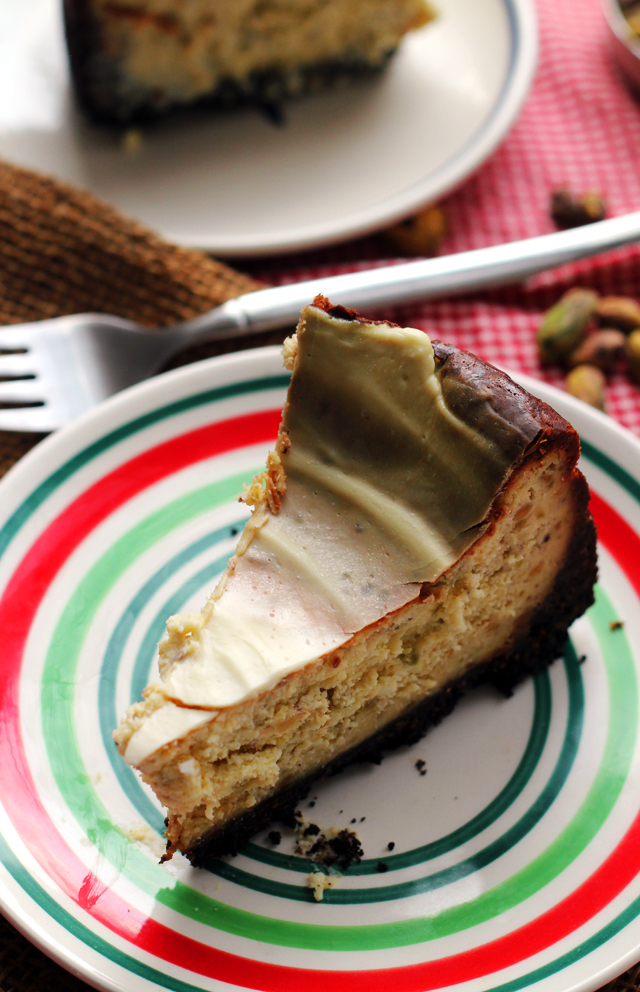 Everyone's all PEPPERMINT CHOCOLATE this
and GINGERBREAD that
and EGGNOG all the things.
And I'm over here like white chocolate pistachio, y'all.
It's where this holiday season is at.
Truth be told, I did have irrationally high hopes that this would turn out to be a light, but totally au natural shade of Christmas green for a little extra touch of holiday cheer. And I really did think it was going to happen!
Even after the batter turned out to be what can only be described as "beige with a green tinge but only if you squint your eyes a little bit".
Even after the first 15 minutes of baking when it became clear that the aforementioned green tinge was probably just a trick of the eyes.
Even after taking it out of the oven and seeing that it was fifty shades of brown, brown, and more brown.
So you can imagine my disappointment when I cut into it and green it most certainly was not.
But, c'est la vie. Life is too short to stress over the fact that we've been conditioned to think pistachios are neon green, when actually they are more of a mottled green-brown color.
And it is certainly too short to load up our baked goods with food coloring for mere aesthetic purposes (though, if you choose to do this – no judgment).
The good news is that while it might not have lived up to it's full color potential, its decadence was spot on. The white chocolate makes it ultra creamy while the pistachios add a subtle nuttiness that helps break the sweetness so you can eat slice, after slice, after slice without feeling like you've overindulged. Dangerous, but oh so good.

White Chocolate Pistachio Cheesecake
Make the holidays extra decadent with this white chocolate pistachio cheesecake encased in a buttery chocolate cookie crust.
Yield:
1 9-inch cheesecake
Ingredients
For the chocolate crust
2½ oz shelled pistachios (about ½ cup)
12 oz chocolate wafer cookies or chocolate graham crackers
3 tbsp sugar
½ tsp kosher salt
6 oz unsalted butter, melted
For the cheesecake filling
5 oz shelled pistachios (about 1 cup)
2 lb cream cheese, softened
1⅓ cups sugar
1 tbsp flour
4 large eggs
1 large egg yolk
3 tbsp heavy cream
4 oz white chocolate, melted and cooled
green food dye or gel (optional)
½ cup sour cream
Instructions
For the chocolate cookie crust
Heat oven to 325F. Spray the bottom and the sides of a 9-inch springform pan with cooking spray. Wrap the outside of the pan with foil.
In a food processor, pulse together the pistachios, cookies, sugar, and salt until finely ground. Drizzle the melted butter over the crumbs and pulse until it has the consistency of wet sand. Transfer the mixture to the prepared pan and press it into the bottom and up the sides of the pan in an even layer using a flat-bottomed measuring cup.
Bake for 8-10 minutes, or until set. Transfer to a wire rack to cool while you prepare the filling.
For the cheesecake filling
Increase the oven temperature to 500F.
In a food processor, pulse the pistachios until very finely ground, about 30 seconds. Set aside.
In the bowl of a stand mixer fitted with the paddle attachment, combine the cream cheese, sugar and flour. Beat on medium-high speed until just combined, about 2-3 minutes. Add in the eggs and egg yolk, one at a time, combining well after each addition. Add the ground pistachios and cream, mixing until just incorporated.
Pour half of the batter into a bowl and combine with the white chocolate, folding until combined. Pour over the chocolate crust in a smooth layer. Refrigerate for 10 minutes.
Stir the green food coloring into the remaining batter, if using. Pour this batter over the refrigerated batter and smooth into an even layer.
Bake for 10 minutes. Open the oven door for a few seconds to release some heat and lower the temperature to 350F. Bake for 45 minutes to 1 hour or until cheesecake is set around the edges, but still loose in the center, rotating the pan every 15 minutes. Remove from teh oven and spread the sour cream over the top. Return to the oven and cook until browned slightly, about 5 minutes. Turn off the heat and crack the oven door open with a wooden spoon. Let cool for 1 hour.
Remove from the oven and place in the refrigerator. Chill for 8 hours or overnight before serving.
Notes
Recipe from
Baked Occasions: Desserts for Leisure Activities, Holidays, and Informal Celebrations