Creamy corn and cauliflower chowder topped with a spicy yet refreshing chili-peanut topping.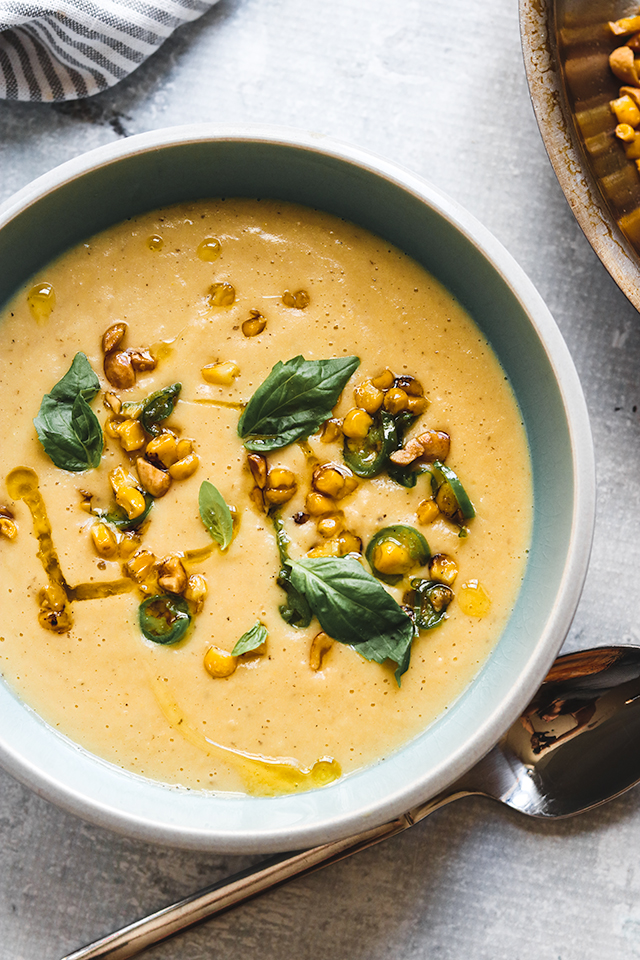 Apparently advanced maternal age has made me impatient because I am just going a bit stir crazy waiting for this baby to come. I'm at that point where every single position is uncomfortable, I can't sleep, and any time I feel even a little bit "off" I'm hoping it's a sign that labor is coming soon (spoiler alert: it's not).
To say that our meals have gotten simpler lately is an understatement. I just don't have the stamina to cook (or clean up after) marathon meals and since actually everything (even water) gives me acid reflux, I'm also not super excited to eat anything. SO FUN.
If you're in a similar boat, for whatever of life's many reasons, then I have a soup for you.
Deceptively simple, but rich with flavor, this corn and cauliflower chowder feels like a velvet dream going down but is actually quite light and nutritious when it comes down to it. The soup itself is made in one pot from a mix of caramelized leeks, cauliflower, corn, coconut milk, and vegetable stock. They simmer together until the vegetables are tender and then get pureed either in the pot with an immersion blender or in a high powered blender.
I tend to like my soups either very chunky or ultra smooth and I went with the latter on this one, however you can feel free to puree it to your desired consistency. The mouth-feel on this is just perfect with the pureed cauliflower giving it the perfect body and texture. 
So cozy and comforting, but also gives off a spring vibe at the same time. I'm into it.
Probably the most exciting part of this is the chili-peanut topping. YES it requires you to dirty a second pan, but it is worth it for the flavor and texture that it adds. To make the topping, some reserved corn, spicy chili peppers, scallions, and peanuts are sauteed together in a bit of olive oil until everything is crispy and lightly charred. 
Sprinkle this over each bowl of soup just before serving and garnish with fresh basil and an olive oil drizzle. The end result is sweet and savory but also with hints of spice and it just really brings the chowder together.
So wonderful and filling and the perfect bowl to enjoy!
Corn and Cauliflower Chowder
Creamy corn and cauliflower chowder topped with a spicy yet refreshing chili-peanut topping.
Ingredients
2 tbsp olive oil
2 leeks, washed, trimmed, and thinly sliced
4 garlic cloves, thinly sliced
1 lb cauliflower, cut into small florets
1 lb frozen corn, divided
1 (13.5 oz) can coconut milk
1 tsp better than bouillon vegetable base or vegetable stock powder
juice of ½ lemon
For the topping
2 tbsp olive oil
1 serrano pepper, thinly sliced
4 scallions, thinly sliced
¼ cup chopped, roasted unsalted peanuts
bunch of basil
Instructions
Heat the olive oil in a Dutch oven or heavy-bottomed pot over medium-high heat. Add in the leek and a pinch of salt. Saute for 5-10 minutes, or until tender and caramelized. Add in the garlic and cook until fragrant, about 1-2 minutes.
Stir in the cauliflower florets, all but a handful of the corn, the coconut milk, better than bouillon, and 3½ cups of hot water. Season to taste with salt and black pepper. Bring to a boil and simmer for 20 minutes. Blend until smooth with an immersion or regular blender. Stir in the lemon juice and season to taste with salt and black pepper.
For the topping
Heat a medium pan over medium heat. Add the oil to the pan along with the reserved corn, serrano pepper, scallions, and peanuts. Cook until the corn is charred and the nuts are toasted.
To serve
Divide the soup among serving bowls. Top with spoonfuls of the spicy corn topping, fresh basil, and a drizzle of olive oil.