A sweet and creamy Indian-spiced version of a summer classic.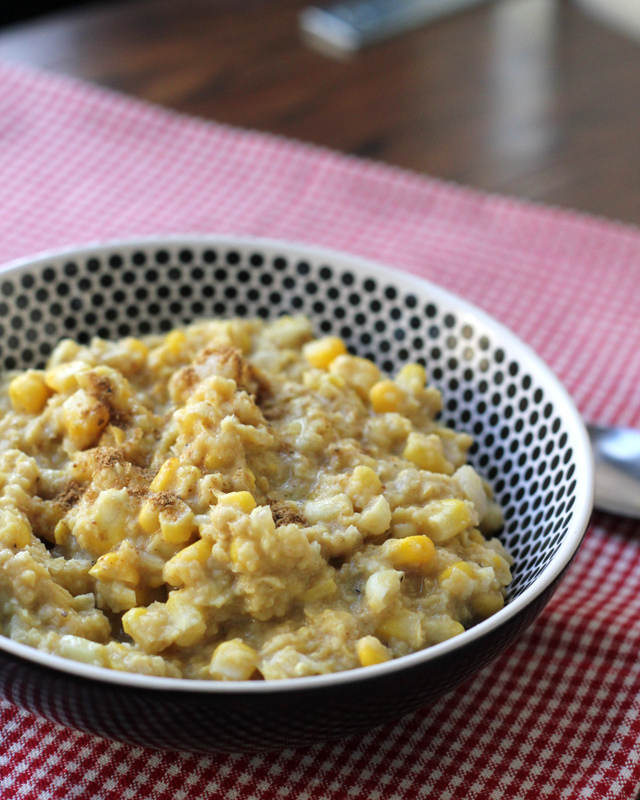 Some girls cry while watching Sleepless in Seattle.
Or during the entire eleventh episode of Orange Is the New Black (all hell is about to break loose. I can feel it.).
Or while biting into that first perfect ear of summer corn.
I'm the latter.
(And occasionally the second to latter.)
But really, can you blame me?
I don't know how corn tastes where you're from, but local NYC corn is da. bomb.
It's sweet enough to be dessert all on it's own and so juicy that I would happily swim in it's milk.
But instead I creamed it. Without cream. And with a good honest sprinkling of garam masala to spice up that sweetness. It was heavenly.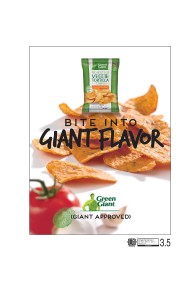 You can feel free to eat it all by it's lonesome, spoonful after lovely spoonful or…you could turn it into a dip!
I recently received some of Green Giant's new garden ranch-flavored roasted veggie tortilla chips and their barbecue-flavored multigrain sweet potato chips to munch on. In a twist of fate, I also happened to have some creamed corn left over that needed a way into my belly and these chips seemed like the perfect vessels!
These chips are BIG on flavor. It kind of reaches out and grabs you (in a good way). I could definitely see eating them alongside burgers and sandwiches or to scoop up any number of dips and condiments.  If you're in the market for new chips to grace your summer party table, these are an awesome option!
Creamed Corn with Garam Masala
A sweet and creamy Indian-spiced version of a summer classic.
Ingredients
10 large ears of corn, husked
4 tbsp butter, divided
1 small onion, finely chopped
3 garlic cloves, minced
1 tsp kosher salt
1½ tbsp garam masala
Instructions
Cut the corn off the cob in to a large bowl. Combine half of the corn kernels with ½ cup water in the bowl of a food processor. Pulse until pureed.
Melt 2 tbsp butter in a large skillet over low heat. Add in the onion, garlic and salt. Cover and cook, stirring often, until onion is soft and translucent, about 10 minutes. Add in the pureed and whole corn, until corn is tender, about 10 minutes, stirring constantly. Stir in the remaining 2 tbsp butter and the garam masala. Season to taste with salt and black pepper.
Nutrition Information
Serving size:
⅙th of recipe

I was selected for this opportunity as a member of Clever Girls Collective and the content and opinions expressed here are all my own.