Cookie bars with a buttery shortbread crust and a gooey delicious peanut butter chocolate filling.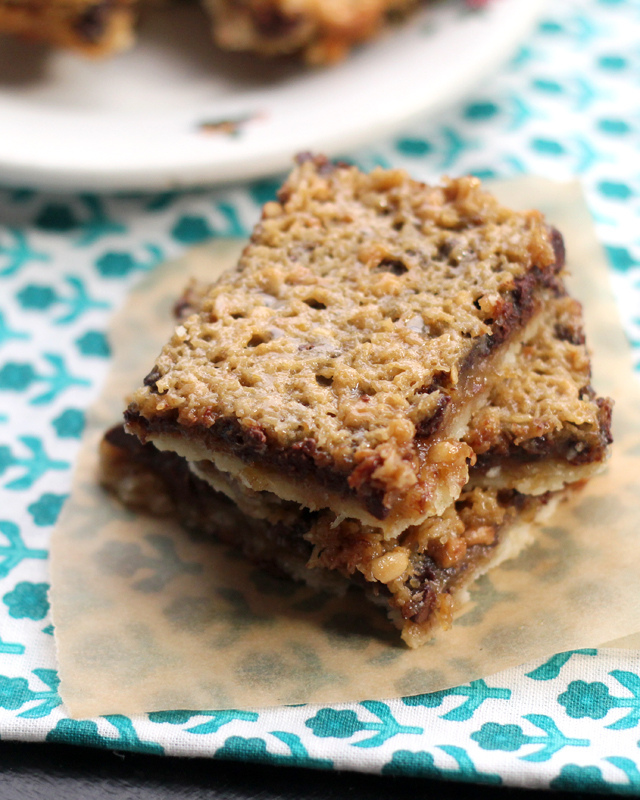 *I participated in a campaign on behalf of Mom Central Consulting for ACH Food Companies Inc. I received a promotional item as a thank-you for participating.
Upon first glance at these gooey chocolate peanut butter bars, The.Boy turned to me, grimaced, and said, "But you're going to make them look better, right?"
My own personal peanut gallery. How lucky.
And no sweetheart, that was not the plan thankyouverymuch.
So maybe they're not the prettiest bar cookie ever to grace this blog. But in my opinion, gooey chocolate peanut butter makes up for any and all aesthetically displeasing sins. Any day.
Plus, have you seen that middle chocolate layer? That's pretty much a kodak moment in and of itself.
Speaking of which, can you guys believe that we are approaching "back to school" season already? I mean, I'm always in school so there's no real back to school for me, but still. It's a state of mind. And if anything, it just means that summer's days are numbered…which is a real shame because I still have five million things I want to do before it's over. At least now I can cross "make something ridiculously ooey gooey chocolate-peanut-buttery" off my list. And you should too. Get on it and make these.
(As a side note, thanks to Karo for providing me with the corn syrup to make these! It is the only widely distributed brand of corn syrup that contains ZERO grams of high fructose corn syrup. And it's totally the perfect ingredient for getting that gooey texture into your baked goods. For more recipe ideas check out their website or their facebook page!)
Now I have one more order of business before I'll let you get on with your weekend. Some of you may have noticed a new category up their in my navigation bar, entitled "Recipe Box". And you might have wondered what is and how it differs from my recipe index (found under "Recipes"). Allow me to clarify.
You might remember when I relaunched the new site that I mentioned partnering with ZipList and how it would make your life so much easier by allowing you to store all your favorite recipes in one place and make shopping list and find out about grocery deals in your neighborhood? Well I have made it easier for you to access your Recipe Box from my site by adding that link in the navigation bar. And if you don't already use ZipList, you really should consider it! Creating an account is totally free and easy and once you're logged in, you can add recipes to your recipe box from any site that uses ZipList, whether it's mine or one of the other DOZENS of sites that do.
ZipList also has a really cool mobile app that you can use to view your shopping lists, grocery deals, recipe box, and checklist wherever you go. From your phone you can organize your list, scan barcodes to add items you need to it, and check off items from it as they go into your shopping cart. And it's free. Win.
One year ago…Moroccan Red Gazpacho
Two years ago…Persian Saffron-Spiced Pasta with Split Peas, Radicchio and Haricot Vert Salad with Candied Walnuts
Three years ago…Pina Colada Cupcakes
Four years ago…Lemon Mascarpone Blondies
Gooey Chocolate Peanut Butter Bars
Cookie bars with a buttery shortbread crust and a gooey delicious peanut butter chocolate filling.
Ingredients
Crust
¾ cup all purpose flour
⅓ cup sugar
¼ cup cornstarch
½ cup butter, cut into ½-inch dice
Filling
2 eggs
½ cup light corn syrup
½ cup brown sugar
¼ cup peanut butter
1 tsp vanilla extract
¼ tsp salt
½ cup dried coconut
½ cup mini chocolate chips
Instructions
For the crust, whisk together the flour, sugar, and cornstarch in a large bowl. Cut the butter into the flour until the mixture is crumbly. Press into a parchment-lined 9x13-inch pan. Bake at 350 for 15 minutes, or until crust is lightly browned.
Meanwhile, in the bowl of a stand mixer fitted with a paddle attachment, cream together the eggs, corn syrup, brown sugar, peanut butter, vanilla, and salt. Mix in the coconut and chocolate chips, until just incorporated.
Pour the filling over the crust. Bake for 20-25 minutes, or until top is golden. Cool completely and then cut into bars.