Bright and fresh blueberry lemon coconut loaf cakes that are impossibly soft and make for the perfect breakfast or midday snack.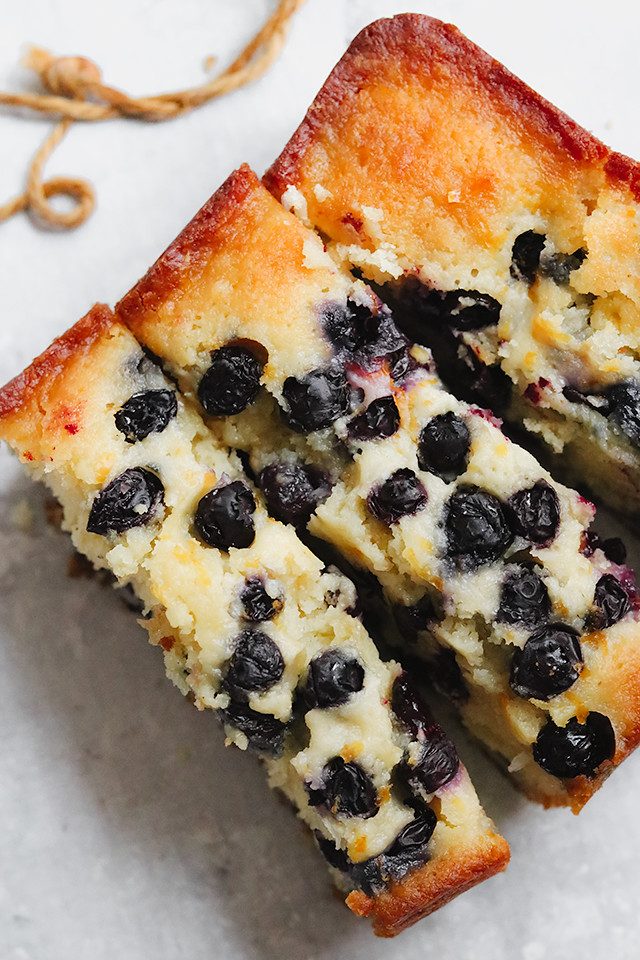 Another week of PURE SURVIVAL MODE.
Each week we take a step back and say – how did we do this? can we keep doing this? for weeks? months? a year?
Our answers are always the same: i don't know. i don't know. i don't know. i don't know. i don't know. i don't know.
But time keeps marching forward, and so do we, whether we like it or not.
I'll tell you one survival tactic that's been working out quite nicely and that is cake for breakfast!!!
Not only do I get at least twenty minutes of much needed alone time to prepare the cake and get it in the oven…but there is really no better start to a day than a little bit of homemade sweetness. It makes all of us happy, most importantly Remy, because if she starts the day on a good note then that's half the battle for the rest of us.
I'd like to tell you that I've been making breakfast treats with some sort of healthy twist to them but, um, no. Honestly, I don't have the energy to be thinking of better-for-you substitutions and I also just can't afford to waste ingredients if they don't turn out or if my child refuses to eat them.
Each week is like grocery Russian roulette. Will I get flour…or will the shopper substitute it with blue cheese?? WHO KNOWS.
Every little grain I have in my possession is like a speck of gold.
So full fat, full sugar baking it is!! And I'm zero percent mad about it.
This blueberry lemon coconut cake from the Baking At Republique cookbook was our most recent indulgence and it was so so so worth it.
The recipe actually makes two cakes, which is kind of wonderful when you've polished off one cake in two days and are still craving more. The cakes are light and lemony with coconut flakes added more for texture than flavor. Blueberries are scattered throughout the center and on top so you get juicy bursts of berry in every bite. After the cakes are baked you brush them with a lemon syrup while still warm. It seeps into them, leaving them moist and ultra lemony.
Perfect for breakfast and all the snacks I know your child must be demanding throughout the day, if they're anything like mine.
Blueberry Lemon Coconut Loaf Cake
Bright and fresh blueberry lemon coconut loaf cakes that are impossibly soft and make for the perfect breakfast or midday snack.
Ingredients
2½ cups (310 g) all purpose flour
2 tsp baking powder
½ tsp baking soda
½ tsp kosher salt
¾ cup (170 g) unsalted butter, room temperature
1½ cups + 2 tbsp (315 g) sugar
3 large eggs
1 cup + 3 tbsp (280 g) sour cream
¾ cup + 2 tbsp (75 g) sweetened shredded coconut
zest of 5 lemons
10 oz (280 g) blueberries
For the lemon syrup
½ cup (100 g) sugar
½ cup (120 mL) water
zest of 1 lemon
Instructions
Heat oven to 350F. Grease two 9x5-inch loaf pans. Set aside.
Whisk together the flour, baking powder, baking soda, and salt in a mixing bowl. Set aside.
Combine the butter and sugar in the bowl of a stand mixer fitted with the paddle attachment. Cream together on medium speed for 3-4 minutes, or until light and fluffy. Add the eggs one at a time, only adding the next once the prior egg has been fully incorporated. Add the sour cream and mix until fully incorporated.
Add all of the dry ingredients at once. Mix on low until just incorporated. Add in the coconut and lemon zest. Again, mix until just incorporated.
Fill the prepared loaf pans one third full with the batter. Top with ¾ of the blueberries, dividing them evenly between the pans. Add the remaining batter, dividing it evenly between the two pans, spreading it out into an even layer. Top with the remaining blueberries. Place the pans on a baking sheet.
Bake for 50-55 minutes, or until a toothpick inserted in the center comes out clean, rotating the pans halfway through.
For the lemon syrup
Combine the sugar and water in a small saucepan. Bring to a boil. Once the sugar has dissolved, remove from the heat and stir in the lemon zest. Set aside.
Once the cakes finish baking, run a knife around their edges to release them from the pans and unmold them onto a cooling rack set over a sheet of parchment paper. Brush the tops of the cakes with the lemon syrup while still warm. Allow to cool completely before serving.